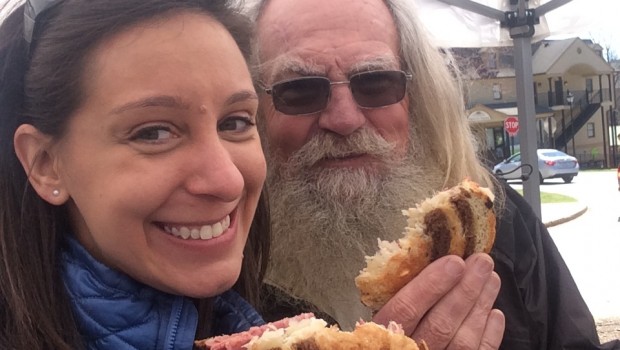 Lessons Learned from Nimblewill Nomad
This past weekend, Trekalong attended the AT Trail Fest in Dahlonega, Georgia, where I got to spend time with one of our Menasha Ridge authors, Nimblewill Nomad. Nimblewill is a hiking legend—he has thru-hiked the Triple Crown and all of the National Scenic Trails, and continues to complete an odyssey every year.
It was such an honor getting to spend time with Nimblewill and hearing all of his epic stories. While he could fill dozens more books with his insights, here are five things I learned:
1. Invest in the right gear—Nimblewill said that he does his research and invests in the latest and greatest gear to make his odysseys a little easier. His gear is light (his tent weighs 14 oz!) and functional, allowing him to log 20-30 miles a day at 76 years young. He said to really think about what you will need ahead of time, so that you don't go into a store and come out having wasted money on heavy or unnecessary gear.
2. Everything is interconnected—When I posed the very broad "How do you do it?!" question, Nimblewill laughed and explained that every decision you make is cyclical. For example, if you pack as light as possible, then you will be able to walk farther each day, allowing you to carry less food, lightening your pack even more. See? A little pre-planning can lead you to more enjoyable adventures.
3. Don't fear getting lost—Nimblewill and I spoke about the time he thru-hiked the Continental Divide Trail and how frequently he got lost, once going 17 miles in the wrong direction! But Nimblewill didn't seem concerned by it—he said that he would regain his bearings and get back on the right trail. As long as you keep a cool head on your shoulders, you can embrace the detour as an opportunity to see even more sights.
4. Own your hiker trash status—Nimblewill wrote a hilarious post on his website called "101 Reasons Why You Might Be Hiker Trash." With qualifications such as "You're wealthy, but none of it is tangible," "You know the difference between solitude and loneliness," and "You know there are no bad days on the trails," who wouldn't want to be known as Hiker Trash?
5. Always give trail magic—Over the years, Nimblewill has been the recipient of a lot of trail magic. And judging from the stories I heard, he has given it back tenfold. One time, he set up camp, built benches, and cooked up a feast for a group of people thru-hiking a trail in Florida. Imagine approaching that camp after a long day on the trail! If you're able to, always share your resources, knowledge, and company with others.
The thing that struck me most over the weekend was the amount of people who would stop by the booth to shake Nimblewill's hand, share their own hiking stories, take a photo with him, and thank him for inspiring them. Seeing only this small cross-section of hikers, I can only imagine how many lives he has and will continue to touch around the country.
Good luck and happy trails on your next odyssey, Nimblewill. The trail community can't wait to hear the stories when you return!