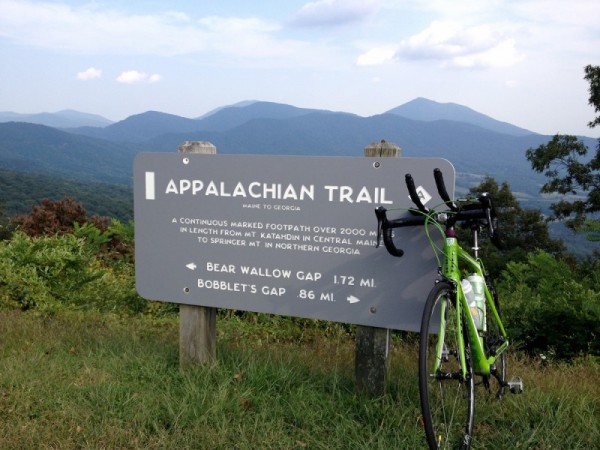 The Basics: For the Blue Ridge Biker!
So you decided to bike the 575 miles of the Blue Ridge Parkway. Maybe you chose Blue Ridge because of its more mild elevation (that is, compared to the Rockies), maybe you chose it because it because you love the Appalachian Mountains, or perhaps you chose this path because you wanted to challenge yourself as a cyclist. Whatever the reason, the trip will be both beautiful and rewarding. But there are some things you should be aware of before pedaling out to the unknown.
 Safety First
Before embarking on your journey: honestly evaluate your abilities as a cyclist. The Parkway has no shortages of scenic (read: hilly) routes. In some sections of the Parkway, you will need to climb 1,100 feet in 3.4 miles. Prepare yourself mentally and physically for the challenge before taking it on. It may be more enjoyable to tackle the Blue Ridge in sections instead of tackling all 500+ miles in one go.
While on the road: while many experienced cyclists are hyper aware of elements like elevation and wind pressure, sometimes more obvious safety measures are overlooked, like the precaution of wearing a helmet. The Parkway contains 27 tunnels between North Carolina and Virginia, and have a high chance of experiencing fog depending on the time of year. Don't forget that the bicycle operator must exhibit a white light or reflector visible for at least 200 feet to the rear during periods of low visibility. Accidents happen, and a helmet can save your life.
When accidents happen: you are not the only one that gets injured, so carry a first aid kit for both you and your bike! Your bike kit should include: an air pump, spare tire, spoke wrench, tubes, and a patch-up kit. Sometimes simple repairs are all that is needed to carry on, and you'll be kicking yourself for not taking extra measures if you're in an easy-to-fix problem with no tools.
Camping vs. Lodging
To camp, or to lodge? The decision to camp requires more time spent planning and less money spent sleeping. There are benefits to both options; it all depends on what kind of a trip you want to have and who you want to share it with. Camping requires more energy in planning each night, carrying your gear, and setting up and taking down a tent. Although lodging—especially at peak season—requires  money and reservations, the lack of camping material will allow for you to cover more daily miles of your tour. Furthermore, lodging equates to a hot shower and home comforts, while camping is more social. So in the end it's up to you—warm (but slightly lonely) bed, or (potentially smelly) new friends!
Clothing and other Forget-Me-Nots
Layers are an important part of thriving in any outdoor weather scenario. A windbreaker or water-repellant jacket is a must for your trip—the authors of Bicycling the Blue Ridge, Elizabeth and Charlie Skinner, recommend a Gore-Tex jacket. It has a superior fabric that allows you to breath and keeps water out. Even the summer months, you could get caught in a rainstorm, so make sure you have taken the step to stay dry!
Speaking of rain, water damage can affect your devices as well as your other personal belongings. For this reason, pack ziplock baggies. The last thing you want is a water damaged phone you will have no easy way of fixing!
Rain or shine, the Blue Ridge Cyclist will have memories to smile about and increased stamina to boast about! We are excited that you are taking on this extraordinary path and wish you a safe ride!
For more information, including detailed point-by-point description of the Blue Ridge Parkway and Skyline Drive cycling adventure, visit A Guide to the Skyline Drive and the Blue Ridge Parkway: Bicycling the Blue Ridge. by Elizabeth and Charlie Skinner.