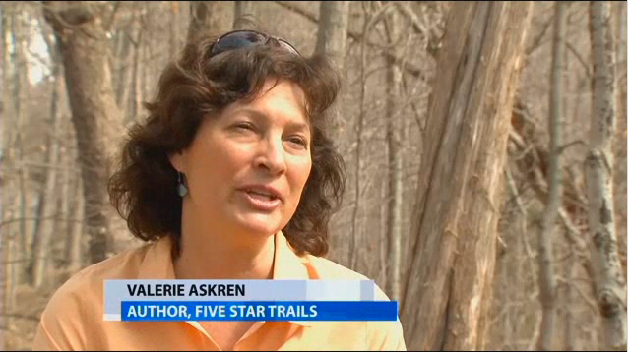 3 Ways to Discover Nature Close to Home
Posted on
January 9, 2016
Valerie Askren, author of Five-Star Trails: Louisville & So. Indiana, takes the time to look at the world around her and reminds us that the beauty of nature is never that far away. "There's an increased emphasis on thinking global but hiking local, and we're trying to, as a community, create more opportunities here at the local level," said Askren to WDRB reporter Kelly Davis.
If you think the wonders of nature are out of reach from your neighborhood, keep these three things in mind.
Think Local
National Parks are one of the best investments the U.S. government made in the 20th century, but not everyone's within comfortable driving distance of Yosemite, Yellowstone, or one of our 57 other national parks. State parks, however, are a different story. According to the National Association of State Park Directors, there are more than 6,600 state parks in the U.S. That's more than 130 parks per state! Not to mention the growing attention being paid to metropolitan park systems nationwide. Thanks to our state and city parks, an outdoor adventure is never more than a daytrip away.
Think Social
You don't have to live like Jeremiah Johnson to be connected with the outdoors. In fact, the simpler the outdoor activity, the more people with whom you can share the experience. You can get just as much enjoyment out of a picnic in the park with out-of-town friends or a special someone as you can an epic, four-day hike through the Smoky Mountains. All you have to do is step outside to start enjoying the outdoors.
Think Inside
Aside from trail networks, many cities and states maintain nature preserves that provide gateways to the outdoors, even when inclement weather or climate might otherwise threaten such an adventure. Conservatories, aquariums, arboretums, zoos, and indoor facilities at local and state parks provide shelter along with exposure to the wildlife that surrounds us.
So, even if you can't make it down to the trailhead for a backpacking weekend, there are simpler ways to enjoy nature, many times right around the corner or in your own backyard.
For more on locating five-star hiking in your neighborhood, check out the Five-Star Trails series, published by Menasha Ridge Press.