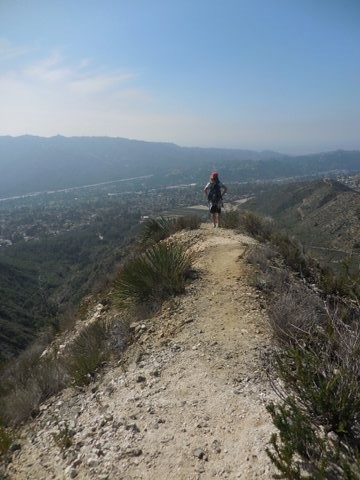 First Day Hike Starts 2016 in a Positive Direction
Posted on
January 1, 2016
Diane Stresing, author of 60 Hikes Within 60 Miles: Cleveland, shared with the American Hiking Society why she loves participating in the First Day Hike program on New Year's Day.
---
Thousands of people will start the First Day of the New Year with a hike. Why? The health benefits of being outside are impressive, but if you're not ready to subscribe to the joy-of-exercise theory, consider the more basic – and just as important – fun and festive elements of hiking.
The First Day Hike program is well-established in most U.S. State Parks, and many county and local park systems also participate by hosting "official" First Day Hike events.
Shawnee State Park, Cowan Lake, and Hueston Woods are among the Ohio State Parks hosting First Day Hike events. The hikes are of various lengths, starting at just 1 mile, and the outings are intended for participants of all ages. (Plus, they're free!)
While organized group hikes are a great way to kick off a New Year, so, too, is a smaller "private party." Taking the family on a nearby trail can become a cool new family tradition.
Take the New Year in a New Direction
I love the symbolism of a First Day Hike. The very idea of starting the New Year with a walkabout and a little communing with nature can help you start 2016 off on the right foot, so to speak. If you like the idea, but aren't in the habit of hitting the trail, don't worry – January 1st is a great time to start a new habit, and hiking is one that requires little more than an interest and a little motivation.
Wondering where to go? From local park systems and rail-trails to urban routes and self-guided walking tours, your choices are mind-boggling. For regular hikers, on the other hand, the question may not be where to go, but where to go that's different?
As the author of 60 Hikes within 60 Miles: Cleveland, I certainly have some favorite trails – and a running list of those I still want to visit. While I may find myself on one of those familiar paths come January 1st, a First Day Hike seems to demand a new path – symbolically, at least.
So, even if I end up on one of my old favorite trails, I'll walk it in a different direction. Or, perhaps, I'll visit a trail I've been to many times but not hiked in January. Different seasons have a way of making "old" trails look new again.
Find a New-to-You Trail Nearby
In Northeast Ohio – and throughout the U.S. – new trails come about for a variety of reasons. Hikers in the Cleveland area, for example, can enjoy at least three new parks situated on former golf courses. One of those – Acacia Reservation – offers special appeal in the snowbelt. A portion of the paved loop trail will be cleared of snow, so there's one less excuse for letting winter weather keep us indoors.
Need another good reason to do some winter hiking? Many park properties that charge admission during the summer are free of charge (and far less crowded) in the off-season. Still, their appeal is great. Northeast Ohio residents may consider starting the New Year with cool views of Lake Erie and a walk on the beach at Fairport Harbor in Lake County, or hiking the nature trails at Munroe Falls Metro Park in Summit County to see how busy the birds and other wildlife are when the popular swim lake is closed for the season.
What are you waiting for? Line up some friends and see where a First Day Hike can take you. Here's to many happy trails in 2016!
Diane Stresing lives, writes, and hikes in Northeast Ohio, and she is the author of 60 Hikes within 60 Miles: Cleveland.