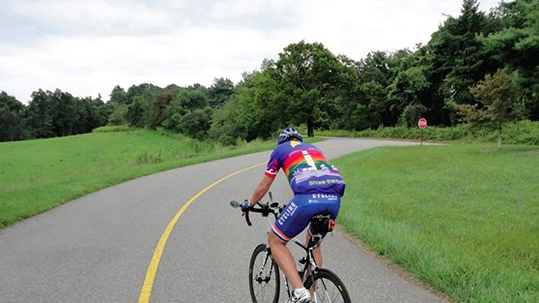 Top 10 "BEST" Reasons to Ride A Bike
With May being National Bike Month, it's the perfect time to dust off your helmet and hit the roads. BEST Magazine Cincinnati asked Richard Hunt to list out his Top 10 Reasons to Ride a Bike. Check out what the President of Keen Communications had to say about that space where the rubber meets the road and the soul of the Queen City. But have your helmet handy, because you will want to go for a ride after this!
---
#10 Biking is the easiest exercise in the world.
Especially if you're over 30 and want to go easy on your knee joints. Some folks say that swimming is just as gentle on the body, but the crucial difference is that when I stop swimming . . . I sink. But when I stop pedaling . . . I coast. Energy-free miles. Not even a Tesla delivers that sort of zero-consumptive performance.
#9 Biking in Cincinnati immerses you in life every time you ride.
You hear the birds in the summer and spring, see the colors change in the fall, and feel that snap in the air in the winter – things you don't see or can't pay attention to while in a car. You roll by your neighbors and say Hi. Up and down the block and around the town, you see the community in all its glory: raking, painting, running, walking with strollers, going to church. You'll pass by kids going to school and see new business storefronts bright and clean. I'd like to think that the uber-reward of biking is a greater appreciation for this wonderful life and city . . . and even better, an easy way to be a part of it all. A car seals you off from everything happening around us – a bike is an invitation to join in.
#8 Zero emissions.
None, nunca, nada. This brave new world/hot mess of climate change? If you're riding a bike, IT'S NOT YOUR FAULT, at least in terms of your transportation choice. That doesn't mean it's not our problem, so we do still have to fix it. But your commitment to get around on two wheels instead of four means you're one of the good guys.
#7 If you reside in Cincinnati, unless you live at the bottom of Mt. Adams and work at the top, it's a fair bet that you can commute from home to work on a bike just about as fast as you can drive.
Then there's a world of benefits that add up with compound interest: every day you ride instead of drive, you save money on gas, parking, car maintenance, gym memberships (although you should still go), doctor bills, and fast food (trust me, it's true).
#6 Queen City Bike.
Our very own bicycling advocacy group, it's the most committed, good-hearted, hard-working, and charming corps of volunteers I've ever been lucky enough to work with. We're just a bunch of normal folks – parents, business people, neighbors, Sierra Club members, teachers, musicians, citizens – for whom the bottom line isn't about EBITA or shareholders, but instead its all comes down to fixing things for our city and our kids. If you go to one of the FREE monthly meetings, you'll be drawn to the energy and passion of the crew; everyone says witty, funny things; and the group rolls on toward positive change.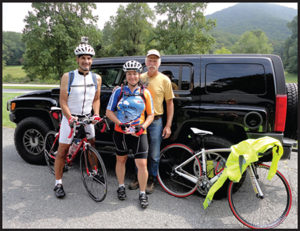 #5 Biking will, almost overnight, give you a hundred new friends.
Virtually every cyclist you pass by will either say hi or wave.  Let's face it, the only wave you get from other drivers is the middle digit wagging back and forth as they fiercely protect that precious spot of pavement in front of them in order to get where they're going four whole seconds faster. You also get the chance to say hello to people waiting for the bus, standing at the crosswalk, or anywhere that they too are outside, out of their cars, out having a great time.
#4 The Cincinnati Bike Community, especially the Bike Shop Folks.
Like QCB, they're some of the finest folks you'll ever have the pleasure to meet. They are definitely "along for the ride" because they too know how much darn fun it is. Your neighborhood bike shop is a good place to start when you want to explore a freer, cooler lifestyle. If you're a newbie, check out the introductory rider sessions that MOBO (a cooperative that provides a central place for people to rescue bicycles and learn how to fix and maintain them) and QCB provide. Both offer great ways for beginners to get comfortable riding in Cincinnati. The volunteers building the mountain bike trails are tireless soldiers in the march to have fun in the woods. Then there's Bike Month. Based on last year's numbers, there will be over 75 local events that you can take part in during the month of May. Welcome to the party. (www.mobobicyclecoop.org).
#3 Being on a bike makes one feel very Zen – things happen, you roll with it.
You can't control what's going on in terms of traffic flow – trucks and cars are too big, bikes are too skinny. But on a bike you can almost always avoid the traffic jams by carefully winding your way along the bike lane. There's little to be gained in life when confrontational, so I've never felt good about drawing any hard line, any us vs. them scenario. For drivers and cyclists, the Truth, the Law is: Same Roads, Same Rules, Same Rights. We can definitely co-exist.
#2 The whole parking meter brouhaha?
On your bike, the point is pointless (thank you, Harry Nilsson). The cheap thrill of biking – in more ways than one – is that you get to you lock your bike to the No Parking sign that's right there by front door of the store or restaurant if you want. Meanwhile, everyone who's driving is either still circling while looking for a parking space or hoofing it across a hot asphalt lot that's two football fields long while you're already in the checkout lane. That's every day . . . imagine saving that kind of time and hassle. This is my favorite parking story: our youngest son won tickets to a Bengals game for selling magazine subscriptions at his school. It was a sparkling autumn Sunday so we rode the tandem down Erie, to Linwood, to Delta, coasting all the way. We turned right and rode west on what was then called Eastern Ave. A light wind kissed our faces. The Ohio River accompanied us to our left, flowing along, silent and strong. We entered the park that starts at Bain, connected to Ted Berry Park and Sawyer Point. Red, yellow and orange leaves fluttered overhead, brilliantly contrasted against the bright blue sky. As we neared Paul Brown Stadium, we saw signs for Special Event parking, $20 here, $30 the next block, then $50.  We rolled right past all that and locked up about ten yards from the entrance. A+mazing.
#1 Riding a bike is like falling in love.
First, there's the whole giddy, floating-down-the-street, lighter-than-air feeling. Then a period of time when you realize the attraction is mutual and you want to do it in the worst/best way. Then heavy-breathing, I-am-wonderfully-tapped-out sort of fun that connects you deeply with the world. You're happy, lighthearted, your body is stronger and tighter (but not beat up), and you feel great about doing it. As best I can tell – t'ain't nothing wrong with all that. You can take this next part to the bank – riding a bike is as close as you can come to flying under your own power.
Plain and simple, I'd rather not be part of the populace who didn't care, who didn't change the way we get around, and because of that inertia, we screw up everything for the next generation. So maybe in ten years when we finally get the pendulum to swing the other direction, our kids will think, "you know, Dad wasn't a whacko, he just really cared about us and did what he could to bring about change, and balance, and respect." And if they say that before swinging their legs up over their bikes and riding down Madison in the bike lane to their jobs or schools . . . that'd be a dream come true. Of course, I've got to work off all these semi-mortal sins incurred by the outlaw life of a book publisher, so I have to be on the straight and narrow (bike lanes are much thinner than car lanes) in terms of sustainable transportation. Therefore, riding a bike allows me to believe I'm not sinking deeper into the muck of moral turpitude. Or whatever. Then again, I'd probably say just about anything in order to keep riding my bike every day. Bonus point: I got the chance to use the word "turpitude" in polite society.