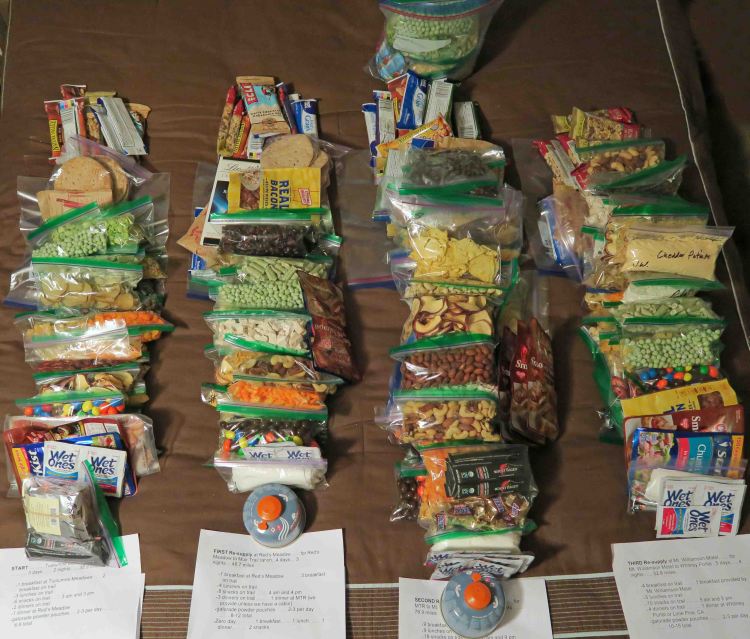 Watch Your Weight When Packing Food for a Hike
Posted on
September 7, 2016
We followed Jim Warnock, our author of Five-Star Trails: The Ozarks, throughout his John Muir Trail thru-hike this past summer. And while the gear has been cleaned and stored and the food has been eaten, Jim's advice about preparing for a thru-hike still rings true.
If you're preparing for a fall backpacking trip or starting to dream of your own JMT thru-hike next year, check out his tips on how to pack food that is tasty, hearty, and still lightweight.
---
While studying the John Muir Trail Take/Leave Survey, I noticed a pattern. Some hikers who indicated that they took too much food would post comments like, "Didn't feel like eating." Then, the percent of trip completed might be 20-30%.
I've seen the effect of elevation changes on the appetite. Not eating enough can cause the early end to a trip. I've been fortunate that I stay pretty hungry on the trail, but keeping food interesting, nutritional, and light is a challenge.
There is also a danger in packing too much food (and weight) so measuring and estimating needs can be challenging. Finding foods that are calorie-dense, lightweight, and low in bulk is the task. Finding veggies for the trail is important too.
I do better if my trail menus contain "real food" I might eat at home. Going with natural foods where possible also helps in the taste department. Some might thrive on nothing but commercially available freeze-dried meals, but I find that home-dehydrated food is tastier and less expensive.
To dehydrate frozen veggies, just place them on the rack and let your dehydrator run for several hours until they're crispy. You can go for chewy if your trip is soon, but I prefer crispy-dry to avoid spoilage and reduce weight.
I like to dehydrate fresh vegetables when possible. It's important to blanch them by placing in boiling water for 2-3 minutes. I cut them, then blanch them, and then place them on the rack. Some veggies do better if I spray the rack lightly with Pam to avoid sticking. Blanching is important if you want to hold the natural color in your veggies. I even blanched two green bell peppers before placing on wax paper in my dehydrator. They were a thing of beauty and added some flavor to several meals on the trail.
Dehydrated fruit is a real treat and good energy on the trail. My favorites are bananas, apples, strawberries, and pineapple. I slice thin and dip in instant lemonade, so the fruit holds its color. Dry until crispy to avoid spoilage and reduce weight.
Home dehydrated fruit is much better than what you can buy in the store. The flavor is amazing. It's difficult not to eat the dry fruit before ever arriving on the trail!
Protein for backpacking tends to be heavy. Tuna, chicken, or salmon in foil packs are delicious but add weight to your pack. Carrying a few of these for lunch or dinner is an option, but I purchased a can of Mountain House dehydrated beef and chicken for weight and convenience. Meat added to breakfast or even $1 Knoll side dishes makes a tasty and easy-to-prep meal.
With planning and preparation, food on the trail can be the source of enjoyment and energy. Enjoy your outdoor restaurants and dinners with a view whereever the trails may lead!