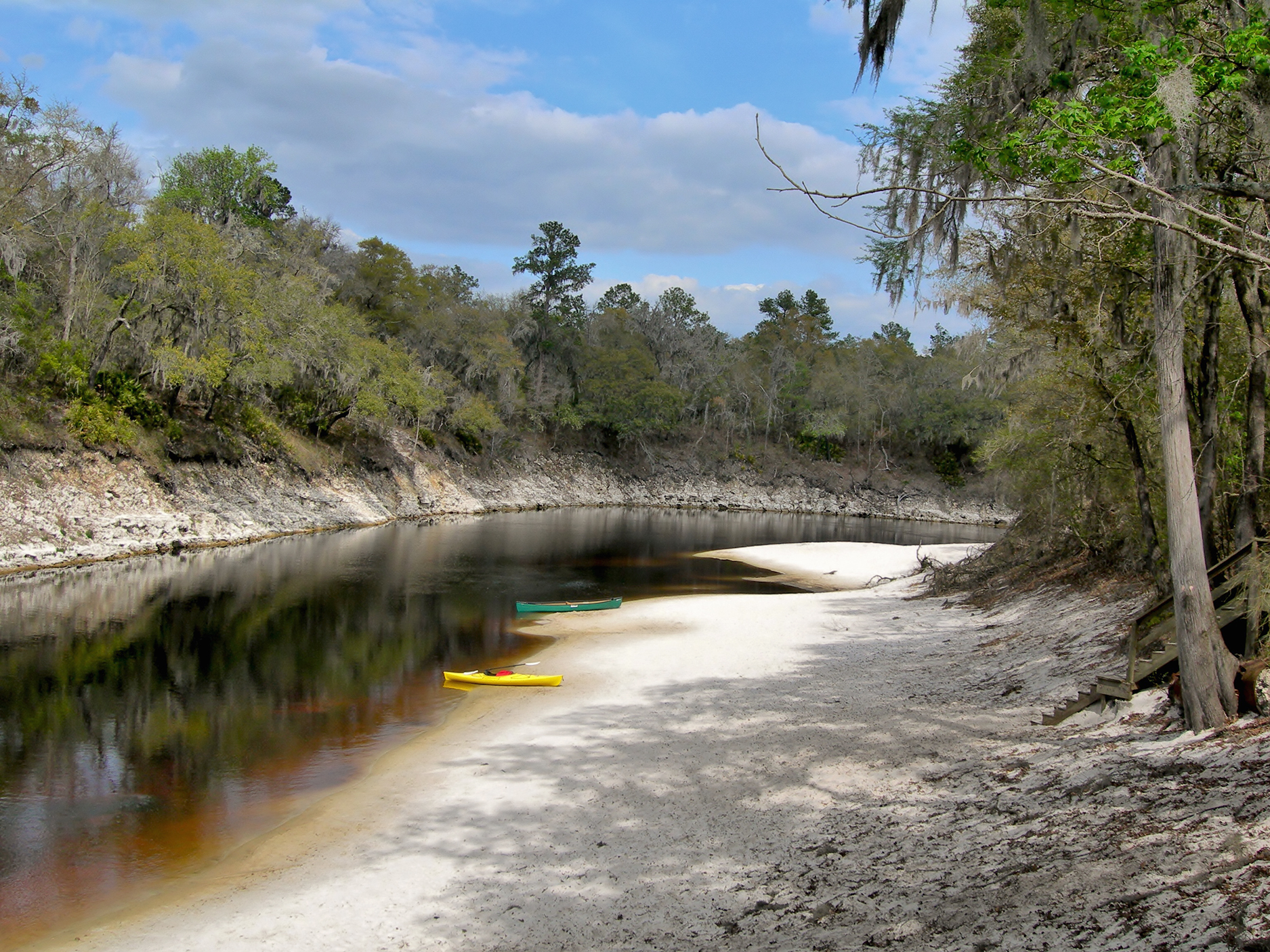 Why Camp in Florida in the Fall
Posted on
September 15, 2016
Florida is a tent camper's paradise. From the northwestern Panhandle to the Everglades, there are natural areas, still wild, that have been developed enough to include campgrounds of high quality. So you can camp in an attractive setting and have plenty of nature nearby to enjoy. And with the focus on tourism in the state, you're never more than a couple hours' drive from attractions designed for the out-of-towner.
Fall in particular is a great time to go camping in Florida. It's a true Southern shoulder season; the sun is a little less brutal, the beaches and parks are less crowded, and the northern snowbirds have yet to descend on the state. And to celebrate, here are some campsites to check out this fall from the new edition of Best Tent Camping: Florida by Johnny Molloy.
---
Florida Caverns State Park Campground
The name of this state park emphasizes the uniqueness of the underground features here. Strange and fascinating rock formations characterize the cave. Camping here is an eye-pleasing experience in the diversely wooded setting. Trees and bushes allow for plenty of site privacy and create the impression that the campground was integrated into the forest rather than the other way around. Fall is an excellent time to come—the deciduous hardwoods can put on quite a colorful show throughout the park.
ADDRESS: Florida Caverns State Park 3345 Caverns Road Marianna, FL 32446
OPERATED BY: Florida State Parks
CONTACT: 850-482-1228, floridastateparks.org; reservations 800-326-3521, reserveamerica.com
OPEN: Year-round
SITES: 35
EACH SITE: Picnic table, fire ring, water, electricity
ASSIGNMENT: Assigned by ranger
REGISTRATION: By phone or at the ranger station
FACILITIES: Showers, flush toilets
PARKING: At campsites only
FEE: $20/per night
Hammock Campground at Jennings State Park
Hammock Campground is stretched along a narrow dirt-and-sand track that loops through a gorgeous woodland of live oak, laurel oak, and pine, with scattered palmetto and brush. The 10 campsites—all finely shaded—are spaced well apart along the loop road. Fall through spring is the time to set up your tent then explore the outdoor offerings of Jennings State Forest.
ADDRESS: 1337 Long Horn Road Middleburg, FL 32068
OPERATED BY: Florida Forest Service
CONTACT: 904-291-5530; freshfromflorida.com
OPEN: Year-round
SITES: 10
EACH SITE: Picnic table, fire ring, tent pad, auto pad
ASSIGNMENT: First come, first served; no reservation
REGISTRATION: At entrance station
FACILITIES: Vault toilet
PARKING: At campsites only
FEE: $10 per night
Hillsborough River State Park Campground
Hillsborough River State Park has been providing tent campers with a fun and scenic destination for generations. The river here has some actual rapids, and fall can be a good time to float the river. Canoes and kayaks can be rented onsite, and you can fish for bass, bream, or catfish. No swimming is allowed in the river; instead, there is a large swimming pool that is open during warmer months.
ADDRESS: Hillsborough River State Park, 15402 US 301 North Thonotosassa, FL 33592
OPERATED BY: Florida State Parks
CONTACT: 813-987-6771, floridastateparks.org; reservations 800-326-3521, reserveamerica.com
OPEN: Year-round
SITES: 112
EACH SITE: Picnic table, fire ring, water spigot, electricity
ASSIGNMENT: Online or assigned by ranger
REGISTRATION: Online, by phone, or at park entrance booth
FACILITIES: Shower, flush toilets, laundry
PARKING: At campsites and extra car parking
FEE: $24/night