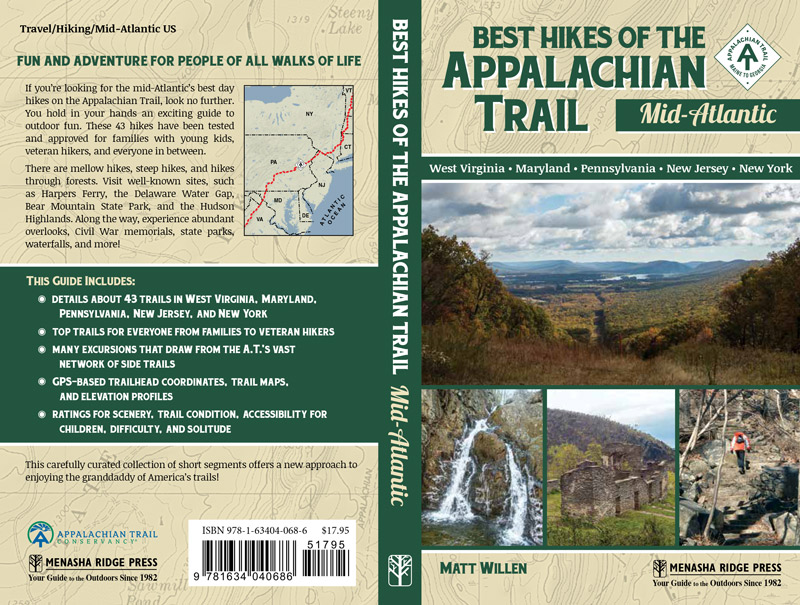 Best Hikes of the Appalachian Trail Hitting Shelves Before the Holidays
Posted on
November 22, 2016
We are working hard to get Best Hikes of the Appalachian Trail: Mid-Atlantic out in time for the holidays! I just made some corrections to the manuscript last week and got a preview of the book cover, and now it's off to the printer. The book will have information on 43 of the best hikes between Harpers Ferry, WV, and the New York/Connecticut state line.
This will be the third book of the series of Best Hikes of the Appalachian Trail published Menasha Ridge Press, the other two of which are already published. Best Hikes of the Appalachian Trail: South was written by Johnny Molloy, who has written a load of guide books for Menasha Ridge and other presses. Best Hikes of the Appalachian Trail: New England was written by Lafe Low, who also wrote Best Tent Camping: New England 4th ed.
I'll be posting more about the book and some of my favorite hikes in the coming weeks. Until then, here are some fun facts about the guide.
– I did most of the research and hikes for the book from October 2015 through May of 2016. I got lucky because, in spite of the fact that the mid-Atlantic got hammered by snow last January, most of it stayed south of I-80. I was driving up to New York and New Jersey all winter long and found hardly a dusting!
– When I was doing the hikes I tried to make use of the vast network of side trails in the region in order to create loop hikes, rather than simply out and back trips on the Appalachian Trail.
– The book includes 80 photographs, which gives hikers a visual sense of what to expect on the trail.
– I included a bunch of hikes that are good for the whole family as well as a few test pieces that will challenge the hardiest of hikers.
– One of the very nice features of all of these books is that they are small enough to fit in your jacket pocket, day pack, or Christmas stocking.
– Each chapter includes information on things to do in the area near the hikes; these things to do include places of historic interest to visit or to stop by for a picnic, and often information on some place for a bite to eat after a day or couple of hours on the trail.
– Even if you are a newbie, the hikes and information provided in the book will help you to develop your skills to and plan a successful trip.
– The book includes information on many of the well-known hikes in the region as well as bringing to light some of the lesser-known but equally as enchanting hikes in the area.