The Second 5: 60 Hikes Within 60 Miles of Boston
Posted on
November 17, 2016
Hold onto your hats, folks! We're deep into the double digits of updating 60 Hikes Within 60 Miles: Boston. Only (involuntary shudder) 50 more to go!
---
Hike #6 – Callahan State Park
Callahan State Park is a huge place. It's actually set up like two separate parks, with a road bisecting the park. The hike encompassed both southern and northern parts of the park. The northern part has more remote feel—all trails are truly hiking trails. There's also more elevation gain as you skirt around Gibbs Mountain. The southern portion also has a vast network of wooded trails, as well as wider more pastoral hiking trails that wind around the end of an old earthen dam. I completely ran out of gas on this hike. Apparently, I run on more than Dunkin and a Clif bar. That was my own stupid fault. I really ought to know better by now.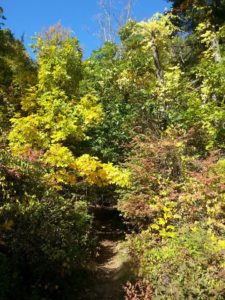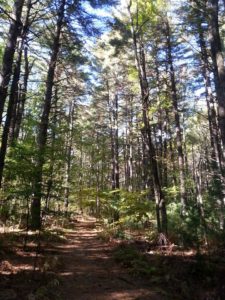 Hike #7 – Wilson Mountain Reservation
Wilson Mountain Reservation is a fantastic set of loops upon loops. There's also a great view of Boston skyline from summit—especially if you climb up on this large boulder perched atop the summit though. Be careful. Pay attention to where your feet are as you jockey for position to get a shot of the skyline. You wouldn't want to step off that rock. I couldn't help but think that my son—the former collegiate cross country runner—would love running here.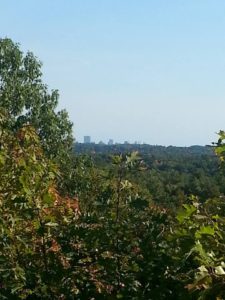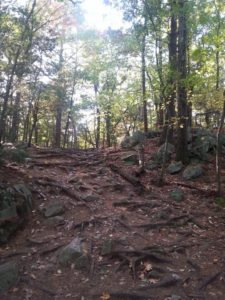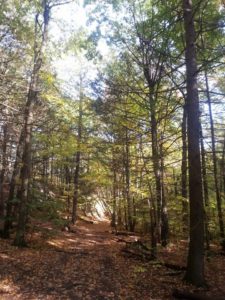 Hike #8 – Sudbury Memorial Forest
Earlier this fall, I took two days off to bang out a group of hikes. I took Friday and Monday off to have a nice four-day chunk of time. Then naturally, Massachusetts received more rain that we've had in three years. Still, I managed to sneak into Sudbury Memorial Forest in between deluges. The heavy wet air and a swampy nature of the hike were neat combo!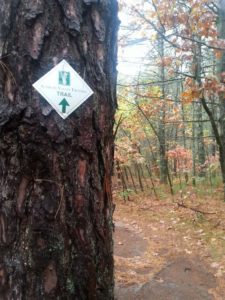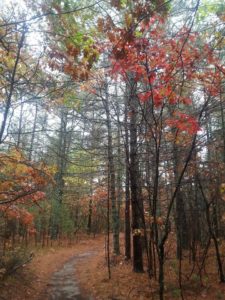 Hike #9 – Noon Hill Reservation
Noon Hill Reservation is another excellent set of loops upon loops, like most of the Trustees of Reservations or DCR lands. You'll pass by some fascinating cliffs and geological formations. There's not too much elevation gain throughout the reservation here, so this makes for a nice mellow place to hike.

Hike #10 – Hemlock Gorge Reservation
This is a super scenic, easily accessible small set of trails. It is truly located right at the intersection of 95 and Route 9. You can hear and even in some cases see the traffic zooming by on 95/128. That doesn't detract in the least from the natural beauty of the gorge. On the crisp clear fall day I was there, there were several folks creating oil paintings of the gorge and the falls.