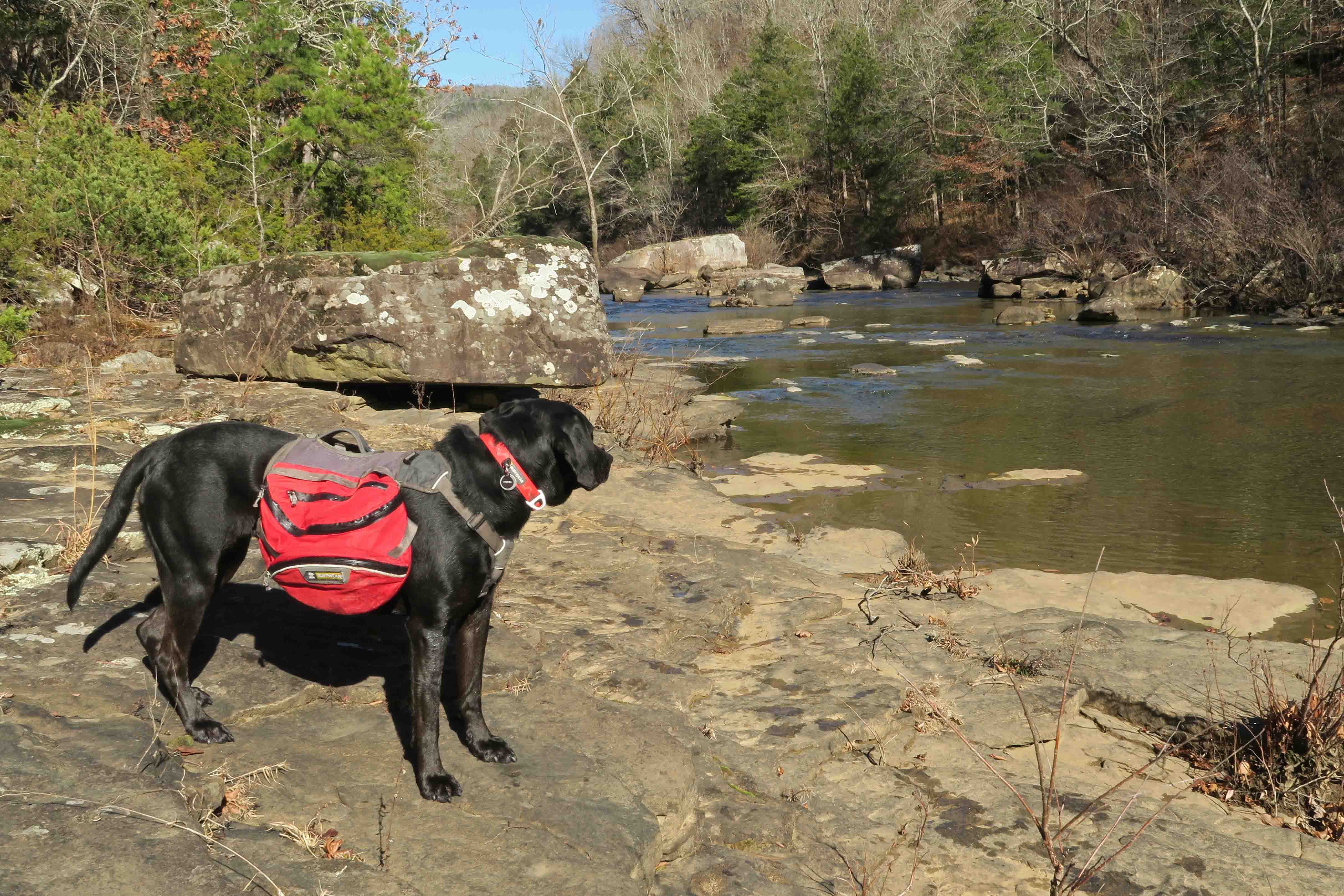 A New Winter's Trail for Hiker-dog: The Hurricane Creek Wilderness
December 29th: This trek through Arkansas' Hurricane Creek Wilderness Area would bring Hiker-dog closer to completing the Ozark Highlands Trail (OHT). It was also the final section needed for one of our group to finish the traditional 165 miles of the OHT.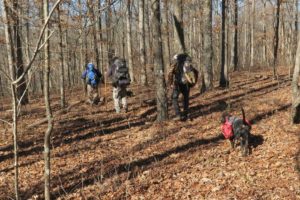 The winter woods were open and clear under sunny skies. Eric and Hiker-dog paused to take in the views at the slow-running Hurricane Creek. The water was as clear and the bottom of the creek was as slippery as I remembered. Even Hiker-dog's four paws slipped a time or two.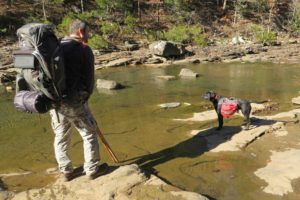 Bob and Eric did some rock hopping to cross dry. Scott, Hiker-dog, and I all chose to wade the creek. It looked like Scott found a deep spot in the creek, but we all made it across dry and ready to move on up the trail.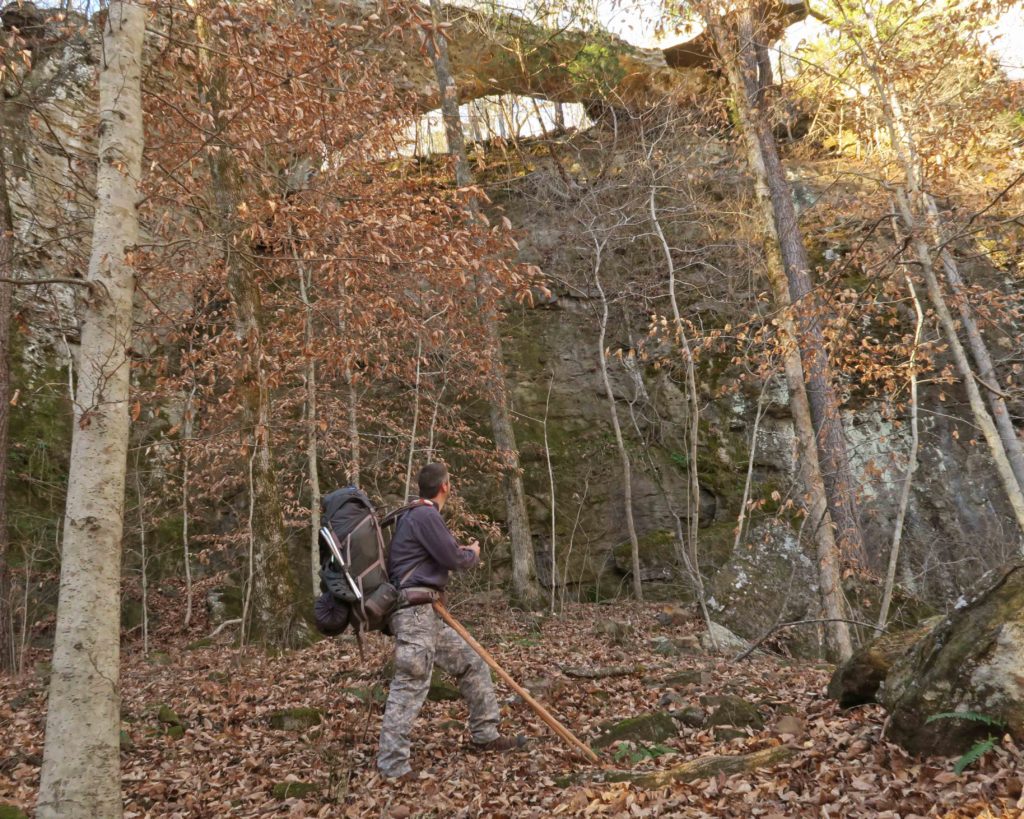 Winter leaf-off is a good time to view Natural Bridge perched at the top of bluffs on the west side of Hurricane Creek.
Thanks to Eric for noticing the color reflecting on Hurricane Creek's surface. We took turns photographing the scene with my camera because Eric's camera batteries were drained.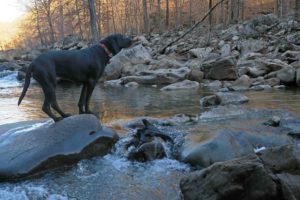 Hiker-dog seemed to enjoy showing off by hopping rocks as the sun continued to move lower in the sky.
We were in our tents by 7 p.m., lulled to sleep by the gentle sounds of Hurricane Creek below our campsite. Coyotes let loose a chorus of howls late in the night, but I find their distant cries relaxing and part of the beauty of nighttime in the Ozarks. Temperatures got down to the mid-20s.
Around midnight, I answered nature's call and enjoyed looking at the starry sky for a moment before returning to my tent. I discovered Hiker-dog curled up on my down blanket rather than her Thermarest sleeping pad. When she felt my feet sliding under the blanket, she moved back to her bed, sorry that she couldn't have a down quilt of her own.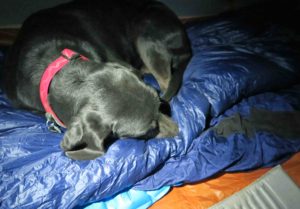 ---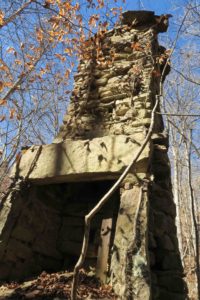 December 30th: After passing through beautiful woods along Hurricane Creek (and doing some pretty intense climbing), we dropped back down to creek level and a favorite historical chimney. After the east crossing of Hurricane Creek, we passed the Highwater Bypass and continued toward Chancel and our campsite at a small creek that eventually feeds into Buck Barn Creek.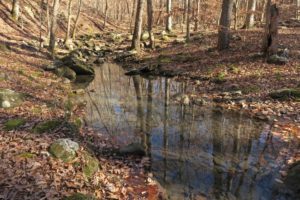 Four miles before our campsite, we crossed this little creek without a name. On one of my early hikes through the Hurricane Creek area, a friend ran out of water after we passed this creek and suffered heat exhaustion. He made it out but was pretty sick for a couple of days. I always check my water carefully when passing this creek just prior to mile 115, even on this winter's day.
We found excellent water at our second campsite, located between mile 119 and 120. Another nameless creek, it always seems to have water.
All meals seemed to taste better on that second night, maybe because of the more than nine hilly miles we'd hiked. Bob commented that Hiker-dog was an 8-mile dog because she slept soundly as we ate. She bounced back strong the next morning.
---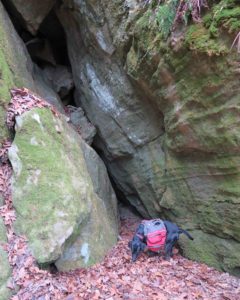 December 31st: The next morning we walked through beautiful boulder fields, making our way toward Chancel junction.
Coming down into the Buck Barn Creek was a treat visually, but it meant a lot of climbing on the other side as we made our way toward Fairview Trailhead.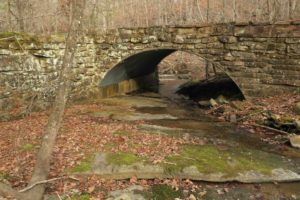 Bob reminded me of the arched shape of the bridge below Forest Road 1209A, so I dropped down for a few pictures.
After lots of huffing and puffing on the climb to Fairview Trailhead, we arrived at the trip's end. Celebrations were in order, as this was the last section Scott needed to complete 165 miles of the Ozark Highlands Trail. We were proud of his accomplishment.
We're also looking forward to Hiker-dog's completion of the OHT. I think the thru-hike patch will look good on her pack, but the real reward is good times spent with good people exploring the Ozarks!
If you'd like to read the story of how Hiker-dog first joined us on the trail in 2014: Walk, Eat, Sleep, Repeat – Fairview to Tyler Bend and A New Hiking Partner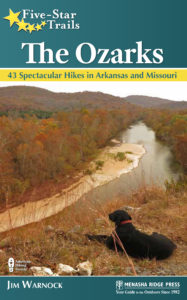 Once homeless, Hiker-dog is pictured on the cover of Five Star Trails: The Ozarks.