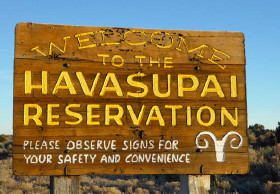 How to Get to Supai from Hualapai Hilltop
You've drooled over the photos. You've decided what time of year to go. Now, how exactly do you get to Havasupai?
With a hot, 10-mile hike down into the belly of the canyon, it's not exactly easy to get to paradise. Luckily, you have options!
---
From Hilltop to Supai
Although there are no camping facilities at the Hilltop parking area, many summer hikers arrive late at night, sleep in their cars or on a pad by the side of the road, and then hit the trail before sunrise. Others choose to arrive at Hilltop late in the afternoon and make an evening arrival in Supai. Staying in Peach Springs or at Grand Canyon Caverns and driving to the Hilltop trailhead before dawn is another option. To avoid hiking in the heat of the summer, plan your departure based on your hiking speed, sunrise and sunset times, and temperature forecasts.
Saddle and Pack Services
By making advance arrangements you can ride a horse to the campground or lodge, or hike in and have a horse or mule carry your gear. Many groups choose to hike in and arrange for one mule among the group to lighten the load. Other groups put the younger, older, or less fit members on horses, while the better-conditioned hikers hit the trail on foot. But be aware that unless you have riding experience and a good seat, you may be more comfortable walking. Having saddle and packhorses available gives you plenty of options so that visitors of all ages and physical capabilities can enjoy Havasupai.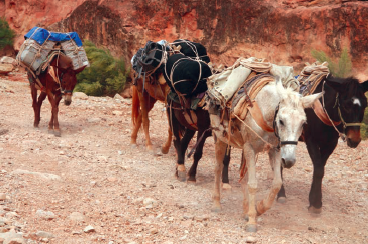 Helicopter Services
Airwest Helicopters provides passenger and freight helicopter service between Hualapai Hilltop and Supai Village. There are no reservations, and service is offered on a first-come, first-serve basis. Tribal members have first priority, followed by teachers, consultants and contractors on tribal business, and finally tourists. But as long as you check in during the service hours, you should be able to make it aboard that day. There are always those who make it down into the canyon, then realize they don't have the stamina or capability to make it out under their own power. For those individuals, just knowing the helicopter is available provides a viable backup plan or "escape route."