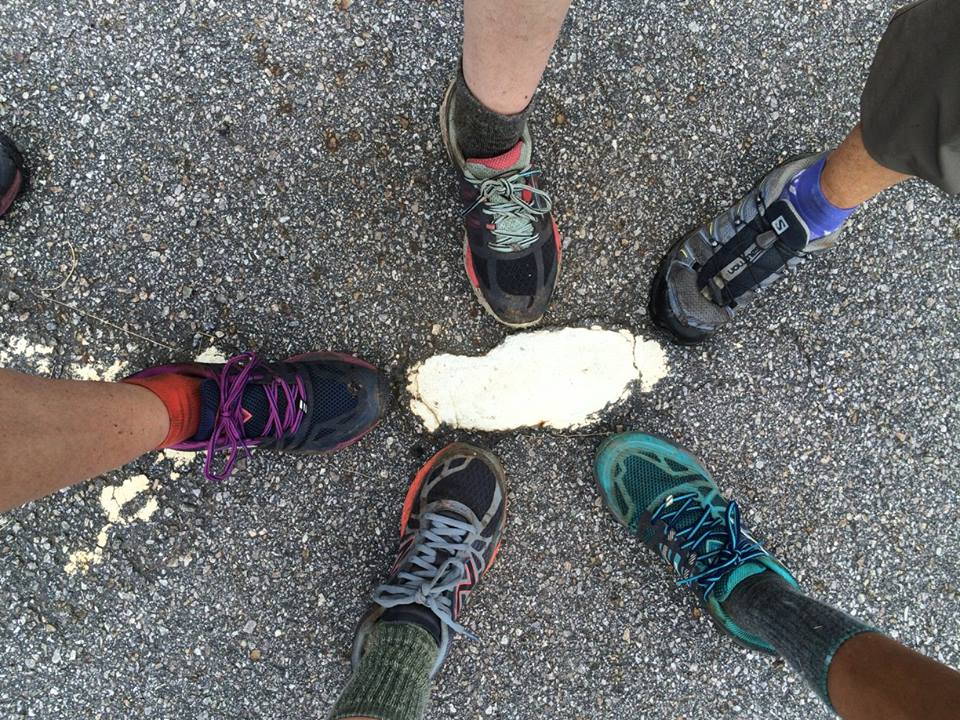 Cutting Weight: The Women of the White Blaze
The women sit in a living room chatting. Laughter bounces off the walls. Wine flows freely and snacks fill the table. If you were to close your eyes, you'd envision a cocktail party full of fancy ladies and juicy gossip. Only the juicy gossip here is about how to stay clean down there after a week of no showering. And the snacks are different variations of trail mix that are being tested. And the living room resembles a bear-ravaged REI, with camping gear strewn into every corner.
———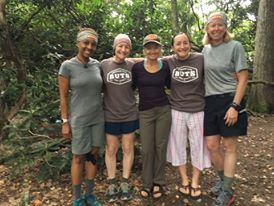 Meet Callie "Grasshopper" Cole, Olivia "CoffeeBeans" Affuso, Kathy "Jedi" Morgan, Jessa "Fast Feet" Freeman (twin sister of Grasshopper), and Mary "Butterfly" Adamy. These ladies from Birmingham, Alabama, are section hiking the Appalachian Trail, carving out time from their busy work and family lives to chase that white blaze. All of different ages and backgrounds, they share two commonalities: They belong to the Birmingham Ultra Trail Society (BUTS) and are no strangers to physical and mental challenges that most would shy away from.
———
This was the scene of a packing party before the Women of the White Blaze embarked on their most recent section hike through Great Smoky Mountains National Park. Fast Feet, the ringleader, organized the evening as a way for everyone to get together to eat, drink, and discuss the importance of metal versus plastic poop trowels. Poop trowels? "Heck yes! For the record, poop is important!" Fast Feet exclaimed. "I think the biggest kick we got out of our research is how much time Jedi and I spent researching shovels. The running joke was that I talk about poo all the time! So a good privy gets me excited, and I took lots of good privy pictures. But a good shovel is key, and the plastic one I had just wasn't cutting it—literally, it was bad to use in dry dirt."
Experienced trail runners and campers, the women quickly learned that planning an Appalachian Trail section hike required a bit more research and preparation than usual. And training.
As Grasshopper said, "It takes a lot of time to properly research, read, decide, shop, package, prepare, and pack. Lots of hours of hiking in 98-degree, 105-heat-index Alabama summers. I think a lot of the prep work will be easier next time, though, due to knowing what to expect. It will still take time to get back in backpacking shape. Having 30 pounds on your back makes it much different than hiking and trail running."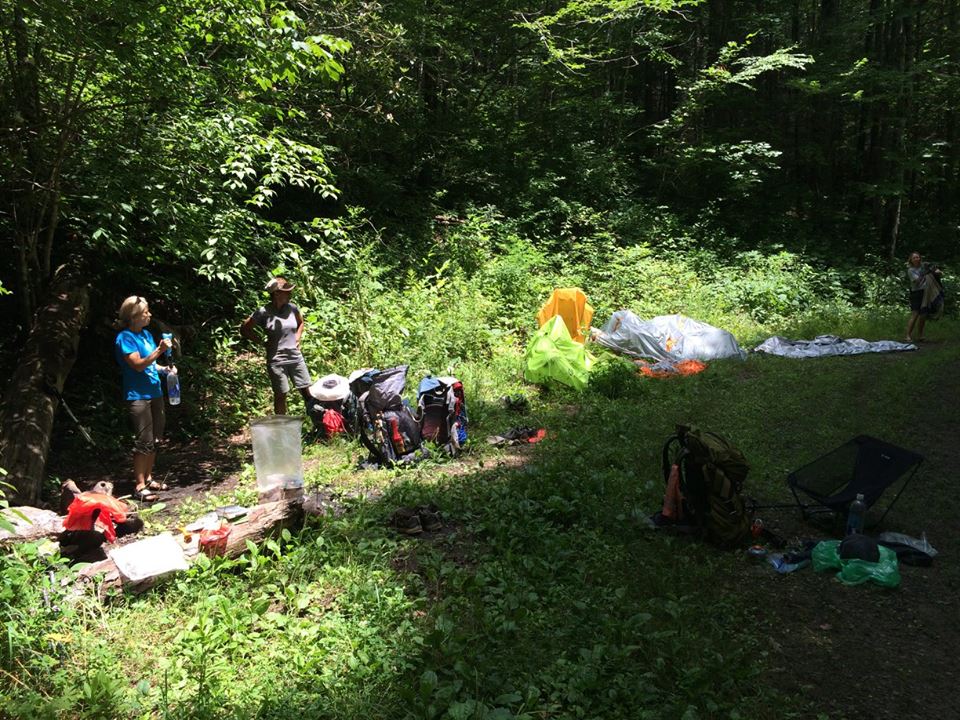 Long-distance hikers know the importance of good gear. They're also very familiar with the staggering costs of that good gear. Wisely, the White Blaze Women waited until they had enough trail miles under their belts before splurging on the gear that worked best for them.
But not everything was new. Out of necessity and nostalgia, Grasshopper decided to stick with some old gear. "I am a stay-at-home mom, with a tiny budget. I ended up sticking with my mom's 30-year-old (never been washed!) down sleeping bag. It was toasty warm on my "I am going to die day," so I then became one with her old bag. It is hot in the summer and a bit heavier, but it is free. I also think it is pretty cool that her hiking may be done, but what she has inspired in us continues, with her sleeping bag in tow!"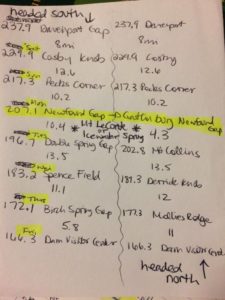 With crazy life schedules, most planning meetings were virtual. But where's the fun in that? Getting together in person made the difference between some friends going on a trip together and a sisterhood that formed over the same dream. There was the time when the women met at a bookstore to compare itineraries and travel dates. As they sat and planned their trip, at the table next to them were two women planning a backpacking trip through Europe together. The two groups were complete strangers yet united by their adventures.
And, of course, the weighing-and-wine party was essential. The mood was lighthearted, but the intentions were serious. And laughingly frustrating. Jedi borrowed all her gear from Fast Feet and her husband for her first section hike, but she knew she'd eventually need her own. So she spent a lot of time reading reviews, researching, talking to friends, looking for sales, and finding the right balance of cost and weight. "We had multiple meetings, and just when I thought I had what I needed, I quickly learned I had more things to buy. I was starting with nothing, and this stuff is expensive!"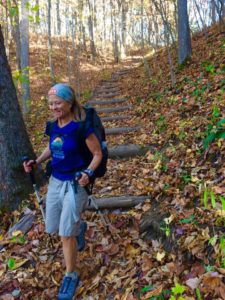 The most universal, controversial, and discussed issue amongst the group seemed to be weight. Not body weight—backpack weight. Where can you cut ounces? What is worth carrying, and what should stay behind? How light is too light? A pack that's too heavy becomes a nightmare after a few mountainous miles. A pack that's too light may mean you forgot a crucial item at home.
Butterfly had some real motivation to reduce the weight of her pack. With age, arthritic knees, and a small frame, she knew that she'd have to consider every ounce carefully. And yet, she said, "The hardest part of prepping for the trip was upgrading my backpacking equipment to 'lighten the load.' I still had my Jansport backpack from the 70s and other old-school heavy gear. I spent a lot of time researching and purchasing new ultra-lightweight gear. I kept my pack at about 25-27 pounds, including several days of nutrition and 2-3 liters of water. But it was a challenge."
———
Grasshopper put it this way: "I think one thing that makes our group special is that we are willing to do this part of the process, and we understand that all this time spent beforehand makes the actual trip easy and pleasant."