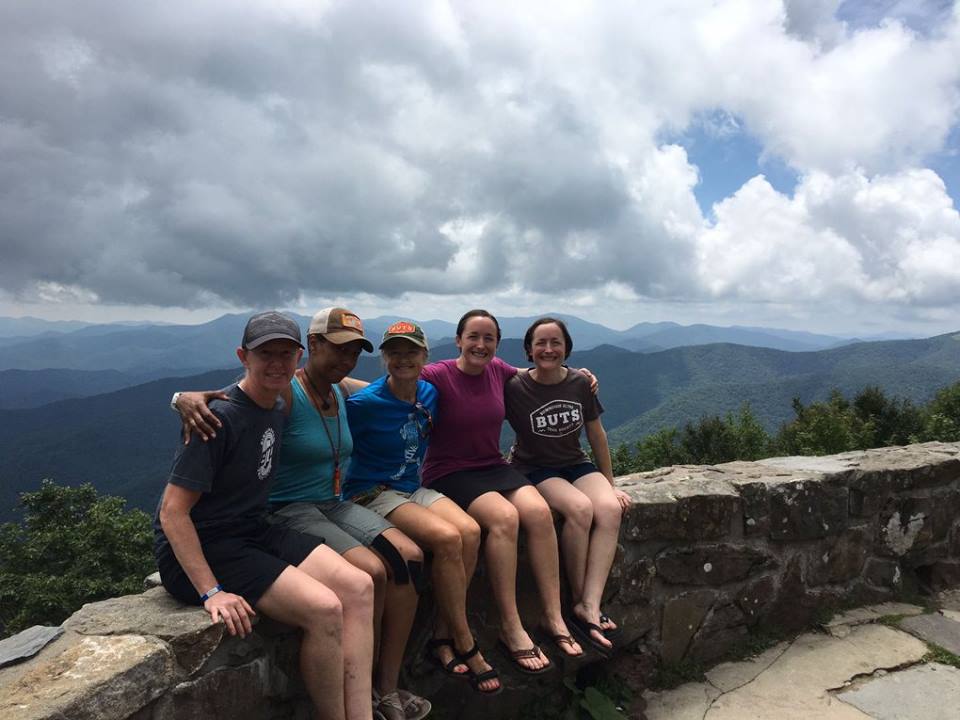 Defying Expectations: The Women of the White Blaze
The three women awoke in a shelter on the Appalachian Trail, stretched their stiff hiking muscles, made coffee and oatmeal, and broke camp. They paused to check the weather forecast warning of thunderstorms and possible hail. Normally, weather like this would be alarming, but there had been thunderstorms predicted all week that had only amounted to rain, so they soldiered on, heading north in Great Smoky Mountains National Park through the increasingly bad weather.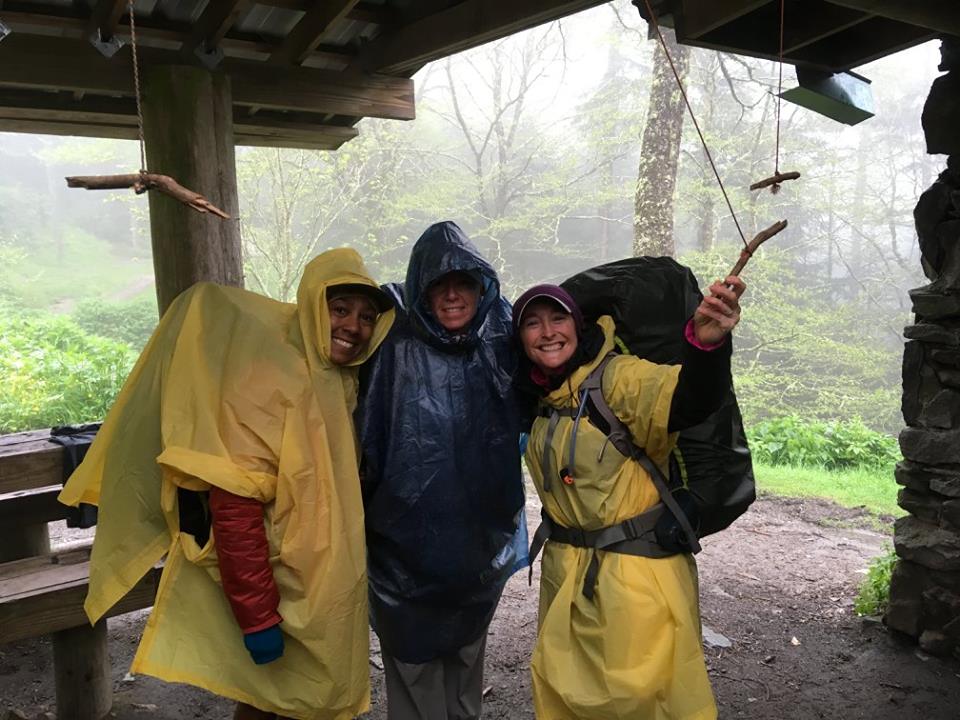 As they hiked, it dawned on them that the trails were quiet that day. Eerily quiet. And it wasn't only because CoffeeBeans was in the middle of her 24-hour vow of silence. She, Grasshopper and Jedi were the only hikers going northbound on the Appalachian Trail. In fact, they were unknowingly walking straight into a tornado-warning storm that would pummel them with thunder, lightning, hail, and 20-mph winds with 40-mph gusts ripping over the mountain.
But the women had 10 miles to cover that day and no time or patience to sit and wait for sunnier skies. This 70-mile section hike through Great Smoky Mountains National Park had taken six months to organize, and their hectic work and life schedules didn't allow for a measly storm to derail their plans. So onward they trekked along exposed ridgelines to the warm, dry Pecks Corner shelter.
———
Meet Callie "Grasshopper" Cole, Olivia "CoffeeBeans" Affuso, Kathy "Jedi" Morgan, Jessa "Fast Feet" Freeman (twin sister of Grasshopper), and Mary "Butterfly" Adamy. These ladies from Birmingham, Alabama, are section hiking the Appalachian Trail, carving out time from their busy work and family lives to chase that white blaze. All of different ages and backgrounds, they share two commonalities: they belong to the Birmingham Ultra Trail Society (BUTS) and are no strangers to physical and mental challenges that most would shy away from.
———
The going was not exactly easy. Grasshopper was scared out of her mind, convinced she had hypothermia and was going to die right there on the trail. CoffeeBeans was sticking to her vow of silence, despite the dire conditions. And Jedi, a former Army cook and natural protector, had the challenging task of leading the pack, keeping morale up, and moving the group forward to safety.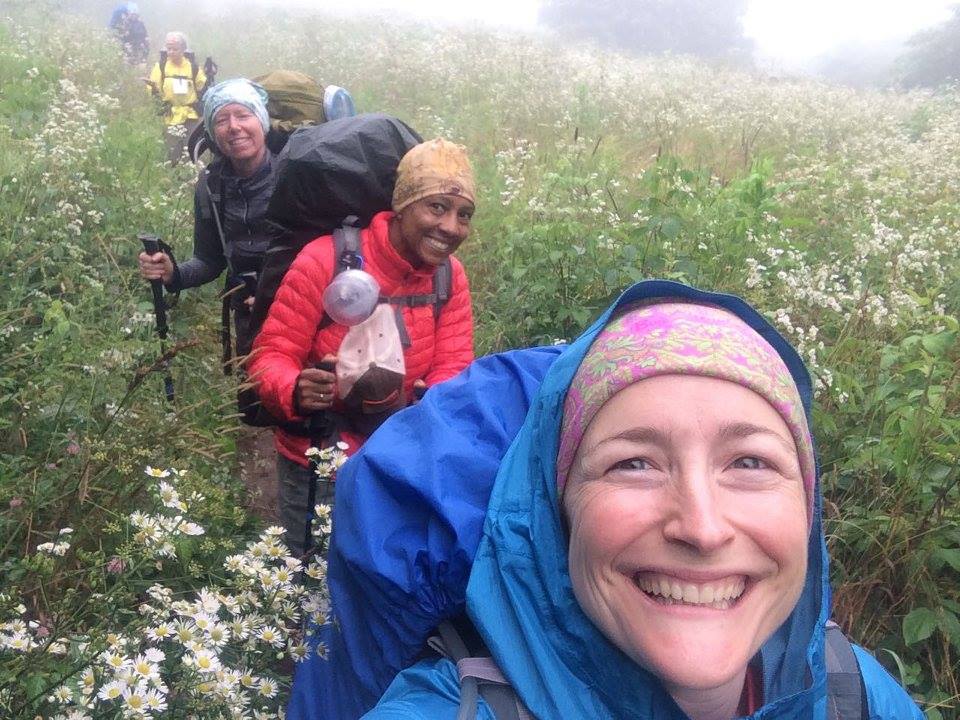 But bad moods and bad weather don't last forever. CoffeeBeans danced with her shadow when the sun peeked out, using movement and smiles to lighten the mood when she couldn't use her voice. Jedi kept up an endless stream of positive chatter and jokes. And, though Grasshopper temporarily fell into a dark place in her mind, she reemerged as "Sunshine Grasshopper," discovering what she could mentally and physically handle with the help of her trail sisters.
Meanwhile, back in Birmingham, Fast Feet and Butterfly checked and rechecked their packs and prepared to follow in their friends' footsteps the following week. They would not have harrowing weather, but they would come across problems of their own with injuries and a bear encounter.
———
An Appalachian Trail thru hike seems unattainable to most. It's something for young adults fresh out of college. Or retirees. Or people wanting to pause life for a while. Or find themselves. Or reinvent themselves. It certainly doesn't seem like it's for a group of women who know exactly who they are and aren't looking to run away from life, but to enhance it.
Now, a section hike—that is more within reach. It's less of a concentrated time commitment, but arguably just as difficult to plan. Section hiking the Appalachian Trail is a calculated, repeated decision to chisel out time in your life to put everything but the trail aside for a while.
With a newborn and a toddler to wrangle, not to mention a full-time job, most parents would just be trying to keep their nerves from fraying. Not Fast Feet. Despite her sleep-deprived state, she started dreaming about and planning her section hike, infecting her friends with enthusiasm as she went.
First came Fast Feet's twin sister, Grasshopper. "I had always dreamed of hiking the Appalachian Trail, but with four older kids I'm not at a point in my life where I can realistically do it. When Jessa put her section hike plan in motion, I became the lucky tag-along buddy."
Next was Jedi. She and Fast Feet had been running together for years, and had spent many hours sharing trails and devising a plan for an all-women section hike, just as Fast Feet and Grasshopper's mom had done with her girlfriends.
Butterfly was also instantly on board.
"When Fast Feet asked if I would like to join the trip, the wheels started turning quickly. I had wanted to embark upon a thru hike since the AT came onto my radar years ago, but with work and family obligations, it didn't seem feasible. So, when Fast Feet proposed starting a section hike, I was all in! It would be crazy not to take advantage of the wonderful resources available on the AT. I like to think that it honors all the pioneers of the trail who envisioned it and worked for years to make it happen. Also, I wanted to hike in gratitude to all the volunteers who continue to maintain the trail—a true treasure!"
Last came CoffeeBeans. No stranger to other outdoor adventures, she had never actually slept in a tent before her first night on the Appalachian Trail. But what she lacked in experience she made up for with enthusiasm, and the section hike soon got added to her "50 Before 50" bucket list.
When asked if she had any hesitations going into the hike, Grasshopper said, "Was it a crazy idea? NO!  Making only one trip a year now seems crazy!  The trail is always calling me back."
———
We will be highlighting the planning, the peaks and valleys, and the adventures these women of the white blaze experienced during their first section hike from Georgia to Maine over the next few weeks. To stay up-to-date with their blog posts, follow us on Facebook and Twitter and sign up for the Menasha Ridge Press newsletter.