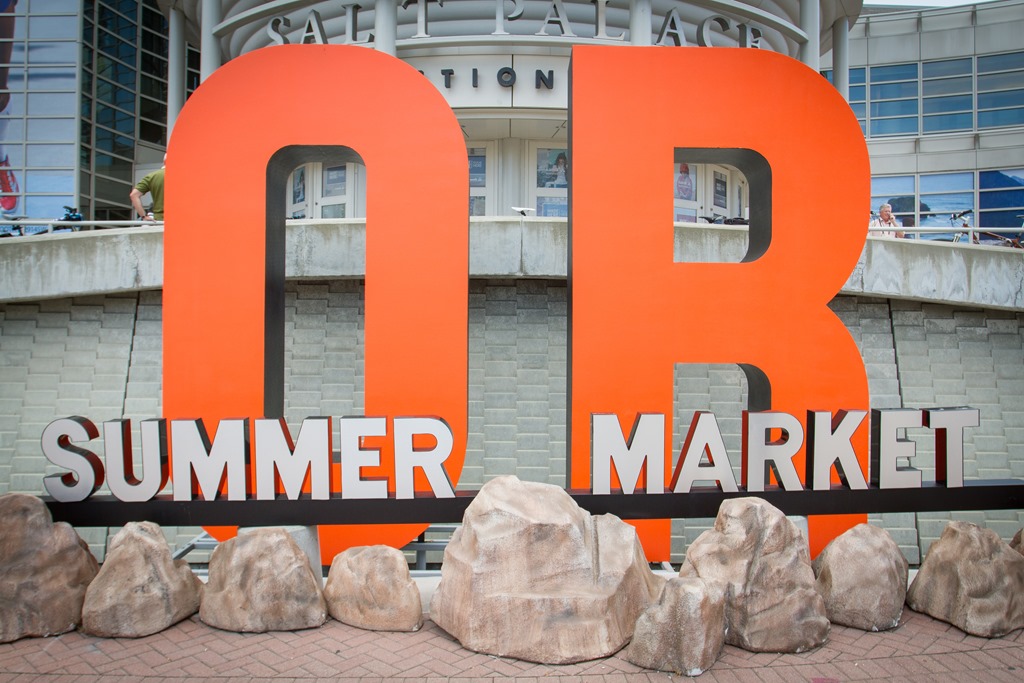 Your Guide to Outdoor Retailer Summer Market
We are stoked for the start of another Outdoor Retailer Summer Market. And this isn't just any #ORshow, it'll be all about saving our public lands and outdoor advocacy. Plus it's the last show in Salt Lake City, so it will be bittersweet and celebratory all at the same time.
From parties to peaceful protests, here's a daily breakdown of can't-miss events this week.
Day Zero
Demo Experience – 8 a.m. – 4 p.m. Hop a shuttle from Salt Palace and head to Jordenelle State Park, where you can demo the latest and greatest gear in the industry. Hop into the water for some paddleboarding, stay on dry land and test new camping gear, or head into the hills for a trail run.
Day One
OIA Industry Breakfast: Together We Are a Force for Public Lands – 7 – 9 a.m
To the outdoor industry, protecting our nation's public lands is our business! Secretary Sally Jewel will help rally the industry to continue to use our political power to fight for public lands.
Wilderness Press High-Altitude Cocktail Party – All Day
Come to booth #32090, take a high-altitude cocktail party photo, and get a collapsible water bottle to celebrate the 50th anniversary of Wilderness Press (while supplies last)!
Outdoor Retailer 35th Anniversary Party – 6 – 8 p.m.
Outdoor Retailer parties are always a good time. There will be food, drinks, the beloved mechanical bull, and the kind of fun that'll make our final SLC party one for the ages.
Day Two
The Conservation Alliance Breakfast – 7 – 9 a.m
Come hear Joe Riis, a wildlife biologist turned photojournalist and filmmaker. As the outdoor industry focuses more energy on preserving our public lands, Joe's work shows us what is happening on those lands when people are not watching.
Storytellers & Sign Making Event for the Public Lands March – 3 – 4 p.m.
The Wilderness Society is proud to host a pre-march rally at the Public Lands Action Center. Come make signs, link up with friends, and get fired up to celebrate our Public Lands March.
This Land is Your Land March for Public Lands – 4:30 p.m.
Public lands are not a red or blue issue—they are an American birthright. On June 27th, there will be a march to the Utah State Capitol to celebrate our public lands and their importance to the outdoor industry and all Americans. Gather at the South Plaza of the Salt Palace.
SLC Thank You Party – 10 p.m. – 12 a.m.
Celebrating both advocacy and gratitude, long-time outdoor industry brands Mountainsmith, Ibex, KÜHL, Big Agnes, and Darn Tough team up to host a two-tier affair benefiting The Conservation Alliance Public Lands Defense Fund.
Day Three
Conservation Alliance Sale – All Day
Get ready for the solar eclipse in August! Come to booth #32090 and pick up 101 Sights of the Amazing Night Sky book and playing cards. 100% of proceeds go to the Conservation Alliance Public Lands Defense Fund.
Bethany Hamilton: Unstoppable – 1:30 – 3:30 p.m.
Need inspiration? Come hear from Cobian Ambassador Bethany Hamilton, pro-surfer, shark-attack survivor, and inspirational icon to millions throughout the world.
Day Four
Menasha Ridge Press Book Sale – 1 p.m.
You can never have too many guidebooks, right? Come to booth #32090 at 1 p.m.— All books will be $5 and 100% of proceeds will go to The American Hiking Society.
See you in Salt Lake!
---
To come along with our #ORshow adventures, follow us on Facebook and Twitter and sign up for the Menasha Ridge Press newsletter.