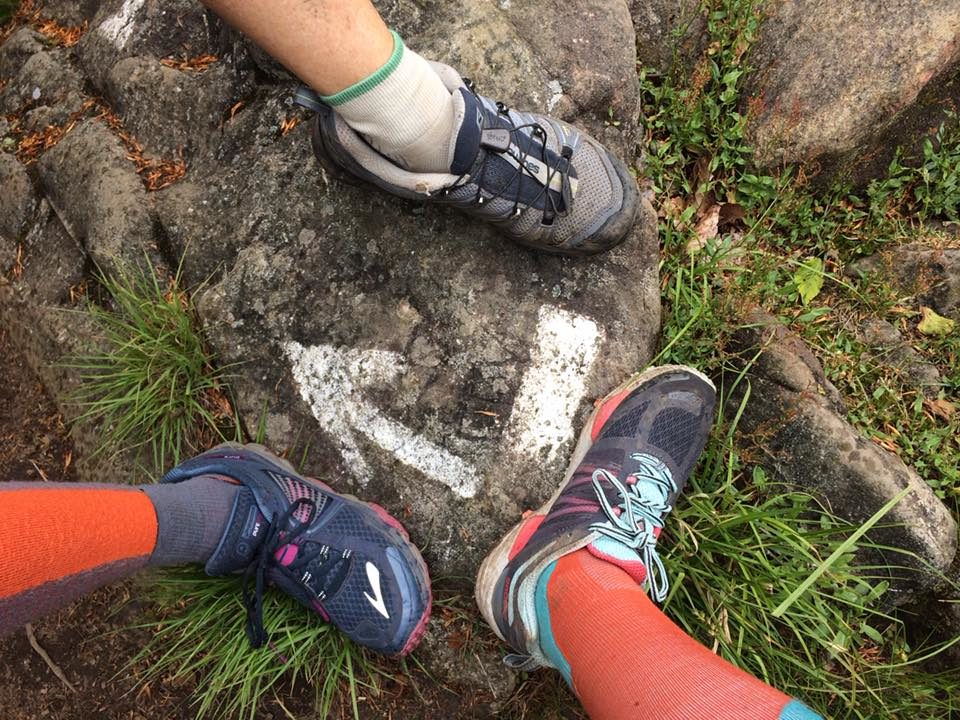 80 White Blazes for the Appalachian Trail
Posted on
August 28, 2017
So the Appalachian Trail just turned 80 years old. Wow. I hope I am as well-loved and in as good of a shape as the dear old AT when I turn 80. Hell, I hope I'm still alive by the time I turn 80! So knowing this auspicious birthday has just passed, I'll do what I can to spend some more time guided by the familiar white blazes as the trail wends its way throughout western and northern New England. I have some time coming up with my son—my best hiking, camping, and skiing buddy ever. I am sure we can once again follow the white blazes.
Now I know trail names are kind of a big deal when you're through-hiking the Appalachian Trail. I also know those trail names are traditionally bestowed upon you by someone else. You do not get to pick your own. When I set off to research 45 hikes in one summer for Best Hikes on the Appalachian Trail: New England, I knew a trail name was not in the cards, but I did figure out a good one for my particular situation.
I was doing a pile of day hikes along the Appalachian Trail in New England for this book. I have always had a deep love for music. My thoughts filtered back to camping with my best friend Dan Quagliaroli at Bowdish Lake in Rhode Island. The Beatles tune "Day Tripper" always played louder than any others over the jukebox (yes, a jukebox into which you had to feed coins—after all, it was the late 1960s and early 1970s). It seemed to cause ripples in the lake when that guitar riff echoed across the water. So as I researched day hikes on the Appalachian Trail, I thought what better trail name—albeit a temporary one—than Day Tripper.
One more thought as I muse about the octogenarian Appalachian Trail. The best part of doing the research for Best Hikes on the Appalachian Trail: New England was exploring its northern terminus—the hike up the mighty Katahdin. That was a nine-and-a-half-hour round-trip crush of a hike, but it was truly spectacular. Now I know the Native American monikers can be a little confusing, but they shouldn't be. There were Native Americans across all this land before the colonists arrived. I have seen a great many who should know better than to present the name of the highest peak in Maine as Mount Katahdin.
For the love of Pamola, it's Katahdin. Just Katahdin. That is the Algonquin name for "the great mountain." So saying Mount Katahdin is like saying Ocean Atlantic Ocean. It's redundant. It's just Katahdin. It stands alone—linguistically, metaphorically, geologically, and spiritually.
Who is Pamola?
Pamola? Who is Pamola?!? Pamola was a ferocious storm god the Algonquin Indians believed inhabited the upper reaches of Katahdin. Perhaps I shouldn't use the past tense. Perhaps he's still there. Either way, he's also the namesake of one of Baxter Brewing Company's fantastic beers.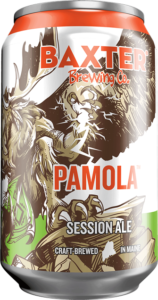 Pamola was thought to have the body of a man, the head and hooves of a moose, and the wings and claws of an eagle. That's a formidable combination. It sure looks formidable on a can of Pamola. I can only surmise how that vision might have come about, but I'm thinking there might have been one feisty Algonquin who had hit the peace pipe a little hard, came around a corner, saw a moose, and bang—the legend of Pamola. That is, of course, just a theory.
When I visited Baxter State Park and Katahdin to research the Hunt Spur hike and the Little/Big Niagara Falls hike (to the south) for the AT book, I was accompanied by my hardy skiing/hiking/camping buddies Peter Tamposi and Brian Merritt (who, like Katahdin, just goes by "Merritt"). Every time something went wrong that weekend, we decided to blame it on Pamola. Spill a beer? "It's Pamola's fault." Can't get the fire going? "It's Pamola's fault." Misstep on the trail? "It's Pamola's fault."
Pamola was thought to have a somewhat dim view of the humans scurrying about on the flatlands. As such, the summit of Katahdin was left alone for much of the time when humans first traversed the wild and lush forests of north-central Maine. Like any of New England's mountains, though, when the weather turns, you can easily imagine a storm god or mountain god angry at your intrusion on that sacred summit.