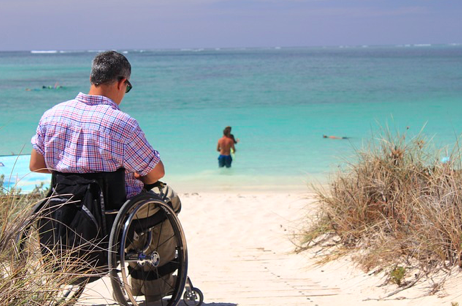 The Best Way to Stay Active with a Disability
Posted on
August 14, 2017
This is a guest post from a friend of Menasha Ridge Press.
Staying active is an important part of life; it can help us feel better, improve circulation, and prevent heart disease. But for those who are living with a disability, it can be difficult to find fun ways to be active that aren't limited in some way. Doing so can help boost self-confidence and help you stay social, however, so it's important to make it a priority. The key is to make sure you change things up a bit to suit your mood and abilities—and to keep a positive attitude. The feeling that you're limited can really prevent you from following through with a workout.
"Barriers for persons with disabilities are as unique as the people themselves. I've known individuals who've gone to exercise classes and not been able to have full access to them…and quit," says psychologist Dolores Cimini.
It also helps to get social when you workout, either with friends or family. Exercising alone can get boring after a while, but having a partner or group to help you push through can really make it more fun and keep you motivated.
Here are a few of the best ways to stay active when you're living with a disability.
Consider a Service Dog
Having a pet is a wonderful way to stay motivated when it comes to being active; dogs, especially, love to be outdoors and can help you find the energy you need to get moving. Service dogs are a great option for individuals living with a disability, in part because they're such fantastic companions, but also because they provide comfort and can help ease stress and anxiety. It's not a decision to be made lightly, however, because service animals can be expensive due to their extensive training, and you'll need to do some research on the right pet for your needs. There's a wonderful guide to get you started here.
Get Loved Ones Involved
Because working out can get monotonous, it's important to find ways to break it up and make changes each time to keep yourself interested. A great, easy way to do this is to get your friends and family involved by starting a workout group or a sports team that everyone can participate in. You can even check with local businesses like the YMCA to see what sort of group activities they offer.
Play Up Your Strengths
If your upper body strength is good, check out some fun ways to make it even better. Kayaking, canoeing, using free weights, swimming, and archery are some examples of ways you can have a blast while working out your upper body muscles. If you want to expand into more adrenaline-pumping watersports, consider wakeboarding, cable skiing, or kneeboarding.
Try Something New
Your physical safety should always be a priority, but it's okay to try some new things. Don't be afraid to push yourself a little because you never know what you might be good at. Surfing, skiing, snowboarding, and rock-climbing are great examples of the best ways you can explore your abilities while having fun. Look for more extreme activities here.
It can be overwhelming to move outside your comfort zone at first, especially when your safety is a concern. Talk to your doctor about all the best ways you can stay healthy and fit while keeping yourself safe before beginning any new regimen or sport, and keep in mind that trying anything has an adjustment period. Be sure to keep your expectations reasonable and be mindful of the best ways to practice each new activity you try, including making sure you have the right safety equipment and training, if necessary.
---
Travis White advocates for his friend Kevin, when Kevin has lost his leg due to a car accident a few years ago. Being an extreme adventure-seeker, the injury and loss have momentarily put Kevin's adventures on-hold. But he used this setback to be a setup for even greater challenges and adventures. Travis saw the determination and drive that Kevin has and supported his friend in his endeavors. Through sharing an article about being active with or without disabilities, Travis envisions to encourage others to never allow any hindrance to living the life they are supposed to enjoy.