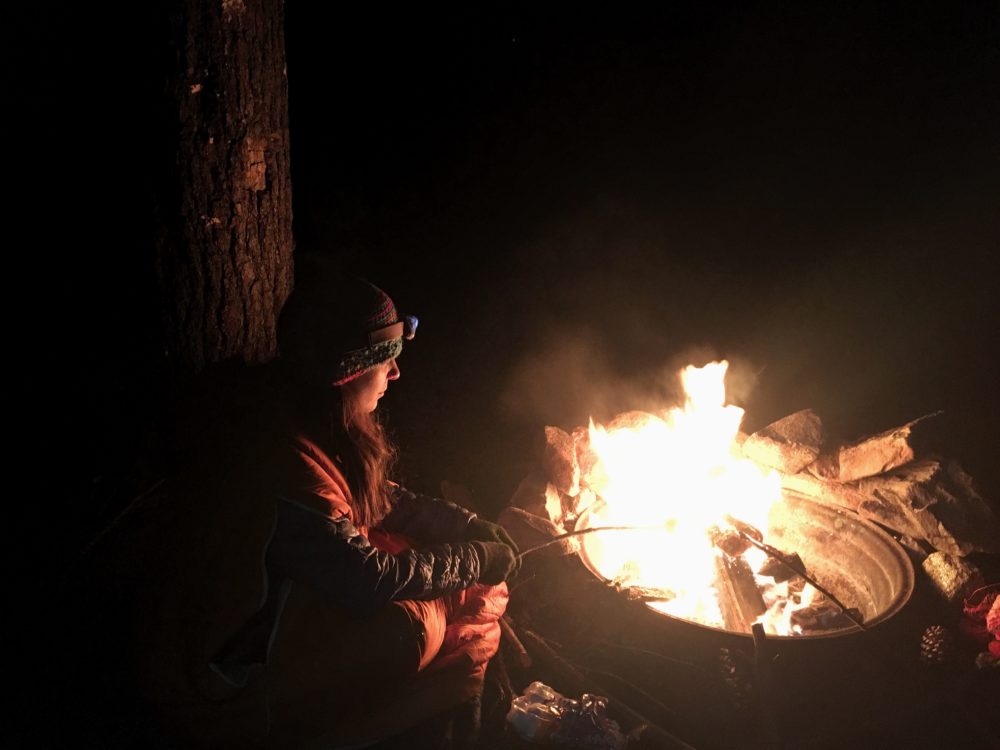 Best Bourbon Camping Cocktails for Fall
Posted on
October 26, 2017
We challenge you to find a cozier fall pairing than campfires and bourbon. Waiting…waiting…See? There is none.
Plopping your tired body down in front of a roaring campfire and sipping on an exquisite bourbon cocktail seems so…extra. Basic. Unnecessary. And, admit it, amazing.
But packing up half your home bar is a drag, especially if you're backpacking and want to keep it simple, or you're trying to be a minimalist car camper (do those even exist?).
Fortunately, we basically have our own in-house mixologist to help you out with the essentials. Carla Carlton (The Bourbon Babe) is the author of Barrel Strength Bourbon and has enough fall cocktail recipes to make even the biggest teetotaler  thirsty.
Here are the ones we'll be trying this weekend.
Maker's Mark Mulled Cider
1/2 c. Maker's Mark
2 c. apple cider
1/2 sliced lemon
3 cloves
1/4 tsp. ground allspice
1 cinnamon stick
Combine Maker's Mark and cider. Add the sliced lemon with rind, cloves, allspice and sticks of cinnamon. Heat to boiling and serve.
Bourbon Maple Morning
1 1/2 oz. good bourbon
1/2 oz. pure maple syrup
1/2 oz. fresh lemon juice
Place all ingredients in a cocktail shaker with ice. Shake and strain into rocks glass with ice. Garnish with cooked bacon strip.
Autumn Splendor
3 oz. apple cider
2 oz. pure maple syrup
1 1/2 oz. ginger beer
Mix apple cider and bourbon. Add ginger beer and garnish with a paper-thin apple slice.
Old-Fashioned
1/2 tsp. sugar (or a sugar cube)
2–3 dashes bitters
A few drops of water
1/2 orange
2 1/2 oz. good bourbon
Orange or lemon slice for garnish
Put sugar in an old-fashioned glass. Moisten with bitters and a few drops of water. Squeeze juice from orange into glass; peel orange, and toss the peel into the glass. Add the bourbon. Stir. Add a couple of cubes of ice and stir again. Garnish with an orange or lemon slice.
Manhattan
3/4 oz. sweet vermouth
2 1/2 oz. bourbon
1–2 dashes Angostura bitters
1 cherry
Combine first 3 ingredients with a few ice cubes in a mixing glass. Stir—do not shake!—for about 8 seconds. Place the cherry in the bottom of a well-chilled cocktail glass, and strain the bourbon mixture over the cherry.
Just Bourbon
2 1/2 oz. good bourbon
A true bourbon lover knows there is no substitute to drinking bourbon neat.