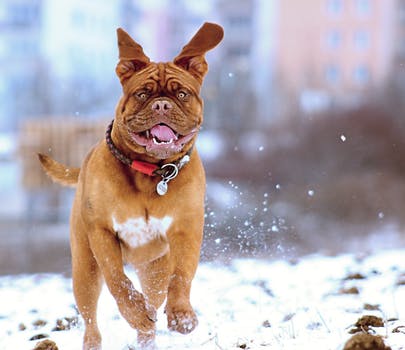 How to Keep Your Dog Safe During Winter Hiking
Posted on
December 17, 2017
Winter is here! That means all the layers, all the snowball fights, all the hot chocolate, and all the snow adventures with your pupper. Our friend Nat Smith from Rover.com, the nation's largest network of 5-star pet sitters and dog walkers, shared with us how to keep your pet safe on all your winter expeditions.
---
Know Your Dog
Intense winter hiking isn't for every pet. If you're looking at mountainous treks more than an hour in length, you may need to leave your dog at home. Some big dogs are particularly well-suited to winter weather, as they have thick double coats and other protections against colder climes. These breeds include Malamutes, Huskies, Akitas, Pyrenees, St. Bernards, Newfoundlands, Samoyeds, and Mastiffs, among others.
Get your vet's recommendation about winter hikes. Then, take your pet on short excursions, following all of the guidelines below. Gradually, you can increase the length and intensity of your winter hikes. Pay close attention to your dog's cues on each trip, and check them thoroughly when you get home and the next day. If your dog exhibits any signs of distress, consider limiting their winter hikes to shorter, more relaxed walks near home.
Protect the Feet
You wouldn't trek barefoot in the snow, but you might not think twice about asking your dog to do the same. The truth is, cracked and bleeding paws are one of the greatest potential risks of winter hikes. While your dog may not love booties, they're an ideal solution for many pups. Not only can they protect your dog's paws from salt and other chemicals used to melt snow and ice; the booties will keep anything sharp or painful from embedding into their skin. Make sure they have a good grip, just like your winter shoes.
If you don't use booties, check your dog's paws thoroughly when you get home. Make sure they're clean, dry, and healthy. Look for cold-weather damage, check between the toes for ice accumulation, and wipe off any street residue.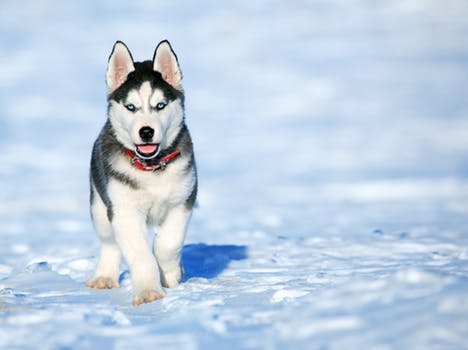 Keep Your Pet Dry
Reserve baths for after a hike, not before. Your pet must be completely dry before venturing out into the cold. Otherwise, they risk frozen fur or paws. When you get home, dry your pet off completely—especially before they curl up in their bed, which needs to stay dry to prevent hypothermia. Use a towel and follow up with a blow-dryer on a low heat setting, held at least a foot from your pet's fur.
If your pet rolled around in chemical-laden snow or can't seem to get warm, give them a warm bath after the hike. Don't shift their body temperature too suddenly, though. If they've gotten very cold, start with cool water and gradually warm it up. Then stay with them until they're dry, cozy, and comfortable—and keep an eye on their body temperature.
Pay Attention to Hydration
At home, you can use a humidifier and a bubbly fountain to make sure your pet's internal hydration stays at optimal levels. On the go, you'll need to plan ahead. Bring water in double-walled, insulated bottles for each of you, and carry a portable silicone water bowl for your pet (never metal). Fill the bowl about halfway each time your dog needs a drink, so it's accessible but you don't waste too much.
Don't forget to increase calories in your dog's diet, to make up for lost heat and energy from each winter hike, and give them fish oil supplements to boost nutrition.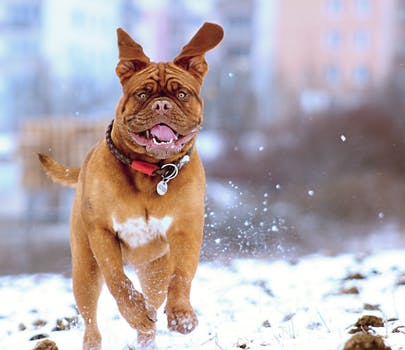 Consider an Extra Layer
Older dogs, smaller dogs, and pets without a second coat will need a sweater or jacket to keep them warm. As dogs age, they have less muscle and fat to insulate them from cold. Small dogs may not have much insulation at all. Sweaters and doggy jackets could be just the ticket for a safe and comfy walk. You can even tie an old t-shirt around your dog if you don't have custom-fit apparel. These items must stay clean and dry, and be removed promptly if they get wet.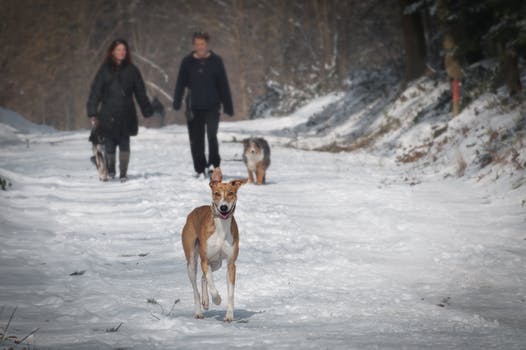 If your dog does well winter hiking, you may even be able to bring them along when you go skiing or winter camping! Take all the same precautions, and pay extra attention to keeping your pet dry and well-hydrated.