Best Trails in Phoenix for Beginner Hikers
Posted on
February 20, 2018
The City of Phoenix spans a staggering 517 square miles and houses more than 1.5 million people, making it the fifth-largest city in the United States. Within its boundaries, Phoenix has three major mountain preserves where dozens of trails cater to the daily exerciser or the weekend warrior. So it's basically a hiking mecca.
While the large trail system and towering mountains may seem intimidating to a beginner hiker, have no fear—Phoenix is chock-full of trails for everyone.
North Mountain National Trail
1.6-mile loop or out-and-back, depending on the trail you take
North-central Phoenix residents are really fortunate to have the likes of North Mountain in their backyards. North Mountain National Trail 44 is only 1.6 miles round-trip, and most of it is paved. A decent elevation gain of 654 feet induces a cardio workout, and the panoramic scenery from North Mountain's 2,104-foot summit indulges the senses. It's an ideal place for a quick workout any time of the day and well into the night. Imagine how much money you can save on gym memberships by incorporating this trail into your daily routine!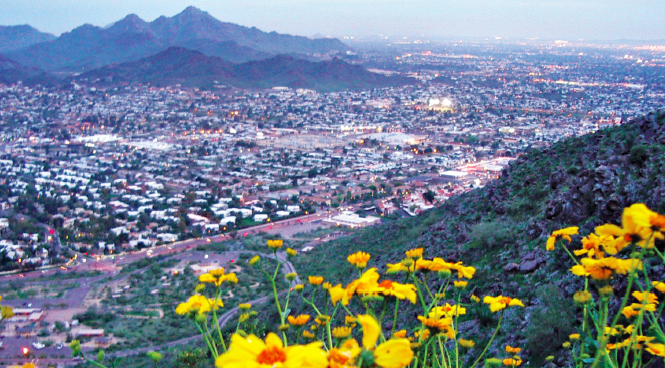 Butcher Jones Trail
5-mile out-and-back
Easy and well marked, Butcher Jones Trail makes an excellent hike for beginners. With impressive overlooks of the lake and reflections of distant mountains, views along this trail are nothing short of stunning. As the reservoir closest to Phoenix, Saguaro Lake draws plenty of visitors seeking summer fun in the sun. While most people come here for water sports, hikers can enjoy a scenic trail along Saguaro Lake's shoreline, especially during the cooler winter months. Butcher Jones Trail 463 provides access to some choice vantage points from which to catch a bird's-eye view of the lake.
Pinnacle Peak Trail
3.5-mile out-and-back
The 3,170-foot Pinnacle Peak rises from the desert floor like a needle. It is a distinctive landmark in the Phoenix area, and many resorts have situated themselves in its shadows. Pinnacle Peak Park and its main trail belong to the City of Scottsdale, which has done a superb job of packaging the desert experience into a 3.5-mile out-and-back hike. Once the rustic fringe of civilization, this area is now a thriving suburbia replete with affluent new homes and golf courses. This interesting contrast between the Old West and new development, raw desert and urban sprawl, gives the Pinnacle Peak foothills an alluring charm.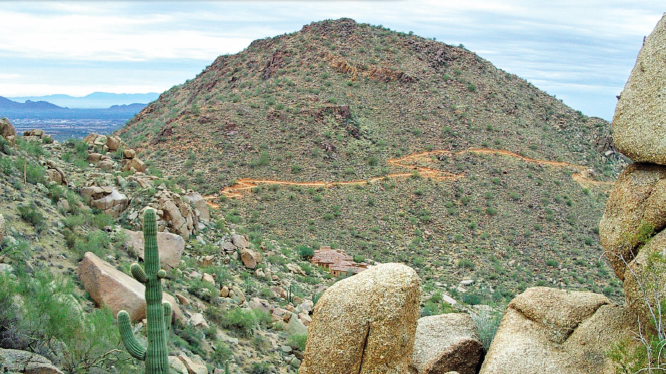 Wind Cave Trail
3.2-mile out-and-back
Wind Cave—really only an eroded overhang—sits at the southern tip of the volcanic tuff and draws many visitors to Usery Mountain Regional Park. In addition to the cave and superb views from its lofty setting, Wind Cave Trail offers a desert experience the entire family can enjoy. This trail is easy to follow, and conspicuous signs make navigation a cinch. The first half of the trail is a gentle path along the base of the mountain, where you can take time to study the flora. Typical Sonoran Desert plant life, such as saguaros, chollas, palo verdes, and creosotes, dominate the region, but the variety of cacti is especially rich here.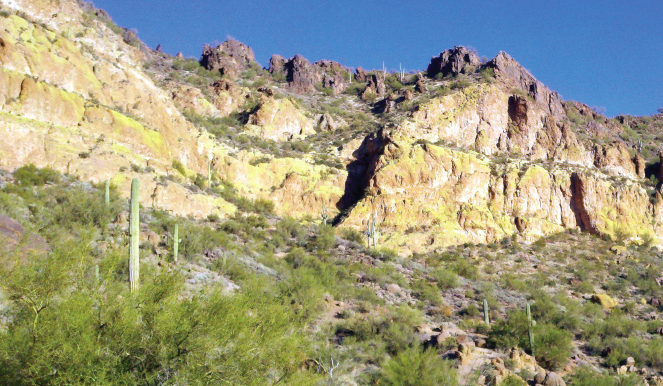 Telegraph Pass Trail
2.4-mile out-and-back
Telegraph Pass Trailhead is one of two entrances on South Mountain Park/Preserve's southern side, making this hike extremely popular among Ahwatukee residents. On weekends, expect to see a steady stream of people, bikes, pets, and strollers on the trail. Don't let the crowds put you off, though—Telegraph Pass Trail is an excellent short hike. The trail leaves the edge of suburbia, runs through desert foothills and up a canyon, and eventually ends at its namesake saddle. Views from Telegraph Pass make the 1.2-mile climb worth it; as a bonus, you also get a history lesson, thanks to the Hohokam petroglyphs along the way.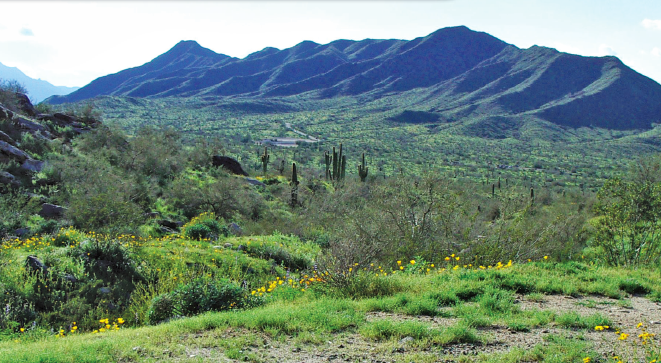 ---
For more scenic hikes around Phoenix, be sure to pick up a copy of the new edition of 60 Hikes Within 60 Miles: Phoenix, by Charles Liu.