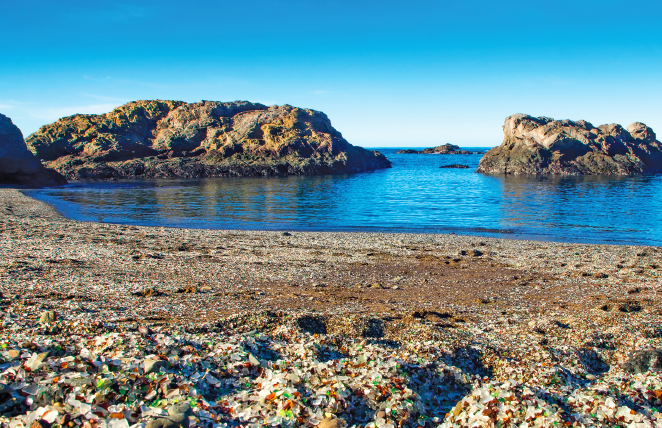 Best Camping in Northern California in March
We're pretty sure that we're all in agreement that winter has run its course and it's time for spring to arrive (unless you're a snow bunny). And if you're one of the lucky ones who lives in Northern California, you can pack up your camping gear and get a head start on finding signs of spring
Go explore some campsites from the new edition of Best Tent Camping: Northern California by Wendy Speicher and find some rest and relaxation before campgrounds get too crowded.
---
Salt Point State Park Campgrounds
CONTACT: 707-847-3221; www.parks.ca.gov
OPEN: Woodside: March 15–November 30; Gerstle Cove: year-round
Situated on the rugged and beautiful Sonoma County coast, Salt Point State Park features more than 6 miles of coastline and more than 20 miles of hiking trails that wander through forest and grassy bluffs. The coastline here is a popular destination for abalone harvesting and features a protected underwater reserve where you can dive (no collecting). Trails depart from the campgrounds and lead about a mile (or less) to the beach. The two most popular hiking trails are the out-and-back coastal path from Salt Point to Stump Beach, and the loop through the pygmy forest. This pygmy forest, like others found along the coast, features dwarfed vegetation, and although the plants may look like they are struggling to survive, many of these shrubs and trees are more than 100 years old.
Russian Gulch State Park Campgrounds
CONTACT: 707-937-5804;www.parks.ca.gov
OPEN: March–October (weather-dependent)
What a pretty little campground! Take a left just after the bridge, and circle down a curved one-lane access road to the campground in the canyon and the beach across the stream under the bridge. The beach is all white sandbars, narrow blue water, soaring black cliffs spotted white, and green headlands. There is safe swimming and an easy launch for kayaks or inflatables. The campground threads its way up the ferned canyon, with sites on either side of the access road. Cozy, mossy, and primal—that's what you feel tucked into a tent under the giant ferns, alders, redwoods, and hemlocks. Come here to sun on a safe beach. Fish for rockfish. Hike the Fern Canyon Trail. Hike the South Trail to Mendocino, where you can eat world-class food; shop till you drop; and hang with the rich, famous, and everyone in between.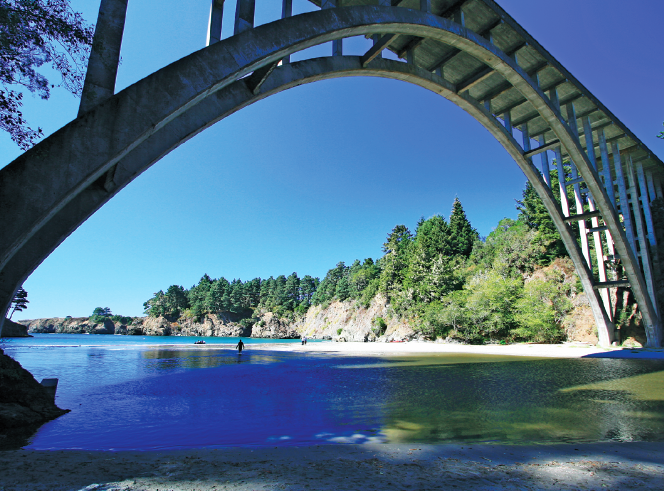 MacKerricher State Park Campgrounds
CONTACT: 707-964-9112; www.parks.ca.gov
OPEN: Year-round
What campground sits near 8 miles of beach, a beautiful headland, rolling dunes, lowland forest, a freshwater lake, and hundreds of snoozing harbor seals? MacKerricher State Park's campgrounds are cheek by jowl with all of the above. The park offers hiking, cycling, surfing, canoeing, fishing, and horseback riding. All the sites in all the loops are wonderfully separated and private. This is a first-class campground. Even though the campsites are protected by pines, brush, and ferns, come prepared for wind and rain. Weather on the Mendocino coast is unpredictable, though the scenery is often most beautiful when the weather is inclement. Sometimes, of course, the sun will shine for months.