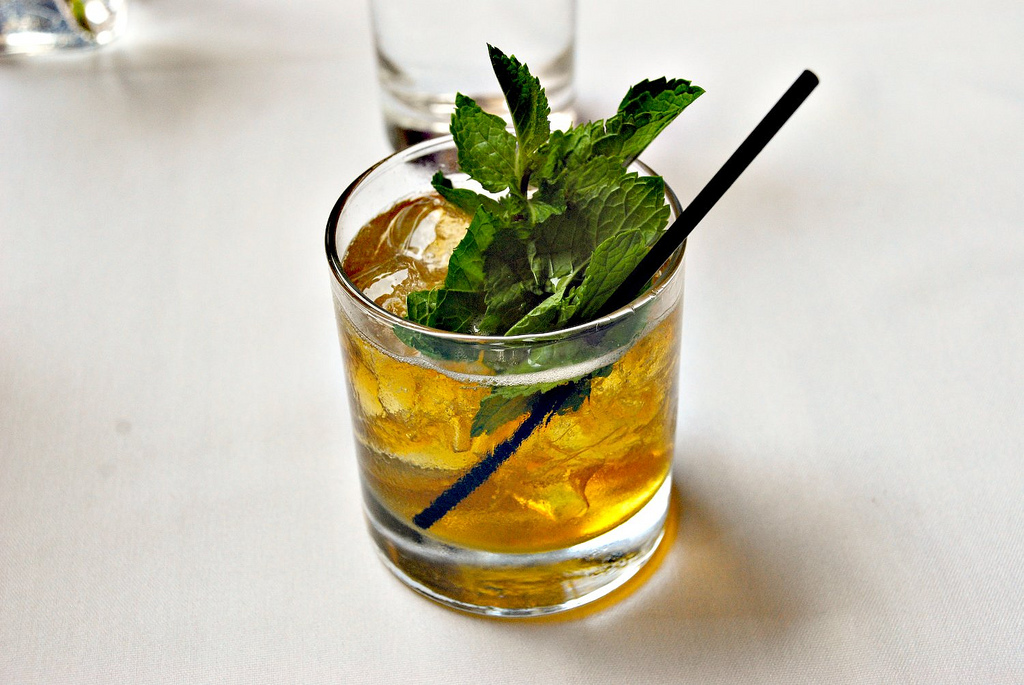 Best Cocktails for Your Kentucky Derby Party
Happy Derby Day! Some of you are probably fortunate enough to be at Churchill Downs right now with our fancy clothes and big, floppy hats (and not reading this post, because, Derby). The rest of us will likely gather at a friend's house to drink cocktails and huddle around the TV for a few minutes of horse racing excitement.
While mint juleps are the drink of the Kentucky Derby, there are plenty of other recipes to spice up your festivities. Carla Carlton, author of Barrel Strength Bourbon, has some bourbon cocktails that are easy to make and go down as smooth as a horse racing down the track.
The Best Mint Julep
(Attributed to Henry Watterson, the firebrand editor of The (Louisville) Courier-Journal for 50 years.)
Pluck the mint gently from its bed, just as the dew of the evening is about to form on it. Select the choicer sprigs only, but do not rinse them.
Prepare the simple syrup and measure out a half-tumbler of whiskey.
Pour the whiskey into a well-frosted silver cup, throw the other ingredients away, and drink the whiskey.
Cheers!
A Real Mint Julep
1 part simple syrup (recipe below)
2 parts good bourbon (Mom always used Old Forester)
4 sprigs of mint or ½ cup mint leaves
Serve over finely crushed ice & gently stir until glass frosts
Mom's Simple Syrup
Prepare syrup several hours prior to using
1 cup cold water
Optional include 1 oz good bourbon
2 cups sugar
4 or more sprigs of fresh mint
Combine water and sugar
Boil 5 minutes at soft boil on candy thermometer
Add mint leaves, remove from heat and let brew for at least 12 hours
Strain into pitcher
Makes about 5-6 juleps
The Derby
Ice
1 ounce bourbon whiskey (I used Woodford Reserve, which pairs well with orange)
3/4 ounce lime juice
1/2 ounce sweet vermouth
1/2 ounce Grand Marnier or orange curaçao (having neither of these on hand, I used Cointreau)
Lime wedge or mint leaf, for garnish
Fill a cocktail shaker with ice. Add bourbon, lime, sweet vermouth, and Grand Marnier (or other orange-flavored liqueur equivalent) and shake well. Strain into a chilled cocktail glass. Garnish with lime wedge or mint leaf. And you're off!
Lawrenceburg Lemonade
1.5 oz. Four Roses Yellow Label
1.5 oz. Wild Turkey American Honey
Two dashes of lemon juice
A splash of water
Serve on the rocks
---
Check out more delicious bourbon cocktails from Carla Carlton on her site, thebourbonbabe.com.