Best Places to Hike and Swim in Chicago
What Chicago winters do to morale rapidly disappears in the minds of residents when summer rolls around. People can be found doing myriad of outdoor pursuits such as picnicking, playing Frisbee, casting a fishing line, or practicing your tai chi. Many people prefer hiking in summer, when the sun is warm, the greenery is lush, and kids are searching for something to do.
It's also the time of year to combine hiking with swimming! Lake Michigan excursions are particularly fun for the family on hot summer days when you can kick off your shoes and float in the lake at the hikes' halfway points. It's true, summer is the most conducive season for combining your hike with a
Here are the top hikes where you can reward yourself with some time in the water this summer.
Humbolt Park Lagoon and Prairie River Loop
Distance & Configuration: 1.7-mile loop
Difficulty: Easy
Scenery: Lagoons, prairie flowers, grassy parkland, statuary, boathouse, formal garden
Trail Traffic: Busy
For more than 100 years, people living in Humboldt Park's dense surrounding neighborhoods have escaped to this lovely park in search of respite from Chicago's concrete grid. In recent decades, the park and the lagoons have undergone dramatic improvements, making it one of the most alluring stars in Chicago's constellation of great parks. In addition to being perhaps the most charming city park away from the Loop and the lakefront, Humboldt Park is fascinating because it was part of movement that launched a whole new landscape design philosophy that transformed parks and gardens, and has since become accepted wisdom for landscape designers.
The building to the right is the Humboldt Cultural Center; behind that is a pond with a  swimming beach. In recent years, the local community successfully rallied to keep the beach open after the city threatened to close it as a cost-saving measure.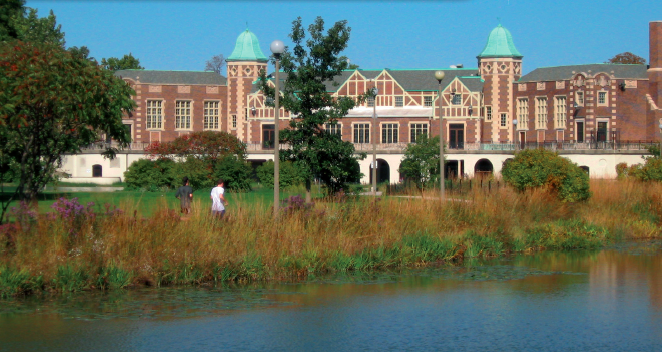 Warren Dunes State Park Loop
Distance & Configuration: 4.2-mile loop with smaller side loop
Difficulty: Moderate because of a few steep and sandy climbs
Scenery: Lake Michigan beach, sand dunes, wooded bluffs, forested bottomland, wetlands, creek
Trail Traffic: Moderate
One of the most beautiful spots on Lake Michigan's southern shore, Warren Dunes is the perfect place to combine a trip to the beach with a ramble through rugged wooded dunes and bottomland forest. About a quarter of this hike runs along a beach that looks like more-remote beaches farther north along the Michigan shoreline.
Also located 12 miles north of the Indiana border, Warren Dunes is one of Michigan's busiest state parks. Despite the popularity of the park, the trails are relatively quiet. Nearly all the visitors come for the park's 2.5-mile-long beach.
When you're done hiking the loop, consider a swim to cool off and a picnic somewhere along Warren Dunes' 2.5 miles of beautiful sandy beach.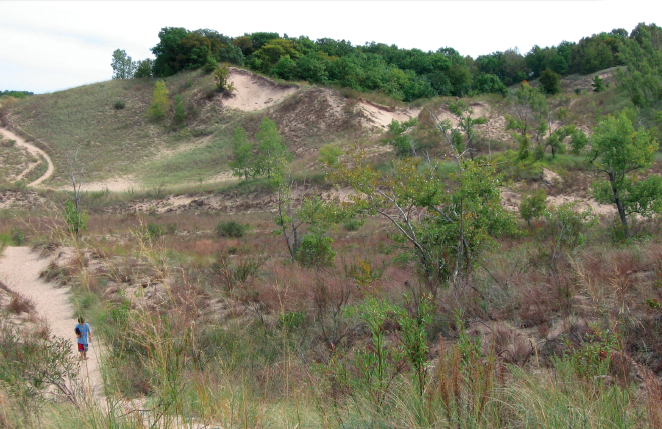 Adeline Jay Geo-Karis Illinois Beach State Park: Dead River Loop
Distance & Configuration: 2.1-mile loop with a spur leading to the beach
Difficulty: Easy
Scenery: River, marshes, savanna, beach, dunes, Lake Michigan
Trail Traffic: Light–moderate
While it's true that Adeline Jay Geo-Karis Illinois Beach State Park contains one of the most popular beaches in the region, it's also true that visitors rarely seem to step away from the main beach and picnic area, leaving the trails and the out-of-the-way beach on this hike surprisingly quiet.
After a ramble along the shore of the Dead River, this trail brings you through some of the only sand dunes left in the state of Illinois. Halfway through the hike, take a break on a surprisingly quiet stretch of Lake Michigan beach.
The lake will come into view near the junction at 1.2 miles into the hike. Continue straight ahead (east) to a stretch of beach where you're likely to encounter very few people, even on hot summer days.