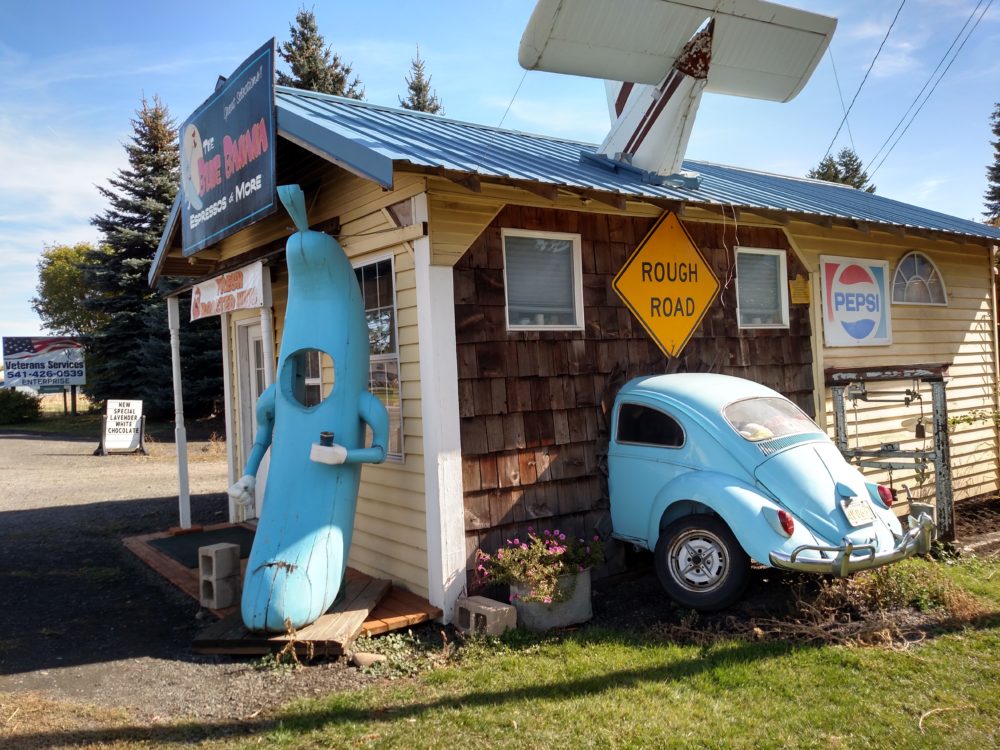 Appreciating the Surprises Found Around the Bend
Posted on
August 17, 2018
By Becky Ohlsen, author of Best Tent Camping: Oregon, Backpacking Oregon, Walking Portland, One Night Wilderness: Portland.
It's one of the best things about traveling—you just never know what you might find around the corner. This is equally true whether you're roaming the streets of a busy city, driving lonely one-lane roads in search of a trailhead, or hiking a remote backcountry route. The element of surprise is part of the fun.
(And no, I'm not talking about bears. I mean, I'm not talking only about bears.)
Last summer and fall, I was working on an update of the The Best Tent Camping: Oregon guidebook using a tattered copy of the second edition to follow in the footsteps of its previous authors, Paul Gerald and Jeanne Pyle. The book covers campgrounds in practically every square inch of the state, including some places I'd only ever swept through on the way to somewhere else. It was a fantastic job: finally, I had an excuse—no, an obligation—to explore parts of Oregon I'd never really delved into before.
This wasn't my first time to the tiny eastern Oregon town of Lostine, on the way to the beloved and popular Wallowa Lake, but it must've been the first time I approached it from this particular direction, because I'd certainly never seen what we saw when we rounded a corner on Highway 82.
The Blue Banana is a funky little coffee shop that looks like a VW bug has crashed gently into it (you can sit in the bug! It's also a booth), with the namesake blue banana inexplicably posted out front. It seemed wrong to pass by without taking a photo.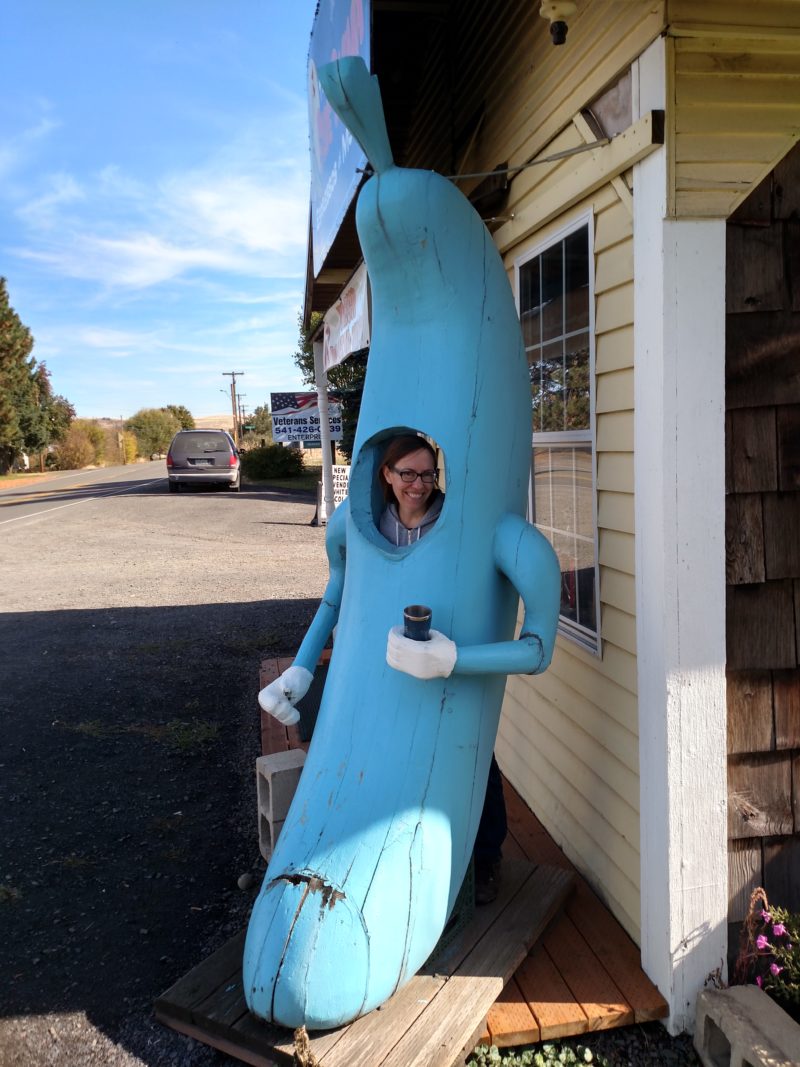 More recently, I've been updating the One Night Wilderness: Portland guide, part of a series about short, closer-to-home backpacking trips for those of us who find it tough to squeeze the epic 10-day trip of our dreams onto the calendar. It's the ideal get-outside book for most people, with a good range of getaways suitable for families with kids, frazzled office workers looking to try this new "nature bath" trend on a Friday afternoon, or seasoned hikers who want a mindblowing alpine experience without spending all day in the car to get there. In short: another fantastic job, and maybe the most fun I've had researching a book.
I can't tell you how many times, walking dreamily along a trail, I've rounded a corner and almost stepped on a snake, or upset a squirrel (they're loud when they're angry!), or caught a glimpse of vividly colorful feathers disappearing. None of which are terribly surprising, on a trail, obviously. But one of the most memorable mid-hike surprises has to be this: It was around 8 a.m., and I was making my way up the very lovely Badger Creek trail, a beautiful and easy creekside path through a mellow forest, when I saw/heard something rustling in the undergrowth. I stopped to look, and there it was: a skunk!
Skunks, if you've never seen one, are deceptively cute. (Remember Bambi?) This one was foraging for breakfast with intense focus—head down, fluffy tail up—and didn't seem to notice me. Totally harmless. Except that I happened to grow up on a farm in Colorado, and our dogs were constantly chasing skunks. If your dog gets skunked, you pretty much get skunked too. It's not a smell you ever forget, and it's definitely not the sort of thing you want to have happen—well, ever, really, but especially not in the first hour of a weekend backpacking trip. It kinda changes the vibe.
So I quickly decided that I was in no big hurry and would be happy to stay right where I was until the skunk finished its breakfast and moved along. Two more of the little cuties surprised me around corners farther up the trail, but by then I was on the lookout, and proceeding with caution. It was a good reminder to slow down, take a breath, and appreciate the surroundings.
(Oh, and about those bears: I did see one, near the Rogue River in southern Oregon, while working on a revision of Backpacking Oregon—due out in October! Fortunately, I was in my car, heading home—exactly the situation in which I prefer to see a bear.)