Being Confident on the Trails (and a Giveaway!)
Posted on
September 10, 2018
By Becky Ohlsen, author of Best Tent Camping: Oregon, Backpacking Oregon, Walking Portland, One Night Wilderness: Portland.
Be sure to scroll down to the bottom of the post and enter the giveaway to win a copy of Best Tent Camping: Oregon!
---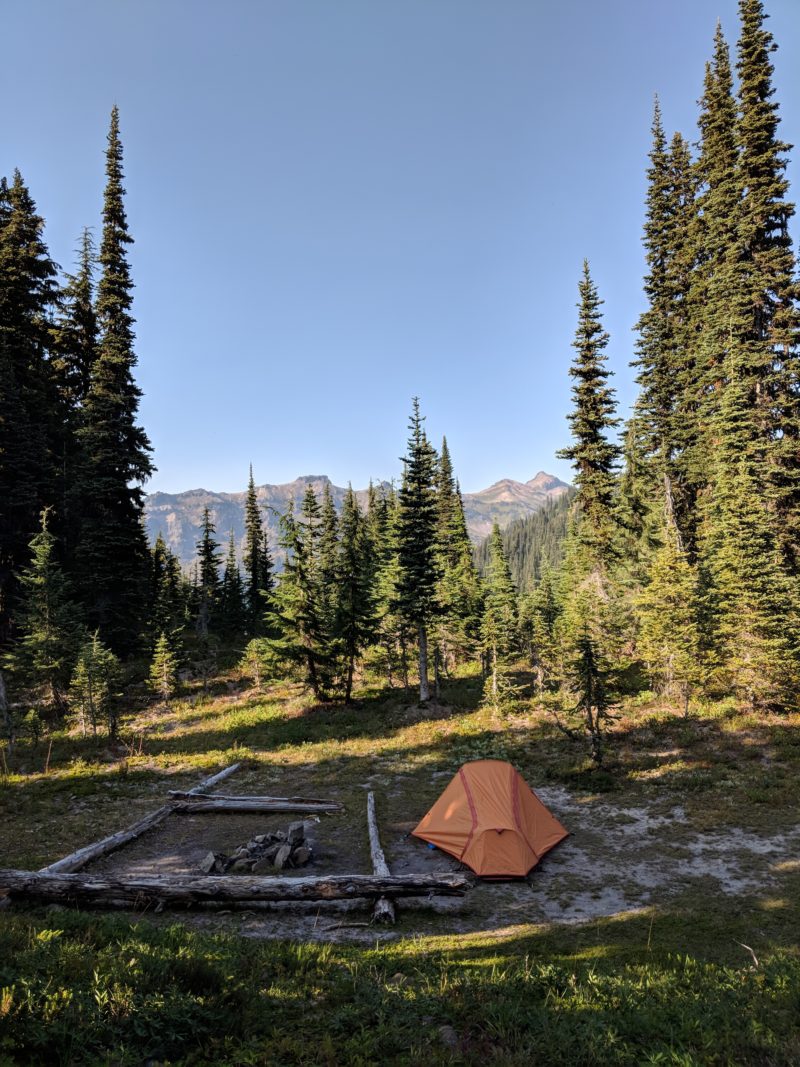 OK, so maybe I'm the only one who feels this way: no matter how many times I've been camping (and it's a lot!), I'm always slightly self-conscious about setting up camp. Did I pick a good spot for the tent? Is my rain fly sagging? Is the doorway positioned at the best angle for Instagram? Are the other campers all judging me? (Why would they possibly care?) Am I doing this right?
The same type of thing happens to me on hikes. At the beginning of a steep trail, I always look like I'm about to die: red-faced, breathing hard, dripping sweat. I worry about what people going the other direction are thinking. Did you see that poor girl? Do you think she's OK? Should we call someone?
It looks worse than it is, I want to tell them. No, really!
And then later that day, or the next day, or several days later, when it's my turn to descend the slope, I see people huffing and puffing and red-faced and sweating on their way up the trail and realize (for the billionth time), Oh. Right. It's not just me. On a hike last week, in the Goat Rocks wilderness in Washington state (which, by the way, wow! an absolute must!), I was hiking back down to my car and passed a young, incredibly athletic-looking couple in military-surplus gear and enormous packs, and even theywere panting. Apart from a few alpine superstars, everyonelooks like they might be dying a little bit on the way up a steep mountain trail. That's just part of the fun! Sometimes it's your turn to suffer; other times, to observe the suffering, and remember what it felt like.
"We must be, what, about two miles in?" someone heading up the trail will ask.
You hope the number is smaller; they hope it's bigger.
But somewhere along the line, usually, I realize this whole line of thinking is wrong. Who cares how quickly we get there, or whether our rain fly sags a bit? Most of us have had to fight, barter and gamble for time to hike and camp in the first place. We go into the woods so we can mellow out. As long as we arrive with enough time to set up and make dinner at the end of the day, shouldn't we be taking it slowly?
This thought usually hits me right around the time the trail evens out and pops into a nice, flat, alpine meadow covered in tiny wildflowers. Pure coincidence, surely. You can feel your shoulders relax, your lungs expand, your visions of spreadsheets and calendars fade away. You start to see what's around you, in all its glorious detail. Look, huckleberries! A marmot! Is that Mount Adams? How cute are these little beargrass muppets, glowing in the sunshine? This is why you slogged up that hill. You don't even wantto go back down, not anytime soon.
In an ideal world, we'd be able to hold onto that feeling long after the trip is over. Easier said than done…those spreadsheets and calendars are no joke. But hey, it's worth trying.