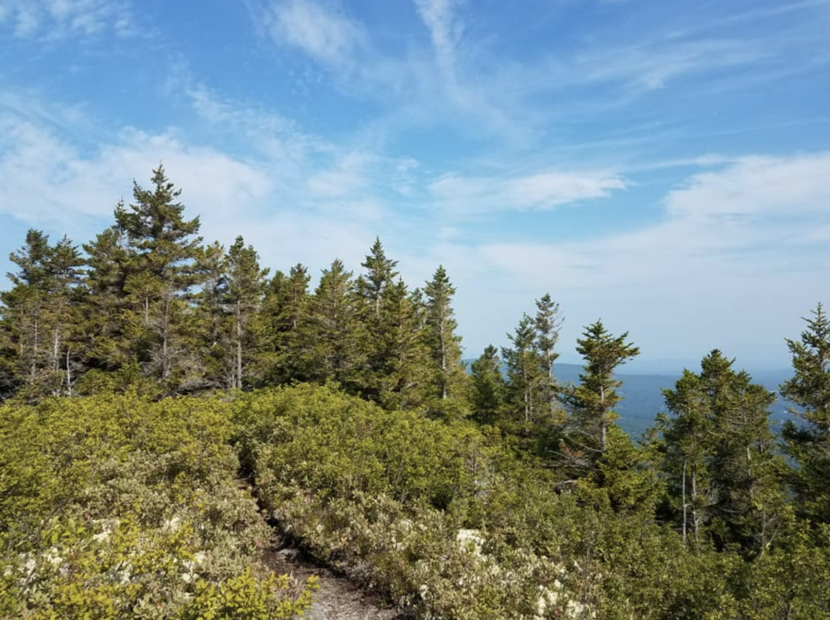 Bushwhacking in the White Mountains
Posted on
September 19, 2018
Epic adventures sometimes have humble beginnings. I had a great conversation with an old ski instructor buddy of mine lately. He too is also an avid hiker. I had sent him a text saying I was dying to go hiking on the forthcoming weekend. He quickly responded. "Camel's Hump on Mansfield? Something in the Whites?" Dramatic pause… "Want to do a little backcountry bushwhacking?!?" Another dramatic pause… then I responded, "Hell yeah!"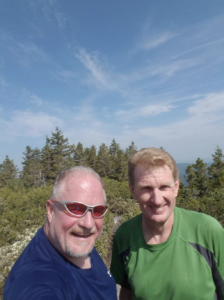 It's good when you get an opportunity to do something that will challenge you a bit; take you out of your comfort zone; kick your ass and make you want to do it again; inspire you to do other slightly crazier things. I've known Doug Payne forever. We've skied all over New England, we've hiked and skied Tuckerman Ravine a bunch, we've skied out West. He's a bona fide outdoor dude and we trust each other. This was not the sort of hike either of us would have done solo. Snap a leg in the middle of the jungles of northern New Hampshire, and they wouldn't find you until they saw a bunch of slightly drunk vultures flying into each other.
Doug had his eye on this bushwhacking hike to spot called the Peak Above the Nubble, or PATN. We are not the first ones to do this by any stretch of the imagination. There's even a sign-in notebook at the "summit." The suggested "routes" are vague at best, but it's on the radar of the slightly harder core New Hampshire/New England hiking crowd. You can find out more about this whack here.
We didn't exactly follow the suggested approach, which was fine. We drove out this long dirt road (which also had some spectacular rustic campsites along the way—I will definitely be back for some of that!) out to the end. And I do mean the end. We parked in a little gravel spot, blocked by an iron fire road gate. We checked the map again, took some compass bearings (yes, we actually use maps and compass, not always GPS). Then we threw on our packs and hit the "trail."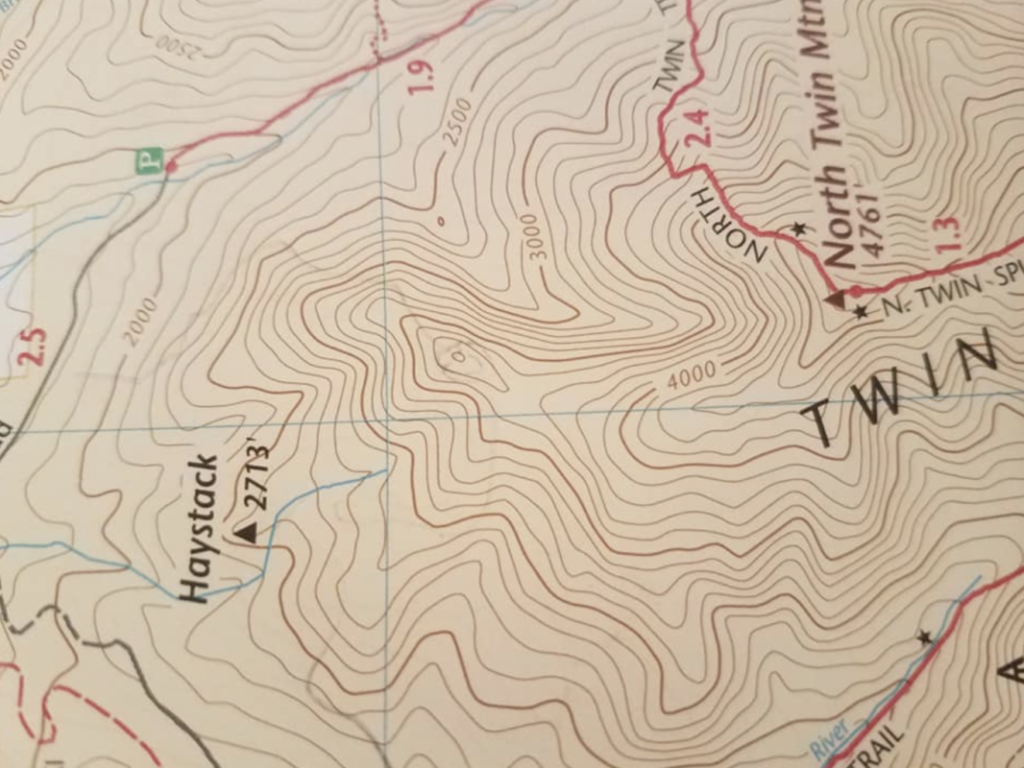 It was indeed sort of a trail at first. We followed this snowmobile trail for a mile or so. Then we veered off into the woods onto an unimproved or herd trail. Our "trail" was marked by piles of moose scat—almost more effective than painted blazes on the trees when you're following a trail like that. We crossed over a couple of streams, which was a good sign. We expected that. We opted to first head up to the top of Haystack; a named peak just north of our intended destination (which is just between North Twin and Haystack on the map image). From the top of Haystack, we could see the indent in the dense forest of the slide we wanted to travel. Just how do we get there?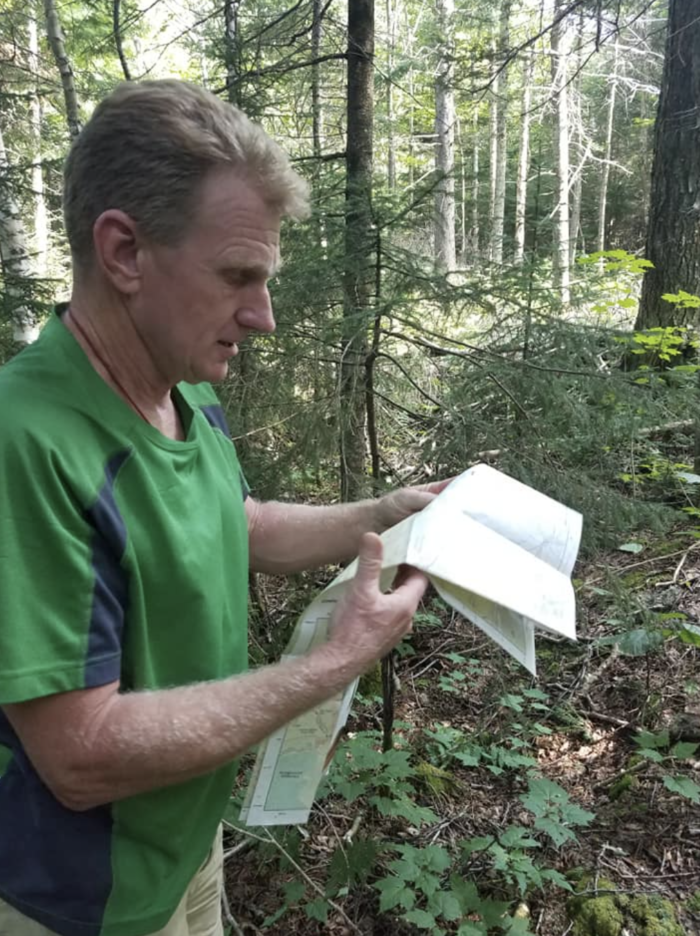 We head back down the herd trail. Then when we came to the stream crossing, we know it was time to start whacking. One more check of the map and compass; then we plowed into the forest. It's almost a game of wilderness chess, I thought. You know which general direction you want to go. You just have to envision a route to get there. You definitely have to think several moves ahead.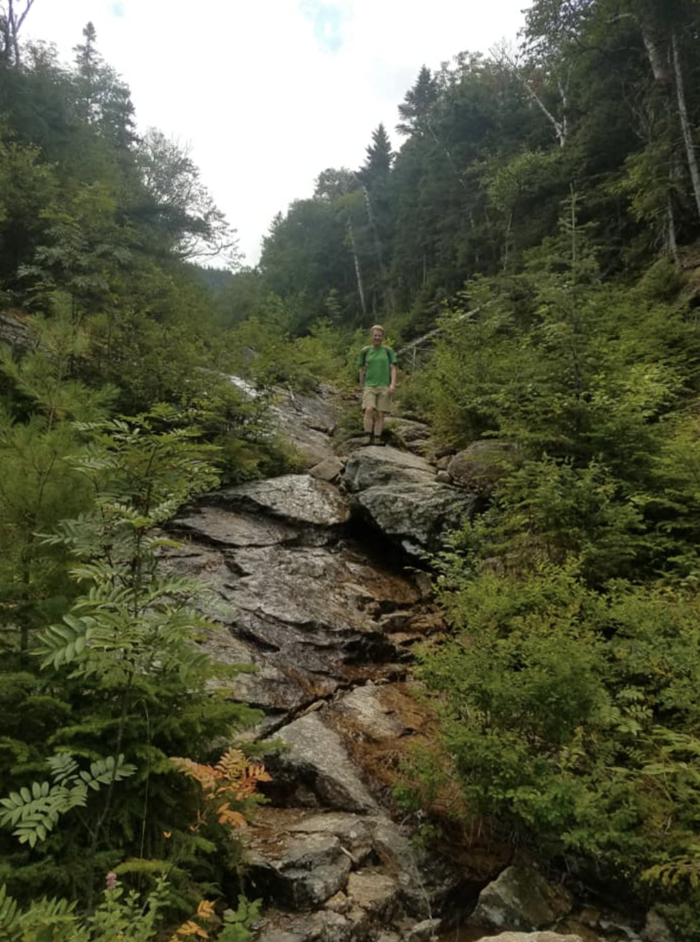 After not too much crazy bushwhacking, we emerged onto this slide, which lead up to the peak we were seeking. While the route may have become more evident, there was peril at every step—and I am not being overly dramatic. This is a steep, washed out slide. Half the rock surface was wet and muddy (meaning slick as ice), with dry spots interspersed throughout. We made slow steady progress up the slide; sometimes traveling over the rock and sometimes navigating through the steep dense forest along the edge. The whole way we were completely geeking out about how awesome this would be to ski with a couple feet of fresh on top. Wow!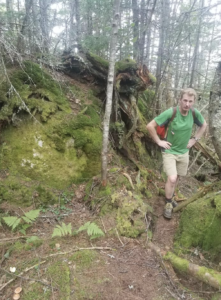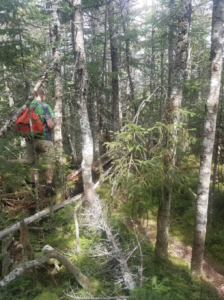 When we reached the apex of this slide, there was a huge rock outcropping that Doug climbed up on. From where I was, and as exhausted as I was, I didn't find an easy route to join him. Then, it was back to bushwhacking. The lunge to the summit was like nothing else we had done thus far. This was a deep, dense, complex conifer puzzle. The chess game metaphor again came to mind. You had to plan your route to climb over, around and through the spots that allowed the least disruptive and least painful passage.
After a relatively short bit of this ultra-dense whacking, we were at the top of PATN. I heard Doug chuckling ahead of me, and I knew it must be good news. We chilled at the top, had a bite to eat, drank more water, enjoyed the absolute solitude, and eyeballed a couple other "whacks" on North Twin and elsewhere throughout the dense carpet of northern New England jungle. It was truly spectacular.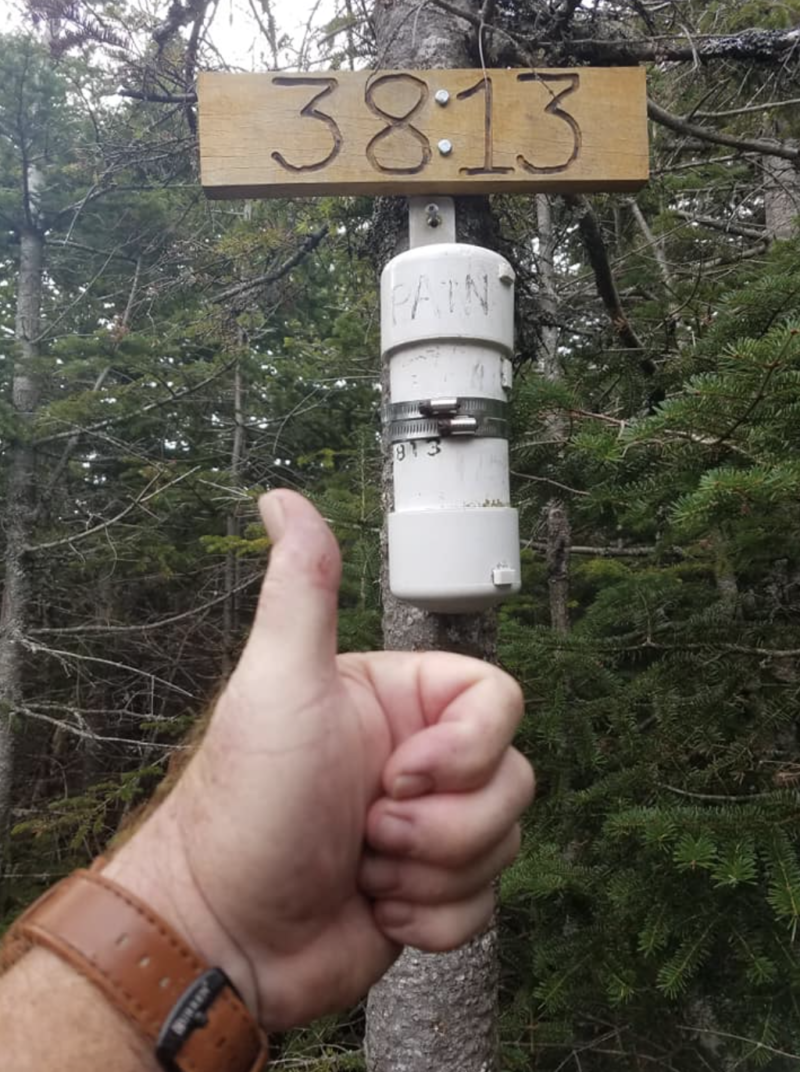 Then… well, we made it to the top. Now we had to make it down. We opted to take what looked like a slightly easier if not longer route. Hiking down that greasy slide we had just ascended could have been ugly every single second. Plus, from the top, there was a marginally evident trail leading down… sort of. Well, we lost that "trail" after about 20 minutes of hiking, shuffling, ducking under, and climbing over. Then things got *real* dense. We checked the maps pretty regularly. We knew generally where we were. We knew we were following another drainage. We knew we were heading in the intended compass direction. We just took the triple black diamond route.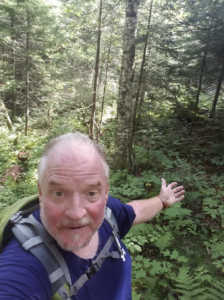 For the most part, we could see each other. We could always hear each other. "Go above that rock." "Don't come down this way." Crash… oof… "You ok?!?" "Yep. I'm good." We delicately and gingerly negotiated our way down this drainage, climbing over and around rock outcroppings, downed trees, and throughout most of this part of the whack, we weren't even hiking on the solid ground.
For much of the traverse of that most dense portion of the forest, through which human feet have probably not traveled since the whole place was lumberjacked in the 1800's, we were hiking over a canopy of downed trees and moss and other forest detritus that formed a shell over the actual ground. Every now and then, we both post-holed through this shell, but thankfully never lost a shoe or snapped an appendage. Could you imagine what's living under that shell covering the ground in the dense northern jungle? Think of the sinister dark of J.R.R. Tolkein's Fangorn Forest!
We continued, we persevered, we again found the true drainage we were following and I think this gave us a somewhat false sense of confidence. We figured this would have us emerge out onto the road or snowmobile trail in short order. Well, it did. It just took a bit longer than we were thinking. After more scrambling down the streambed, whacking through the woods, and hiking through a dense corridor of young hardwoods, we did indeed emerge onto the road. A couple of clicks down the road, and we found what was indeed the snowmobile trail back to the car. I think Doug was convinced. I wasn't sure until I saw the original point at which we dove onto the original "unimproved" trail. Then and only then did I breathe a sigh of relief.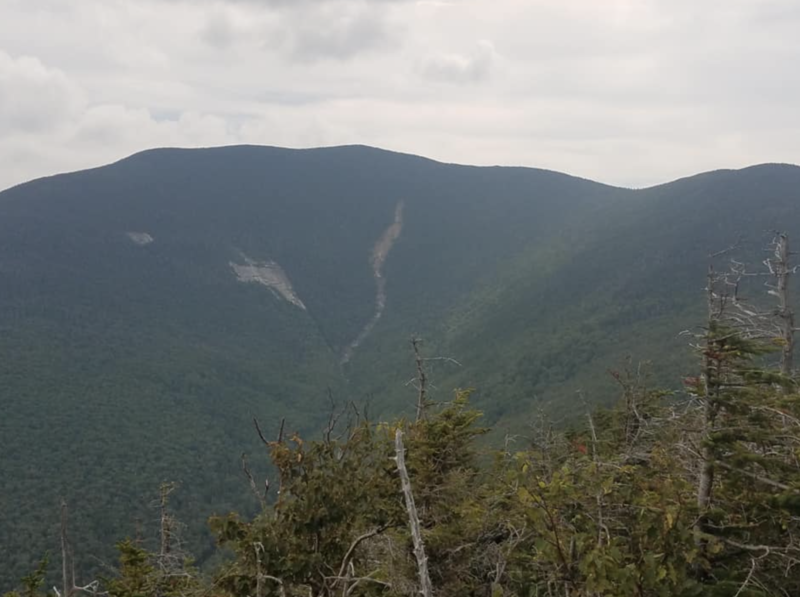 It was eight solid hours from start to finish. That was far and away the most exhilarating, most exhausting, and potentially dangerous hike I have ever done. And it was great to do it with my compadre Doug Payne. Not bad for a couple of guys hovering between 55 and 60!
Back at the car, I bluntly inform him I need more water first and foremost. We hit a convenience store on the way out. I buy a ton of water, some Gatorade, and some beer—my view of the several stages of hydration. He walks out with water, chocolate milk, and Tootsie Rolls. I regard him with amazement. "What are you? Five?!?" We had a good laugh as we steered our way to the One Love Brewery in Lincoln, NH for a well-deserved post-hike burger and beer. That was truly an epic hike; and one I will never forget.