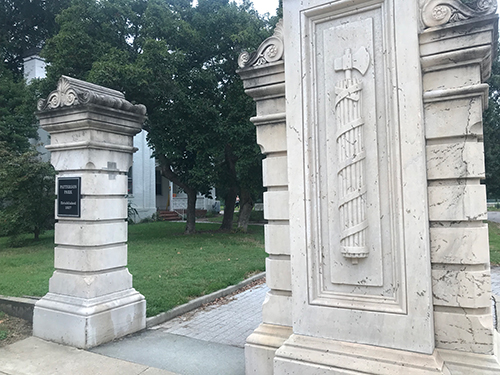 How to Live Like a Local While Traveling—Step Back in History
Posted on
October 11, 2018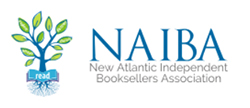 Continuing our Where's Waldo, we mean, Live Like a Local series, Travis wrote a post about his travels and living like a local in Baltimore.
---
The annual New Atlantic Independent Booksellers Association Conference was held around the Inner Harbor area of Baltimore, MD this past weekend. I was looking forward to hanging out with the indie booksellers (it's a fact that indie book shop owners are some of the coolest on the planet) but I was also itching to explore the area a bit.
Work trips can be difficult. Travel is often late or early in the day. The days are packed and work is the priority. But taking a hike or walk to explore the place you are visiting is one of those cheap, wonderfully serendipitous things that can stave off the stale repeat of hotel flavored coffee/bar/ballroom/meeting room/business center.
At first, adding a hike or exploring walk to your work trip may sound overly complicated for something that may only take 30 minutes. But when you're traveling, that little 30 minute hike could be the breath of fresh air that keeps a smile on our face.
The first thing you need to do is (as our publisher often says) "put it on the menu." That means knowing you're going to get out before you go. When you travel to Texas you get BBQ. When in Baltimore you're going to get crab cakes. When in Nashville you're going to find a music venue. Whenever you travel, you just need to know you're going to get out. All you need is shoes and a hat. That's it. Well . . . that and some kind of a guidebook.
Exploring Baltimore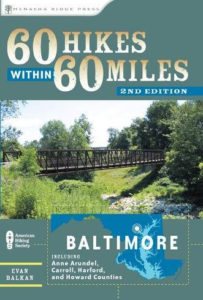 For my trip I used Evan Balkan's 60 Hikes Within 60 Miles: Baltimore. It's jam packed, but, using my hotel as the center, I was quickly able to identify a park hike I could squeeze in. Not only was the park close to the hotel, but the Description of the hike opened with
". . . Patterson Park has hosted residents since 1669, and became a public park in 1827 . . . During the War of 1812, as the British were burning the nation's capitol . . . they were stopped at Patterson Park's Hampstead Hill, where the sight of 100 cannons and 20,000 troops made them head back toward the harbor and their waiting ships."
I had to see this place. Plus, the hike described all kinds of paths, trees, ponds, wooden walkways and a. . .  pagoda? I'm in.
One of the best things about work-trip walks like this is that they usually happen in developed places. So as much as I might want to be scrambling up rock or hanging out by a roaring river, it's nice to have a non-strenuous stretch of activity before a day full of meetings (but still… please shower.)
So leaving the hotel at around 7:30am I put on some tennis shoes, grabbed a cup of coffee, checked the weather one more time and took off out the door. Being an urban walk, I wasn't worried about needing to carry water, but that's always smart. Also, one thing I always do is snap a pic of the map of the hike/walk to have on my phone. This keeps me from having to keep the phone's GPS running (save the battery!)and I can reference it whenever I need.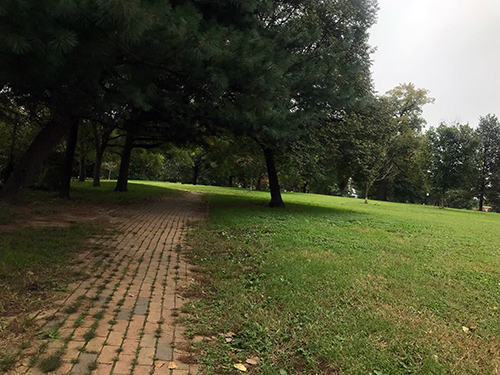 The walk didn't dissapoint, especially if you dig history factoids. Traveling local isn't just about knowing where to find those hidden gems to grab a bite to eat or drink, but to know why the neighborhoods are named as they are and even to just know which way is north. Nothing is more frustrating to me to be in an unknown place and have the phone GPS instruct me to "Head East on 21st Street." "I just got here, how the heck do I know which way East is?" But lining up the photo of the map from the book with the entrance to Patterson Park, I instantly knew which way was which.
Balkans' description gives credit to the revitalization of the area to the Friends of Patterson Park. he's right. The morning I was there the group of about 100 neighbors was out in full force working on maintenance and planting trees. It was cool to see a neighborhood coming together like that.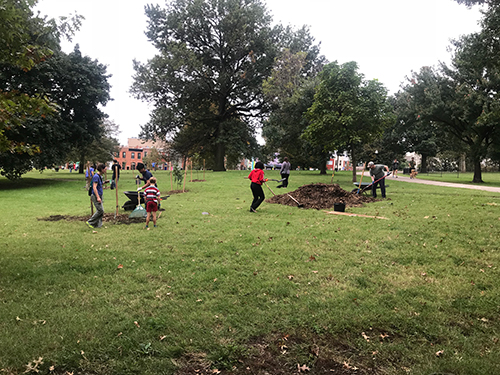 I have to say that my favorite part of the walk was the duck pond. It was an amazing oasis, full of squawking birds and animals in the middle of the neighborhoods. There are worse ways to spend a few minutes in the morning than watching fish and ducks dodge in and out of lily pads and other aquatic plants.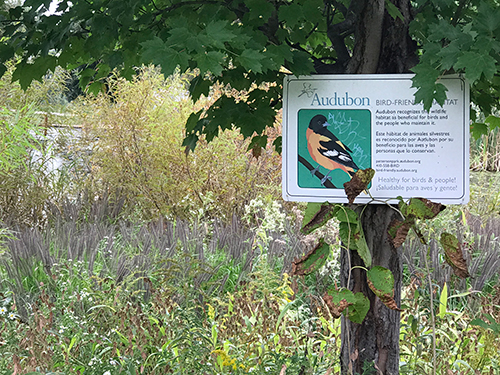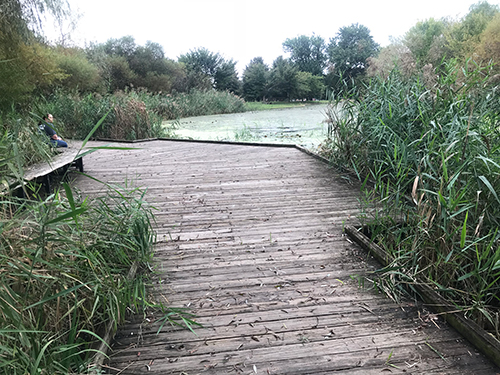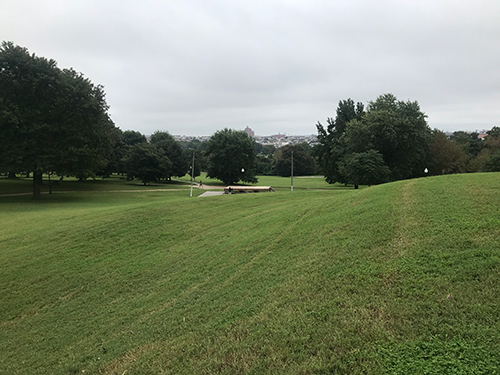 Though the canons, up on the hill facing East, are what sealed it for me. To think what all took place here more than 200 years ago, where the US turned the British back during the War of 1812, is incredible.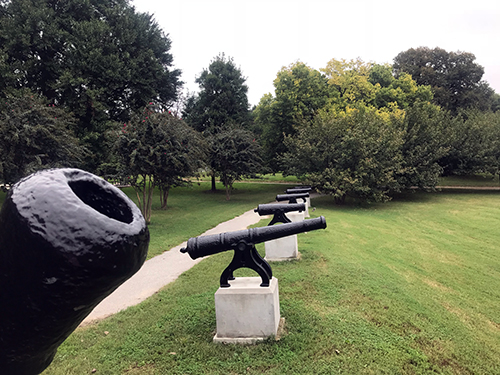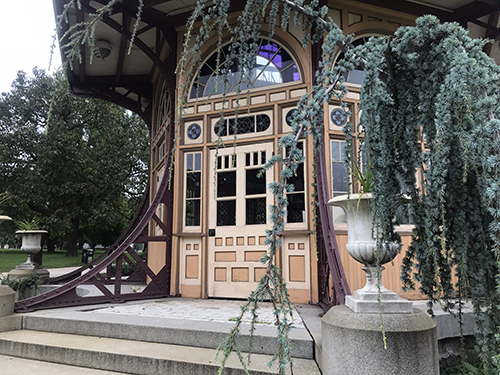 Planning Hiking & Walking While on Work Trips is Totally Worth It
And that's what travelling is about. Yes, work travel has its own reason for being. You have to get your work done. You have to watch the spending. But when you're in a place, your work, your life, your worldview will be much better for having gotten out and explored. Just keep hiking, walking and exploring "on the menu" for when work sends you travelling.