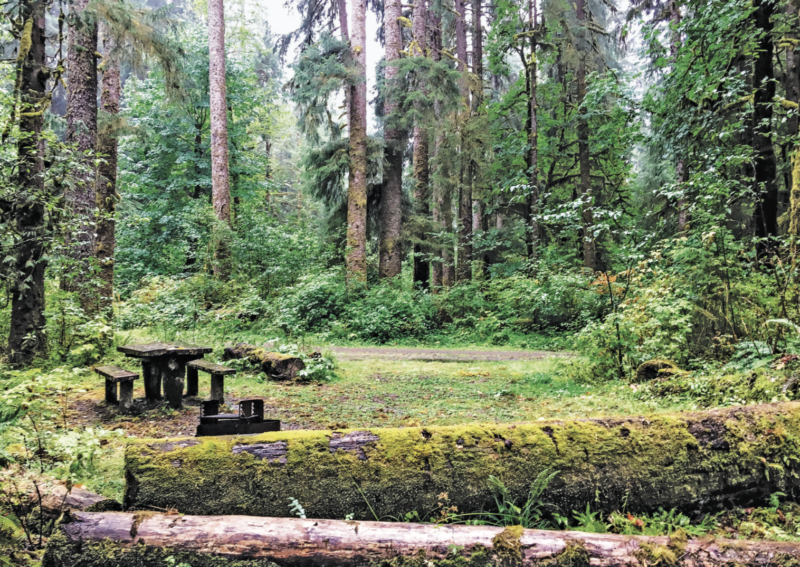 Best Car-Camping Spots in Washington for Thanksgiving Weekend
Posted on
November 20, 2018
It's a holiday week! How would you rather spend it—stressed out trying to clean your house/cook a feast/juggle family commitments/avoid your crazy uncle/battle Black Friday crowds, or relaxing calmly car camping in the Washington wilderness surrounded by mountains and water and friends and/or family?
If you chose (or are obligated to do) the former, you have our sympathies. If you correctly chose the latter, here are the campgrounds you should point your car toward this week.
For an international Thanksgiving.
Birch Bay State Park Campground
Birch Bay State Park is 194 acres waiting to be explored. The bay provides 8,255 feet of saltwater shoreline and Terrell Creek has 14,923 feet of freshwater shoreline. Within the park, its several marshlands represent one of Puget Sound's only freshwater–saltwater marsh regions still intact. While the park has pockets that feel secluded, be aware that the campground is a big one.
If you want to make your trip an international one, consider bringing your passport and driving across the border to explore White Rock Promenade, Campbell Valley Regional Park, Redwood Park, or the Chaberton Estate Winery. But know that you needn't travel so far to enjoy your time in nature.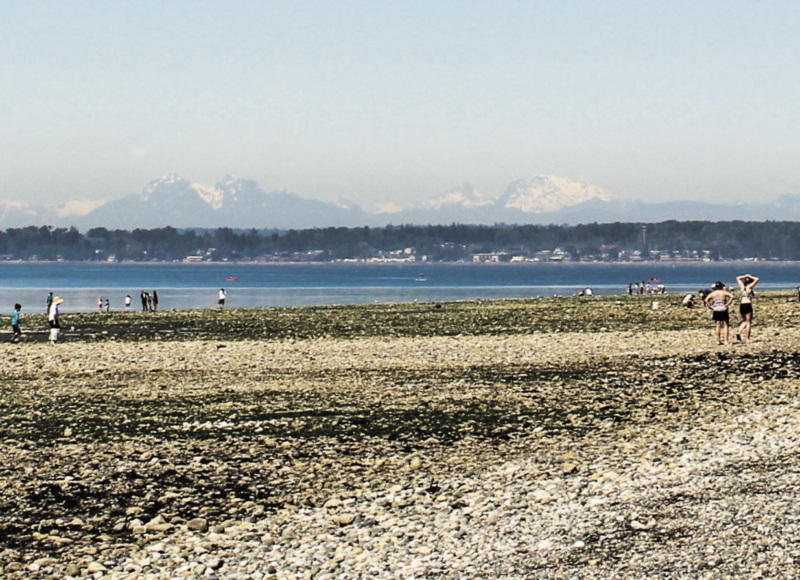 For Thanksgiving in the rainforest.
Hoh Rainforest Campground
One of only three temperate rainforests in the world, the Hoh Rainforest is a unique and therefore popular destination, which is why it's perfect to visit in the off-season.
The first thing you'll notice as you drive up Hoh River Road toward the Hoh Rain Forest Visitor Center and Campground is just how green everything is around you. Even the small bits of sun that manage to leak through the nearly impenetrable canopy of foliage seem to have a green tinge.
The second thing you'll notice is the pale gray-green shrouds of mosses and lichens that drape ghoulishly from tree branches. The weight of these hangers-on often causes limbs to snap under the stress.
Third, as you stand amid the hushed majesty of this primeval forest, you'll notice the most insidious and perpetual characteristic of a temperate rainforest: the steady plink! plink! plink! as droplet after droplet of moisture makes its small but significant contribution to this fascinating, self-sustaining ecosystem.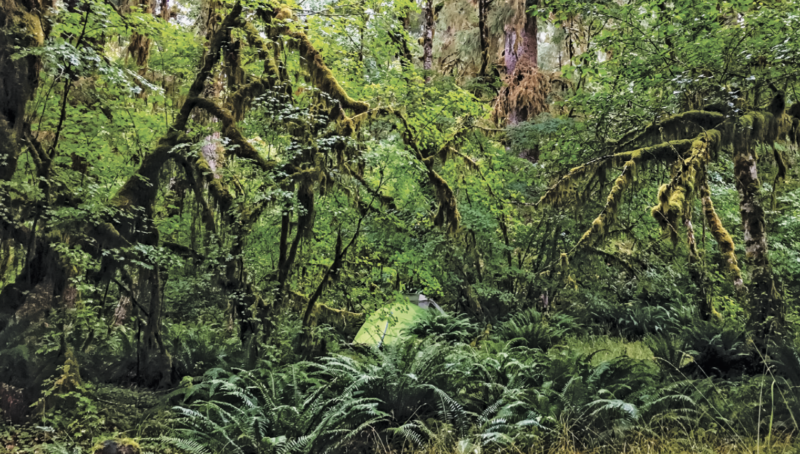 For an active Thanksgiving.
Riverside State Park Campgrounds
No matter what kind of outdoor enthusiast you are, Riverside has you covered. Boating, rock climbing, hiking, biking, running, snowshoeing, and horseback riding are all possibili- ties here—it simply depends what kind of time you have, what the weather's like, and what you're in the mood for.
Riverside State Park, established in 1933, is situated along the Spokane and Little Spo- kane Rivers and boasts nearly 200,000 feet of shoreline. The park sits on more than 11,000 acres, making it the second-largest state park in Washington (behind Mount Spokane State Park). It includes lakes, marshes, wildlife, and trails—lots and lots of trails. It also has four distinct campgrounds.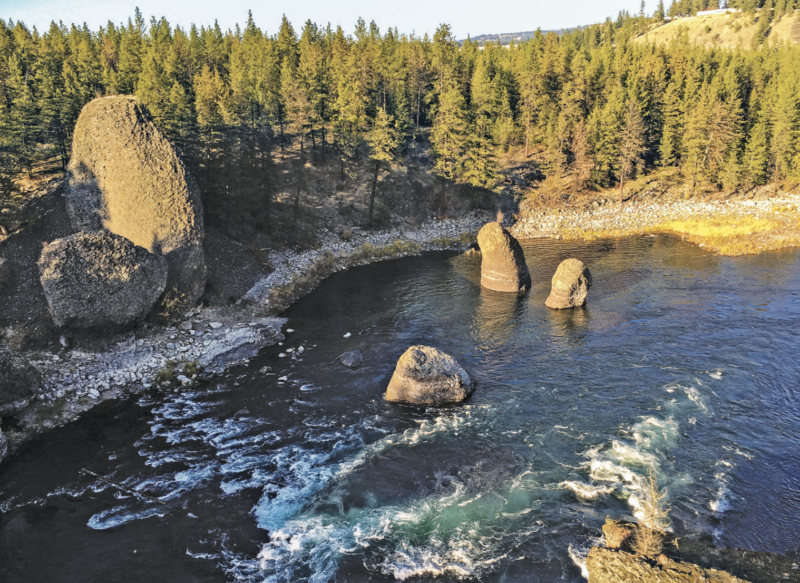 For Thanksgiving with a backpack.
Rialto Beach Campground
The majesty of the open ocean, the impressive windblown trees, and the gigantic drift logs make Rialto Beach feel larger than life. Rialto has the perfect balance of easy-to-get-to while still feeling extremely remote. It's a long haul from Seattle, at about four hours without traffic (no matter which route you take), but it's worth it for even a short weekend (though a long weekend is preferred). If you've only been car camping, or maybe to a walk-in site at another campground, Rialto Beach is a perfect introduction to backpacking.
Many people exploring the coast use this as a day-use area (and you can too if you're staying up the road at Mora Campground), so don't be thrown off by the number of cars in the parking lot. Also, don't leave any valuables in your car. You'll need a permit and a bear canister for this light trek, both available at the Port Angeles Wilderness Information Center (WIC) if you drive the northern route.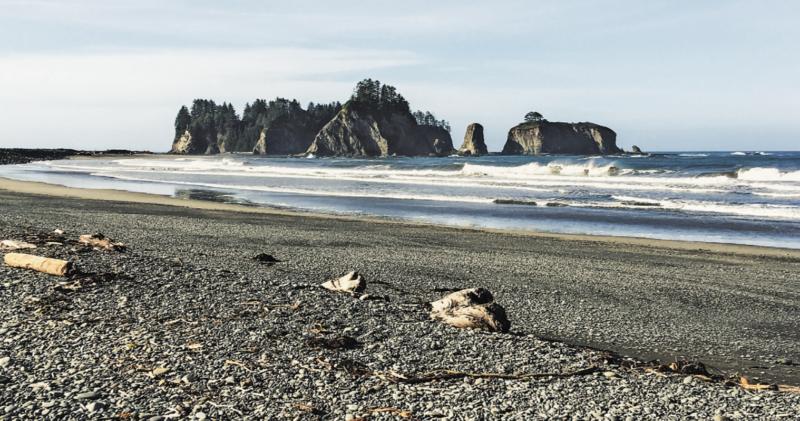 For a secluded Thanksgiving.
Queets Campground
Queets Campground surrounded by stands of giant spruce and hemlock and nestled along the Queets River. It feels quaint and homey. The campsites are large, and everything feels secluded.
Because it's in the rainforest, it can be damp, so bring all the appropriate layers and gear to make your visit a comfortable one should the clouds decide to impart a couple of inches of rain. Plus, even when it's raining, hiking is still the premium activity in a rainforest. Rather than a mountaintop view, the dense forest will be your focus.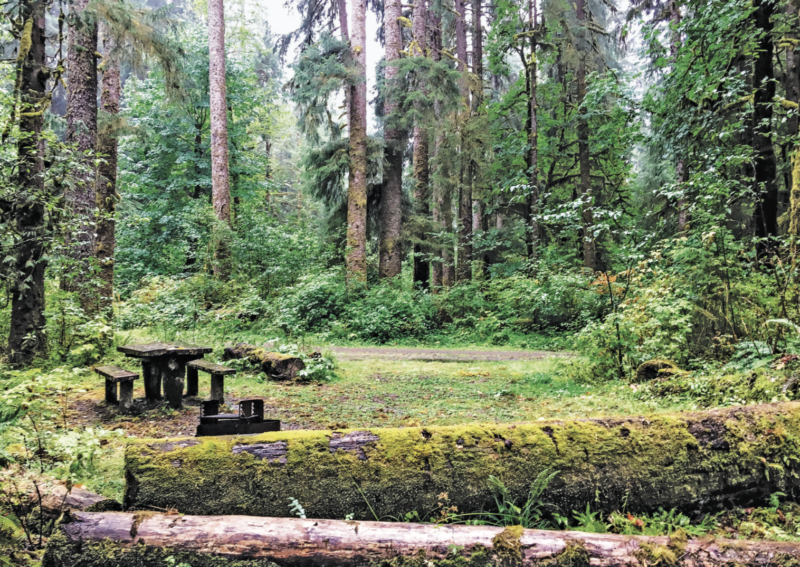 For Thanksgiving with a natural wonder.
Dungeness Recreation Area Campground
Dungeness Spit, the main attraction in Dungeness National Wildlife Refuge, is the longest natural sand spit in the country.
Its outer (western) shore faces the open surf and uninterrupted winds, which cause driftwood to collect in jumbled masses like piles of giant bones. The inner shore—with smaller Graveyard Spit protruding from it—marks the boundary of Dungeness Bay.
The Dungeness Recreation Area campsites are well designed around two loops, affording ultimate privacy with dense undergrowth between sites. About a third of the sites are spaced along a high bluff that overlooks the Strait of Juan de Fuca and offer million-dollar views for the mere price of a campsite. On a clear night, look across to the twinkling lights of Victoria, British Columbia's capital, on the southern tip of Vancouver Island. Depending on the season and your timing, you may be able to enjoy this view complete with a dinner of world-famous Dungeness crab, caught in the local waters and cooked on your camp stove.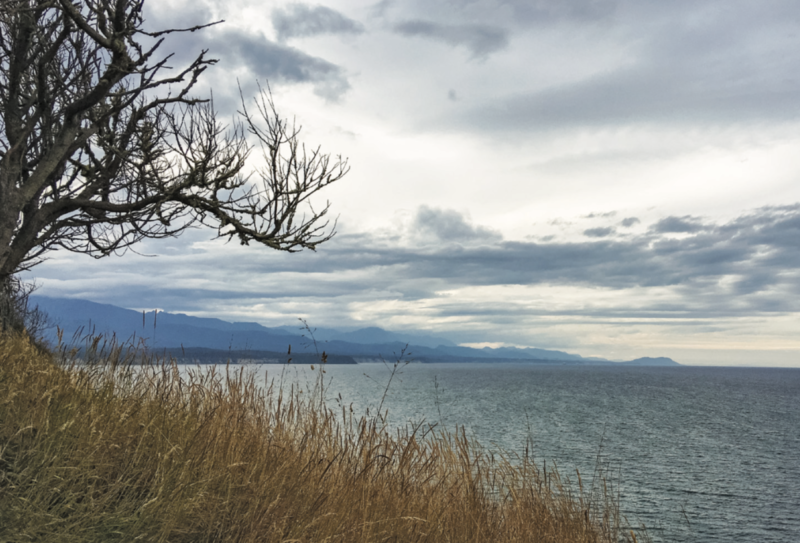 For reviews of the top 50 campgrounds in the Evergreen State, pick up a copy of Best Tent Camping: Washington by Ellie Kozlowski.