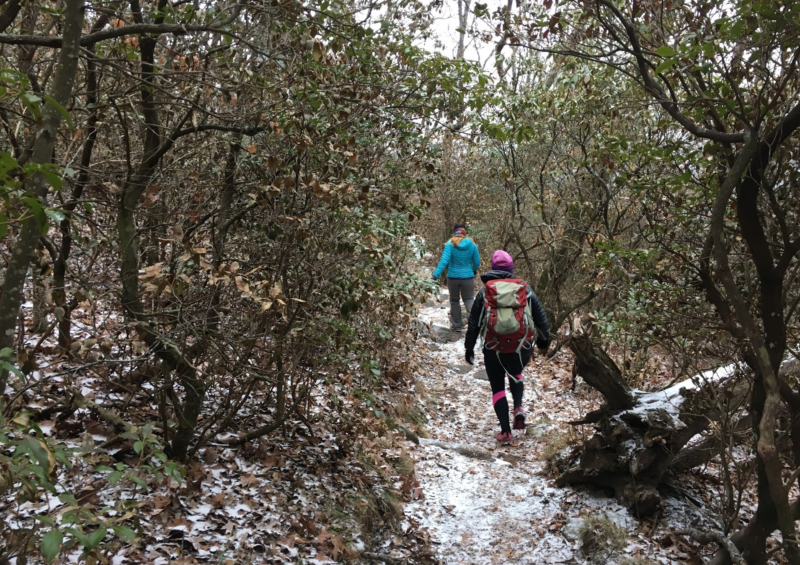 Best Winter Camping on the Appalachian Trail
Posted on
January 24, 2019
If you camp on the Appalachian Trail during peak season, you'll be in good (read: crowded) company. You'll cuddle with strangers in shelters in Tennessee, have next door neighbors inches from your tent, and eat like kings and queens with the starry-eyed starters at Springer Mountain.
However, camping on the Appalachian Trail in the winter is a completely different story. Your only neighbors will be the animals, your views will be unobscured by leaves, and you'll have an experience that most A.T. enthusiasts miss.
Here are some of our favorite winter camping spots from Best of the Appalachian Trail: Overnight Hikes by Leonard M. Adkins and Victoria and Frank Logue.
Grassy Ridge and the Humps Traverse, Tennessee and North Carolina
14.8-mile traverse
Moderate
GPS Trailhead Coordinates
N36° 06.4015′ W82° 06.628′ (southern trailhead) N36° 10.643′ W82° 00.704′ (northern trailhead)
This hike takes you over the grassy summits of the Hump Mountains as well as Grassy Ridge, Jane Bald, and Round Bald, ending at Carvers Gap. Grassy Ridge is the only 6,000-plus-foot bald on the A.T. The grassy balds of the Southern Appalachians existed long before written history. First, the American Indians who lived in the area used controlled fires to keep the balds clear. Later, European settlers would keep the balds open by grazing their cattle on them or by mowing. Today, they are still kept clear by cattle grazing and mowing.
Roan Highlands on the Tennessee–North Carolina state line gets very crowded during the peak bloom of its rhododendron garden. In June, visitors flock to see the awesome spectacle—thousands of big Catawba rhododendrons in bloom at once—but you can usually camp alone on the summit during the winter. We didn't see the rhododendrons, but the snow-covered mountain was a magnificent sight.
Max Patch and Hot Springs
20.6-mile traverse
Moderate
GPS Trailhead Coordinates
N37° 56.731′ W78° 55.568′ (southern trailhead) N38° 01.857′ W78° 51.475′ (northern trailhead)
This hike offers some tremendous views from the top of Max Patch and takes you over Walnut and Bluff Mountains on the hike into Hot Springs, North Carolina. Max Patch is the southernmost open, grassy bald on the A.T., and the panoramic view takes in the Black Mountains to the east, including Mount Mitchell, and many of the peaks in the Great Smokies to the west. Walnut and Bluff Mountains do not offer any views, but the hike follows a beautiful wooded section of trail and crosses several small streams as it passes through the Roaring Fork Valley. Three shelters along this hike create several options for overnighting, but to divide the hike into two nearly equal days, you will need to use a tent. This hike gains less than 1,000 feet in elevation in the first 7 miles.
Iron Mountain Traverse
20.3-mile traverse
Easy
GPS Trailhead Coordinates
N36° 18.209′ W82° 07.872′ (southern trailhead) N36° 28.875′ W81° 57.636′ (northern trailhead)
This traverse follows the narrow ridgeline of Iron Mountain, passing through nearly 6 miles of the Big Laurel Branch Wilderness. The Trail offers many fine views of Watauga Lake, which is located just below the steep southern slope of Iron Mountain. On this hike, you will also pass a monument to Nick Grindstaff (1851–1923). He was a local hermit who, as noted on his monument, "lived alone, suffered alone, died alone." The marker is made from the remains of the chimney to his cabin.
Iron Mountain is particularly nice when the leaves have fallen in preparation for winter because it offers many more views. Although rated as easy, remember that no 20-mile hike on the A.T. is without significant climbs and descents.