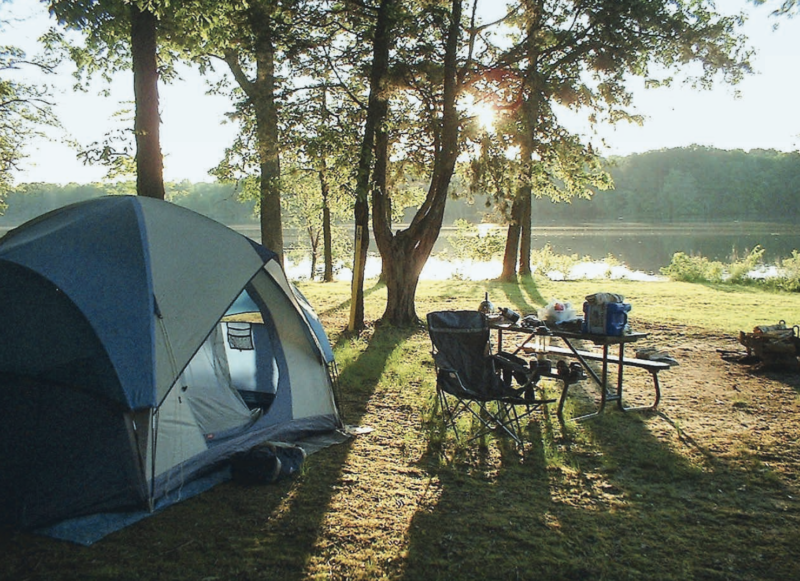 Where to Camp in Illinois Starting in March
Posted on
February 27, 2019
After a long, cold winter in Illinois, the thought of spending a blissful weekend sleeping in a tent and breathing fresh air sounds downright sublime. In theory. Our hearts want us to go camping and our dry winter skin longs to soak up the sunlight, but our minds know that it's still the very beginning of springtime and the days can vary from rainy and overcast to sunny and moderate.
Just in case the weather cooperates over the next few weeks and you can get ideal early spring weather, here are some campgrounds that open on March 15th from Best Tent Camping: Illinois by John Schirle.
Argyle Lake State Park
There is so much to like about Argyle Lake State Park: a gorgeous 93-acre lake surrounded by wooded hills, a cool little visitor center with kid-friendly exhibits and activities, and a great restaurant.
Argyle Lake is circled by an almost 6-mile loop road, with three different campgrounds situated around it. You'll find the most secluded sites for tent campers in the Twin Oaks Campground, accessed from the north side of the park's loop road. This peninsula is covered with mature oak-hickory woods and contains 31 rarely used Class D walk-in sites spread out along the 0.75 mile of road. Some are just a few steps from where you can park, while others require a hike of 0.1–0.25 mile. This area was inaccessible for several years due to the road closure, so some features haven't been well maintained. The trails to some sites are a bit overgrown, and some don't have tables or ground grills. The water spigot doesn't work, and the vault toilets noted on the park's campground map don't exist anymore, except the one on the main road at the campground entrance. Still, if you're looking for solitude, and don't mind driving to Twisted Oaks for water and showers, there are some beautiful spots here.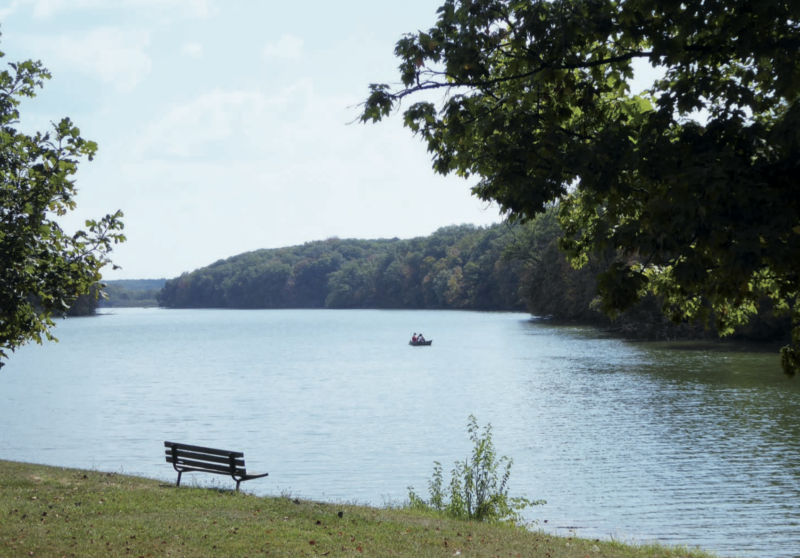 Bell Smith Springs Recreation Area: Red Bud Campground
Red Bud is a small, quiet, primitive campground in Bell Smith Springs Recreation Area, off a gravel road in the Shawnee National Forest. It's a great place for a relaxed getaway—but an even better base camp for exploring all the nearby superlative sites in the central Shawnee. Clustered within a few miles of this campground you'll find Illinois's highest waterfall, tallest natural arch, and largest sandstone cave, all within what some consider the most beautiful part of the Shawnee.
Drive down the road just a short distance, and you'll come to the main trailhead parking for Bell Smith Springs, one of the most scenic areas in the entire Shawnee Forest. Here four creeks come together in a landscape of canyons, pools, boulders, and shelter caves. This area can be busy, at least on weekends, so plan to hike midweek if possible, or first thing in the morning. Three interconnecting loop trails begin here, and the fourth can be accessed from one of the others. Each is marked with color-coded diamonds, totaling about 8 miles of moderately rugged hiking. Particularly in the spring, you will ford creeks on slippery sandstone, so wear appropriate shoes. You'll find a trail map on the board at the parking area, but it's helpful to have a printed copy too.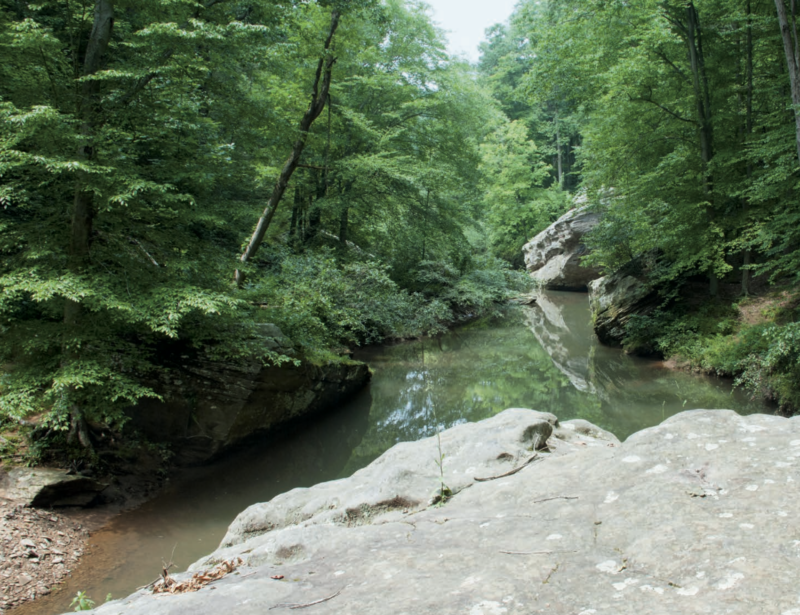 Pine Hills Campground
Geologically, southwestern Illinois around the Pine Hills is much more like Missouri than Illinois. These narrow ridges and steep hillsides are more reminiscent of the Ozarks to the west and, in fact, represent the easternmost edge of what geologists call the Ozark Uplift. Fortunately for Illinois, the Mississippi River intervened and carved this area from the plateau by its millennia-long wanderings. The result is a virtual island of spectacular bluffs and amazing biodiversity.
While at Pine Hills, don't miss the nearby LaRue–Pine Hills Research Natural Area. Here the limestone bluffs of the Ozark Plateaus face west, overlooking the swamps at their base. You can get there by heading north from the campground on Pine Hills Road, but to appreciate the bluffs you should approach from the west. Take Pine Hills Road south to State Forest Road, then head right to reach IL 3. Turn right again, continue 4.6 miles, and make another right, onto Muddy Levee Road, just before the bridge over Big Muddy River. Follow the Big Muddy for about 2 miles, and then, when you curve to the right, away from the river, the bluffs jump into view. Another 0.5 mile takes you to the base of the bluffs and the intersection with LaRue Road.