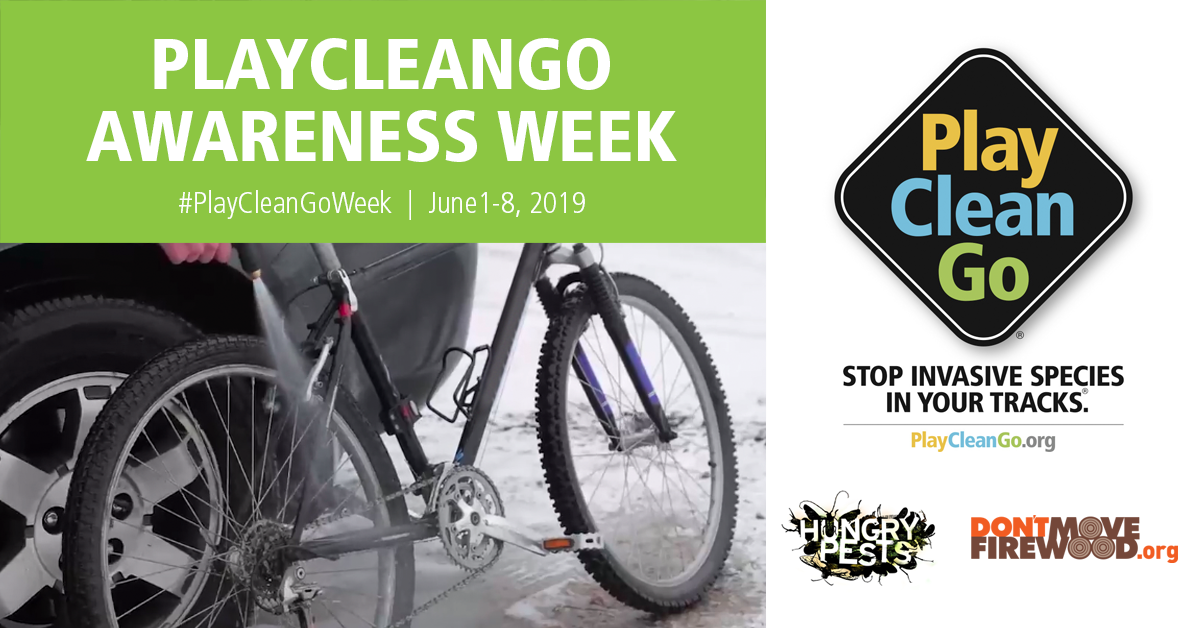 The Best Ways to Celebrate PlayCleanGo Week
The first-ever PlayCleanGo Awareness Week will take place June 1–8, 2019! This means that if you still aren't sure about what PlayCleanGo is all about (though you should—we've been posting since November!), you will have an entire week to immerse yourself in PlayCleanGo principles, become an expert at cleaning yourself, your gear, and your fur friends after your outside time, and to teach your friends about it!
June 1–8 was chosen for PlayCleanGo Awareness Week in part to coincide with National Trails Day (June 1), World Environment Day (June 5), and National Get Outdoors Day (June 7).
Before we offer suggestions on how to celebrate PlayCleanGo Awareness Week, here's a refresher on 10 things you can do to stop the spread of invasive species.
Clean your footwear with a boot brush BEFORE and AFTER your adventure.
Remove invasive plants and dispose properly.
Pick seeds and burrs off of clothes and gear.
Clean mud and seeds from your dog.
Don't move firewood: buy it where you burn it.
Hose off your bike or ATV with water or compressed air.
Boaters: clean, drain, dry, dispose to stop aquatic hitchhikers.
Feed your horse weed-free certified hay.
Clean your horse's hooves, mane, tail and legs.
Take the PlayCleanGo Pledge at playcleango.org/pledge
There. Now that you remember how to stop the spread of invasive species, here are ways you can celebrate PlayCleanGo Awareness Week!
Organize a weed pulling or flower planting party at a local park, church, or nursing home. Remember to get native or non-invasive plants from the nursery!
Plan a trail hike, then make sure to stay on marked trails and end with swiping your feet at a boot brushing station.
Sponsor a bike trail ride with a washing station at the end for those dirty tires.
Hold a community bonfire while only using local firewood.
Cool off with a kayak trip on the river or a boating adventure! Don't forget to clean, drain, dry, and dispose of any barnacles before leaving the landing.
Offer horseback trail rides and demonstrate how to clean a horse's mane, tail, and hooves.
Post selfies of your team cleaning your gear on Facebook and share them with the PlayCleanGo Facebook Page.
Host a local event and hand out PlayCleanGo materials.
Work with your local media to promote your organized PlayCleanGo event.
CCreate a Facebook event and add PlayCleanGo as a co-host—we'll promote your event!
Enter the #PlayCleanGoTakeAction Contest! LIKE @playcleango on Facebook, Instagram, or Twitter.POST a photo of you or your team TAKING ACTION during PlayCleanGo Awareness Week on your Facebook, Twitter or Instagram account. (For ideas, see our list at right! Your post must include #PlayCleanGoTakeAction. Tag @playcleango in your photo for extra points!