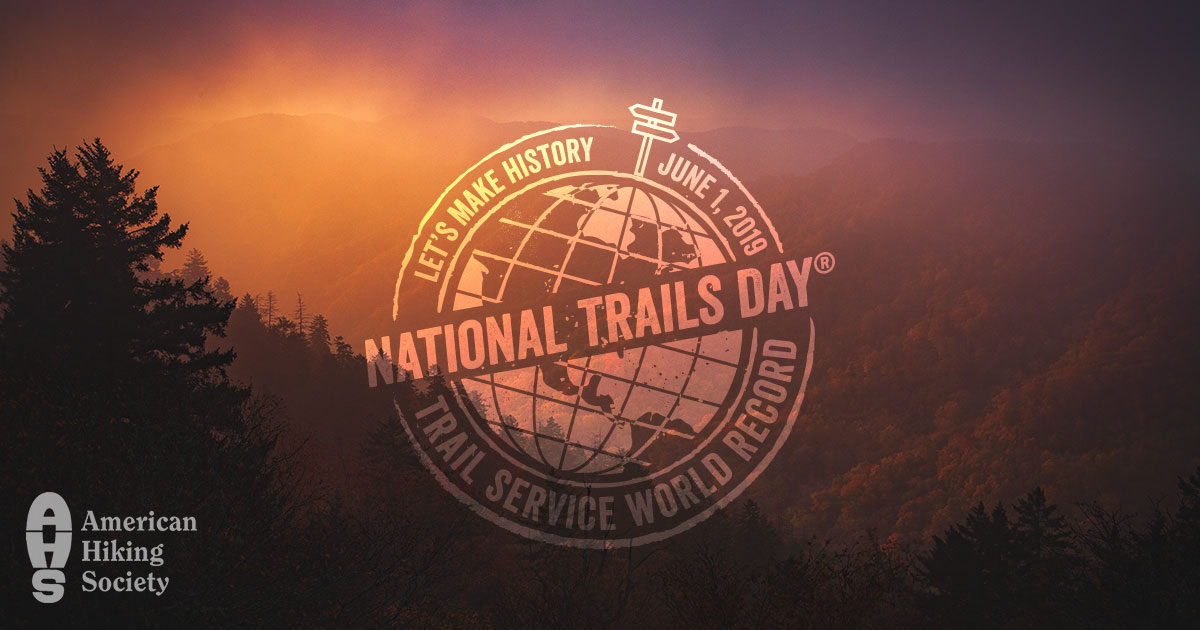 Ways to Celebrate National Trails Day
American Hiking Society's National Trails Day is the biggest trail event of the year, one we always look forward to participating in and promoting. It unites people and encourages them to improve the trails and public lands we love to use.
If National Trails Day snuck up on you and you're unsure how to participate, here are some great ideas from American Hiking Society.

Make History: Take the Pledge to help us set the world record for the most people improving trails in a single day. It's easy. Clean up a local trail or join a trail service project.

Adventures are meant to be shared: Ee encourage everyone to join the National Trails Day® party by participating in one of the thousands of events all across the country. Find an event near you.
Take photos of your experience: Capture the spirit of your National Trails Day® experience with a photo and you could win a gear prize package. Share you photos with us on Instagram by using #NationalTrailsDay and tag @AmericanHiking to enter your best photos from the trail. Tag your photos by June 9 for a chance to win.

Wear Your Love of Trails: Don't let the National Trails Day® experience fade. Buy the special edition National Trails Day® shirt, and each time you wear it, you'll reminisce and feel great about leaving the trail better than you found it.

No Trash Left Behind:What's the most odd piece of trash you will remove from the trail? Throw a couple ziplocks or trash bags in your pack along with some cheap disposable gloves and you'll get extra cred for packing out the trash others avoid.

Up Your Trail Cred:Join our team, get out, and give back in honor of National Trails Day®. Ask your friends and family to help you protect the places you love to hike by giving $5 for each mile you help improve, or $10 for each year you have hiked, or $20 for every trail you have set foot on!

Join our family: Help us preserve trails through stewardship; advocate to protect natural spaces for hiking, both rural and urban; and promote the creation of new trails and trail users. Your membership to American Hiking Society ensures public lands will still be here for future generations to explore and enjoy.

Pack the essentials: As you gear up for your day on the trail make sure you are ready for whatever you may face on the trail. Check out our list of the ten essentials of hiking to help you pack all the right items for a great day on the trail.
Thank you for getting out and giving back on National Trails Day®. Together we'll improve 2,802 miles of trail and leave a legacy for the people who follow in our footsteps, bike tracks, and the like.