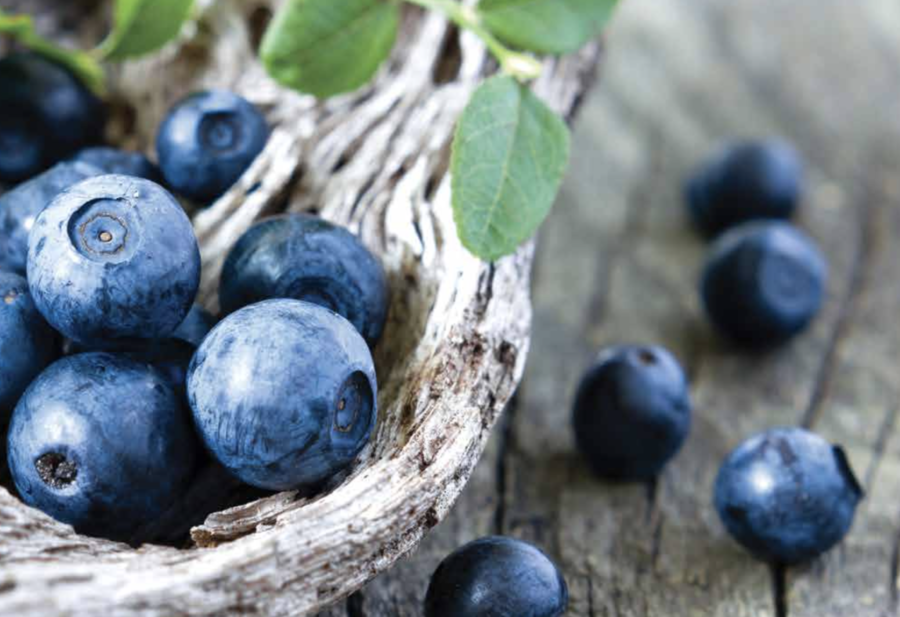 Best Blueberry Recipes to Try This Summer
Stained fingers, overflowing buckets, berries warmed by the sun—summertime is peak blueberry season!
We're not sure what's harder—not eating all the berries that you pick, or choosing a worthy recipe once you come home. No matter what you decide to do with them, let these little superfood balls be the star of your summer recipes. Here are a few of our favorites from the new Blueberries: 50 Tried and True Recipes cookbook by Julia Rutland.
Blueberry Lemonade
Ingredients
2 cups fresh or frozen blueberries
1 cup granulated sugar
1 cup fresh lemon juice
2 cups water
Combine blueberries, sugar, and juice in a blender. Process until smooth. Strain mixture through a fine wire-mesh sieve set over a bowl, pressing mixture with a spoon or spatula. Discard pulp. Add water; serve over ice.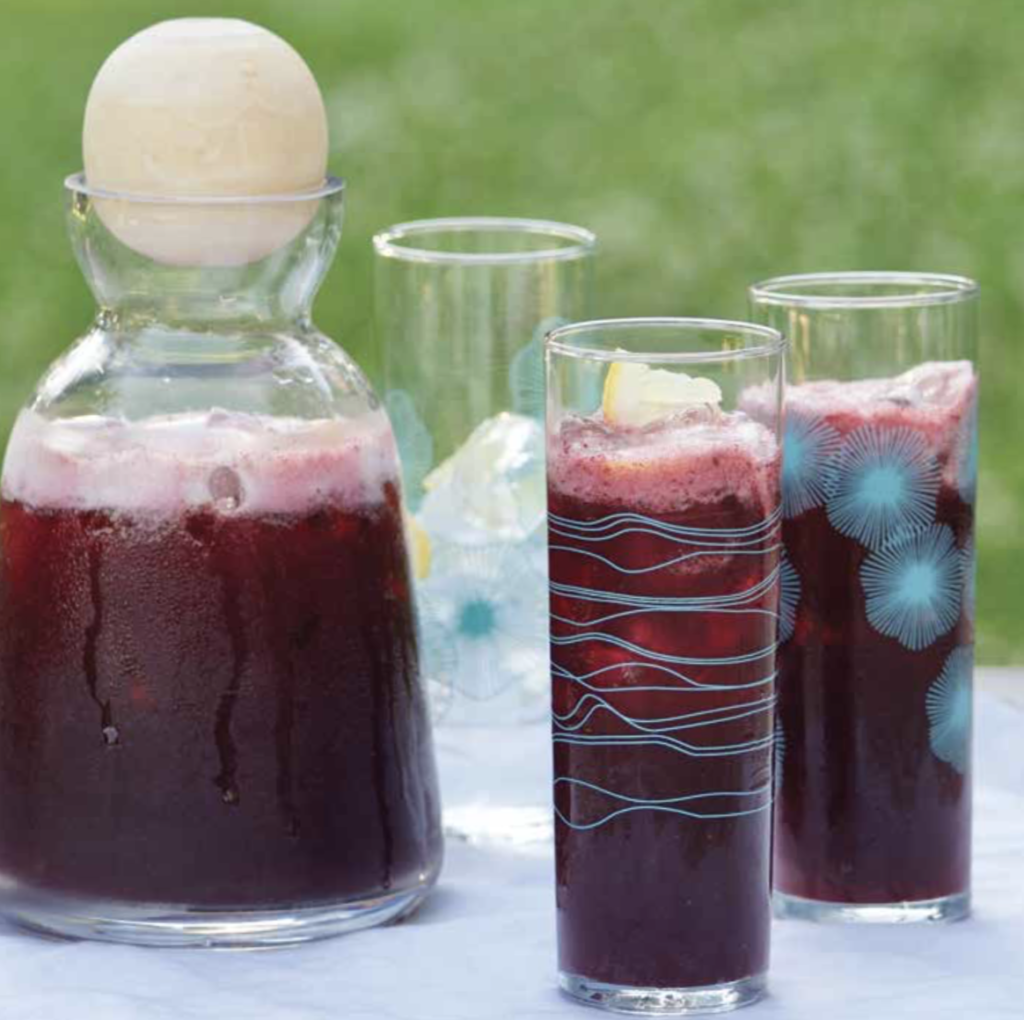 Watermelon and Berry Salad with Honey-Mint Vinaigrette
Ingredients
8 cups cubed seedless watermelon
2 cups fresh or frozen blueberries
4 ounces feta cheese, cut into small cubes
1⁄4 cup fresh mint leaves
4 cups fresh arugula, watercress,
or mixed greens
Honey-Mint Vinaigrette (recipe below)
1⁄4 cup roasted pumpkin seeds
Honey-Mint Vinaigrette
Whisk together 1⁄4 cup fresh lemon juice, 1 tablespoon honey, 1⁄4 cup extra-virgin olive oil, 1⁄4 teaspoon salt, and 1⁄8 teaspoon freshly ground black pepper . Add 1⁄4 cup finely chopped fresh mint, stirring until well blended.
Combine melon, blueberries, cheese, and mint in a large serving bowl or individual bowls or plates. Add greens, tossing until combined. Drizzle with desired amount of Honey-Mint Vinaigrette or serve on the side. Sprinkle with pumpkin seeds.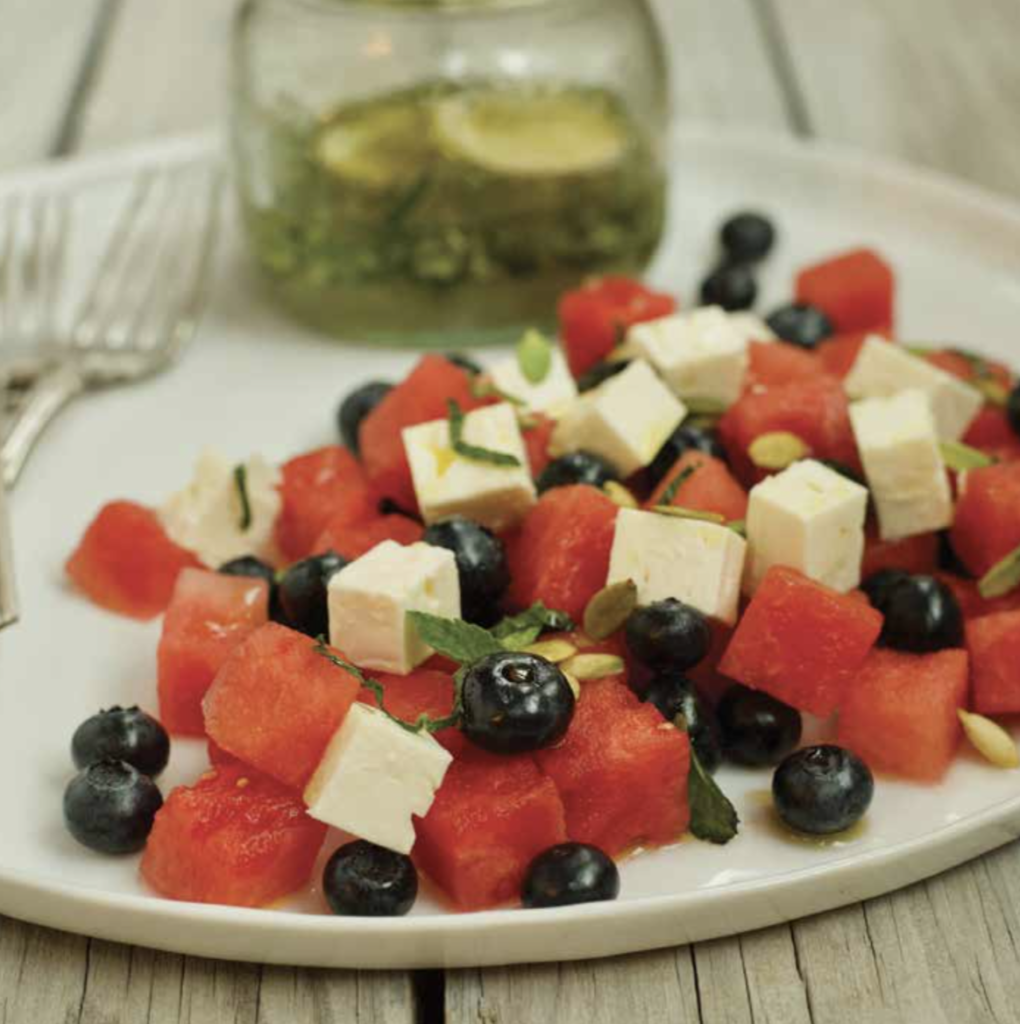 Berry-Berry Chocolate Truffle Tart
Crust
3⁄4 cup graham cracker crumbs
3⁄4 cup crushed shortbread cookies
1⁄4 cup granulated sugar
1⁄3 cup butter, melted
Filling
11⁄4 cups heavy whipping cream
12 ounces sweet dark or semi- sweet chocolate, chopped
2 teaspoons vanilla extract
Toppings
1 (16-ounce) container fresh strawberries, hulled
11⁄2 cups fresh blueberries
Preheat oven to 375°.
To make crust, combine cracker and cookie crumbs in a medium bowl. Add sugar and butter, stirring until well blended. Press into an ungreased 9-inch tart pan.
Bake 8 to 10 minutes; cool completely on a wire rack.
To make filling, heat cream in a medium saucepan over medium heat until hot but not boiling. Remove from heat. Add chocolate, stirring until smooth. Stir in vanilla. Pour into crust and set aside to cool.
When filling is cool, but not completely set, arrange strawberries evenly on top. Sprinkle with blueberries. Refrigerate until chilled and firm.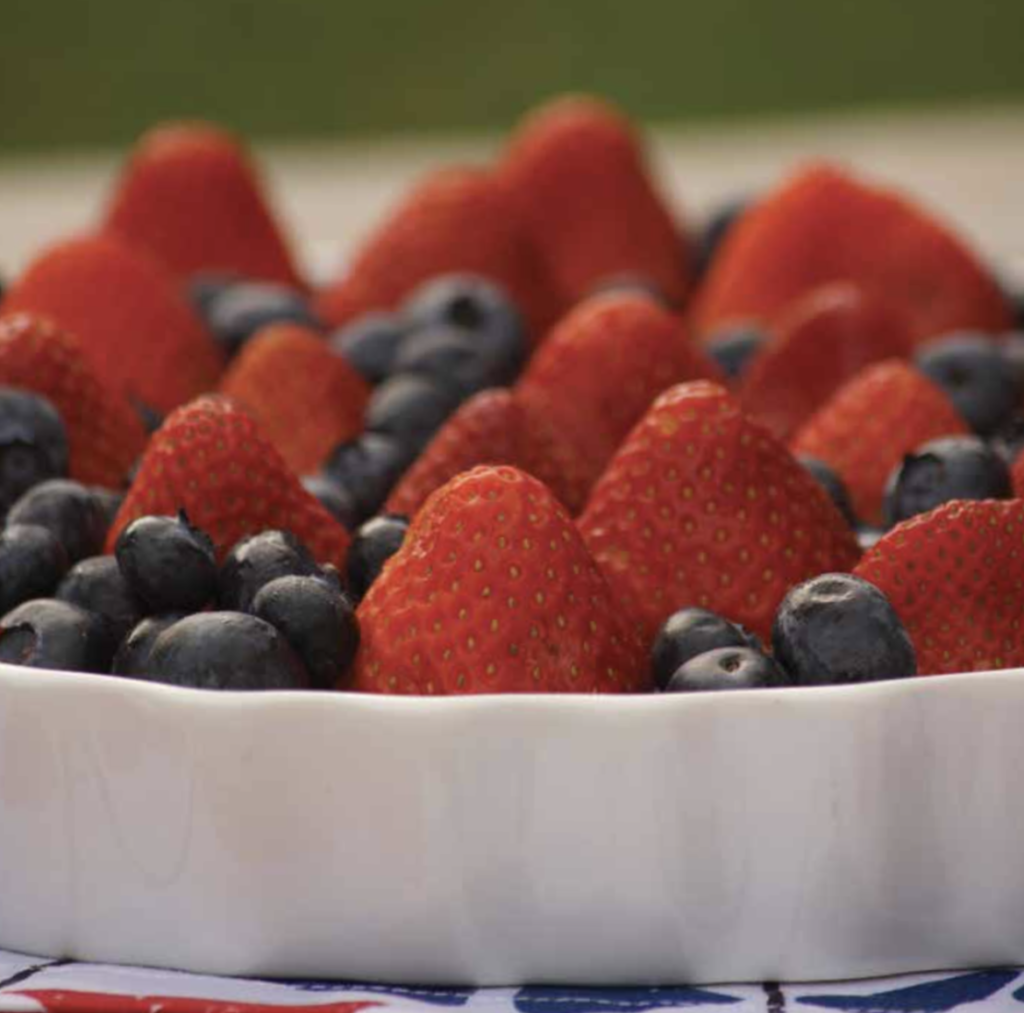 Be sure to sign up for the Menasha Ridge Press newsletter for more great summer recipe ideas!