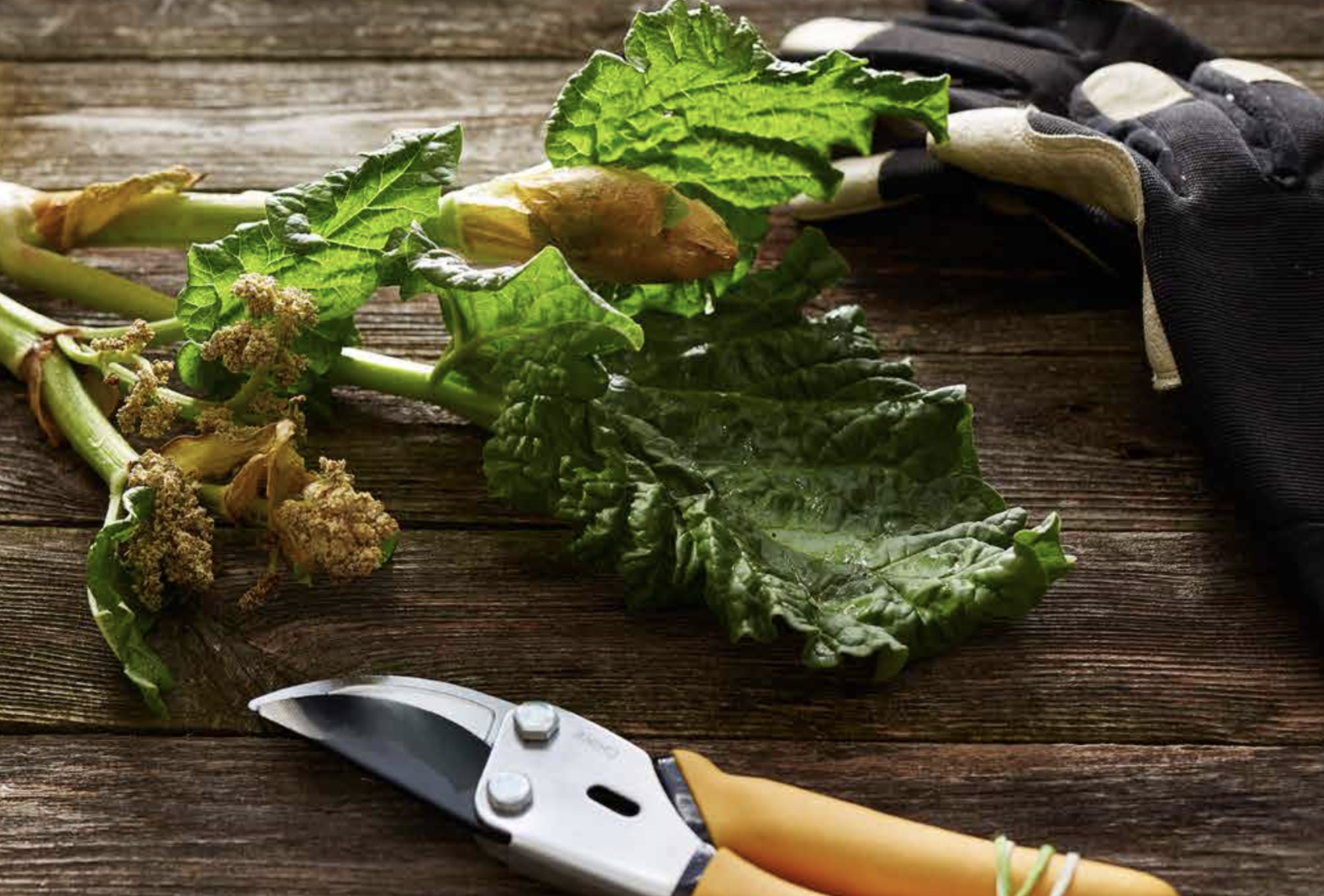 Best Rhubarb Recipes for the Summer
Rhubarb. What is it exactly? A fruit? A vegetable? A killer with toxic leaves? A great filling for pie?
If you answered E) All of the above, then you're correct! The plant is now in vogue again, and it is showing up in the news, in cookbooks, and in magazines. With the present emphasis on locally grown foods, and with upscale chefs always looking for new flavors to incorporate into their dishes, rhubarb is now being served with fish, meat, and in a variety of other creative and interesting ways. Rhubarb is not just the "pie plant" any longer.
Here are some rhubarb recipes we'll be making this summer from the new Rhubarb: 50 Tried and True Recipes by Corrine Kozlak.
Rhubarb Ice Pops
Ingredients
11⁄2 cups chopped rhubarb (about 4 medium-size stalks, cut into 1⁄2-inch pieces)
1⁄4 cup sugar
1–2 tablespoons honey
11⁄2 cups strawberries, hulled and halved
2 teaspoons lemon juice
1⁄2 cup water
Cook rhubarb, sugar, and honey in a medium-size saucepan over medium heat, 7-10 minutes, until rhubarb is soft. Pour rhubarb mixture into the bowl of a food processor with a metal blade; add strawberries and lemon juice, and pulse twice to combine. Add 1⁄2 cup water until mixture is pourable but thick. Pour mixture into a large ice-cube tray or ice-pop molds. (If using an ice-cube tray, place a toothpick in each slot.) Freeze 4–6 hours.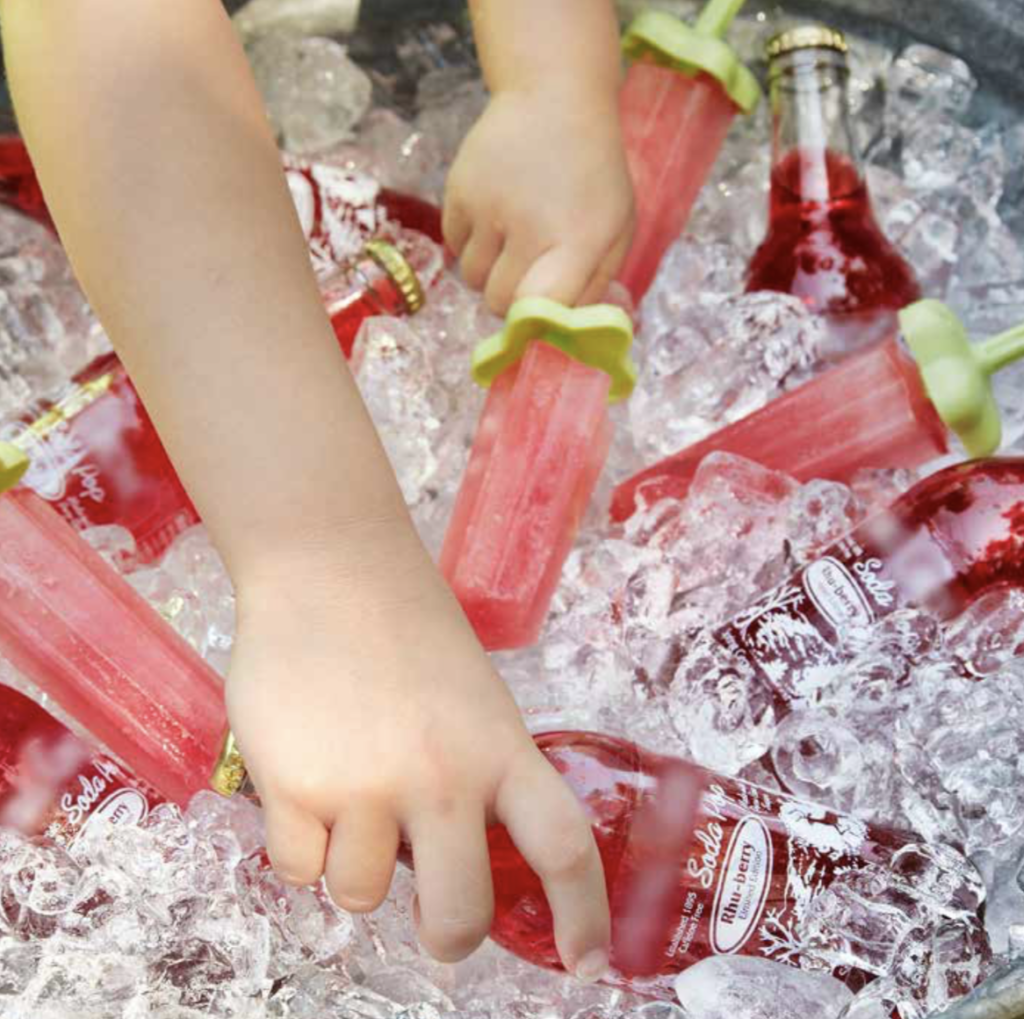 Fourth of July Blubarb Pie
Ingredients
1 Piecrust
4 cups chopped rhubarb (about 8–10 medium-size stalks, cut into 1⁄2-inch pieces)
2 cups blueberries
Juice of half a lemon
1⁄3 cup all-purpose flour
1 cup granulated sugar
1 tablespoon butter, cut into small pieces
1 egg
2 tablespoons cream
White sanding sugar
Roll out 1 disk chilled piecrust dough into an 11-inch circle. Line a 9-inch pie plate with dough, and flute edges; chill. Roll out remaining dough disk, and cut out about 13 stars in various sizes. Chill.
Preheat oven to 350 degrees.
In a large bowl, combine rhubarb, blueberries, lemon juice, flour, and granulated sugar; gently toss to coat. Spoon rhubarb mixture into piecrust, and dot with butter pieces. Whisk together egg and cream in a small bowl. Using egg mixture, attach piecrust stars around edges of pie. Brush tops and edges with egg mixture; sprinkle with white sanding sugar.
Transfer pie to a rimmed baking sheet. Bake for 1 hour or until pastry is golden brown and fruit is bubbling, shielding edges with aluminum foil, if necessary, to prevent excessive browning.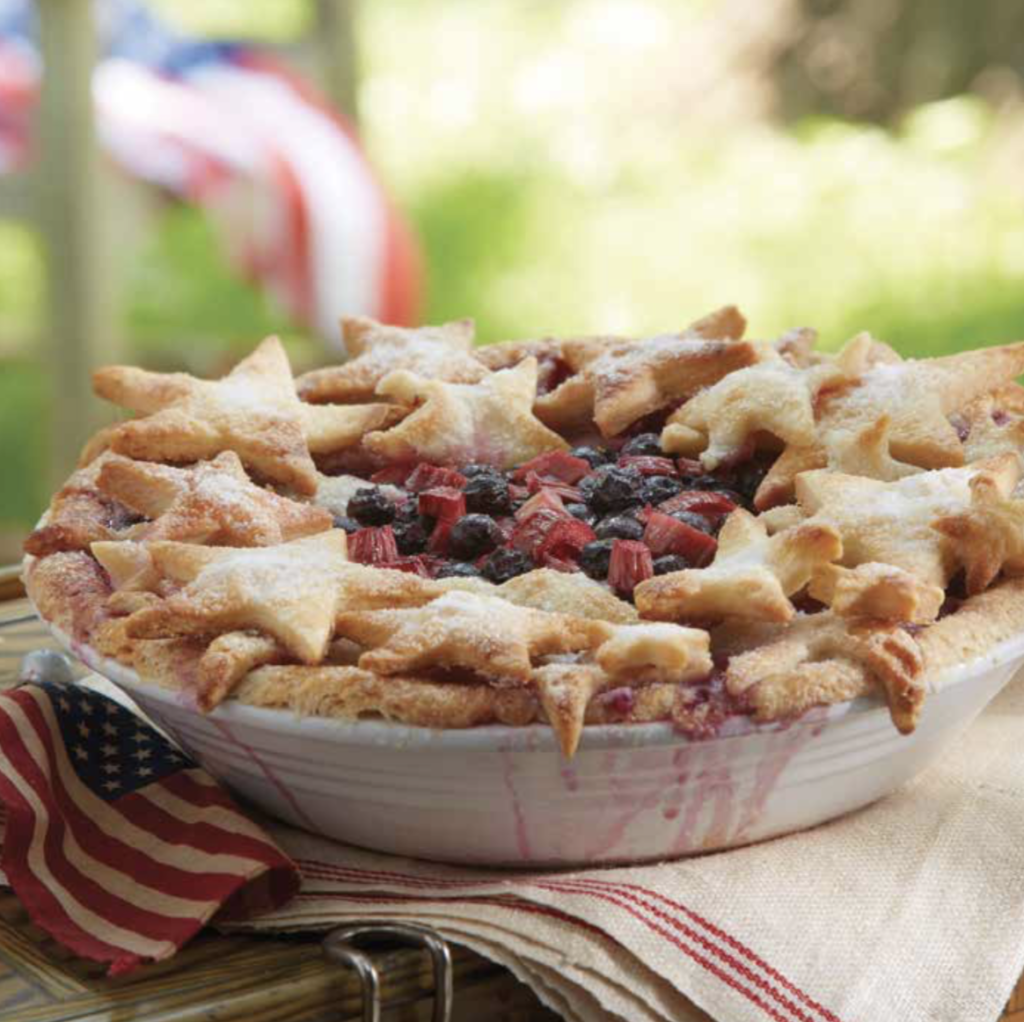 Rhubarb Ketchup
Ingredients
3 cups chopped rhubarb
(about 6–8 medium-size stalks, cut into 1⁄2-inch pieces)
2 yellow onions, chopped
1⁄2 cup dark brown sugar
1⁄2 cup granulated sugar
1⁄2 cup apple cider vinegar
1 (14.5-ounce) can fire-roasted diced tomatoes
11⁄2 teaspoons salt
1⁄2 teaspoon cinnamon
1 tablespoon pickling spice, tied into cheesecloth
Combine all ingredients in a heavy pot over medium-high heat. Bring to a boil, stirring frequently. Reduce heat and simmer, uncovered, for about 1 hour. Let cool, and remove pickling spice bag. Spoon rhubarb mixture into a blender, and puree until smooth. Transfer to a sterilized glass jar with lid; store in refrigerator.